Retirement should be an exciting time, but for some retirees, the current economy with inflation rates sitting at 5% — well above the acceptable rate of 2% — has made for a belt-tightening experience.
Many retirees have padded their retirement savings by relocating to a cheaper area. In 2019, those who leveraged this strategy were able to gain about $100,000 in home equity, according to Vanguard Group.
While this strategy may not be for everyone, 40% of non-retired investors planned to relocate after they stopped working, with the cost of living and taxes being the top two factors for their desire to move, according to Nationwide.
A financial situation may be one reason to move, but seniors aged 65 or older also have many other factors to consider when choosing where they want to live out their golden years. These include government services, health care facilities, climate, crime rate, recreational activities, eating establishments, cultural and entertainment opportunities, and more. Stacker compiled a list of the most desirable counties for retirees in each state, based on Niche's list of best counties for retirees in America in 2023.
Everyone has different needs and preferences. While some retirees choose to spend their golden years golfing on professionally designed courses in Marin County, California, other seniors aim to live a water-centric lifestyle of boating and fishing near Table Rock Lake in Stone County, Missouri.
You can listen to every episode of Florida's Fourth Estate in the media player below:
Eleven of the 50 counties on the list boast populations under 10,000 residents, including Huerfano County in Colorado, which offers scenic views of the Spanish Peaks, paired with a low cost of living. For retirees looking for more hustle and bustle, two counties top a population mark of 1 million residents, including Nassau County, New York, less than an hour from New York City, which—unsurprisingly—comes with a much higher cost of living.
Whether it's mountains or cities, cold or warm weather, hiking trails or museums, retirees seeking to settle in a new spot are sure to find a private paradise in any of these counties because, in the end, there is no place like home.
Read on to discover the best county in each state for retirees in 2023.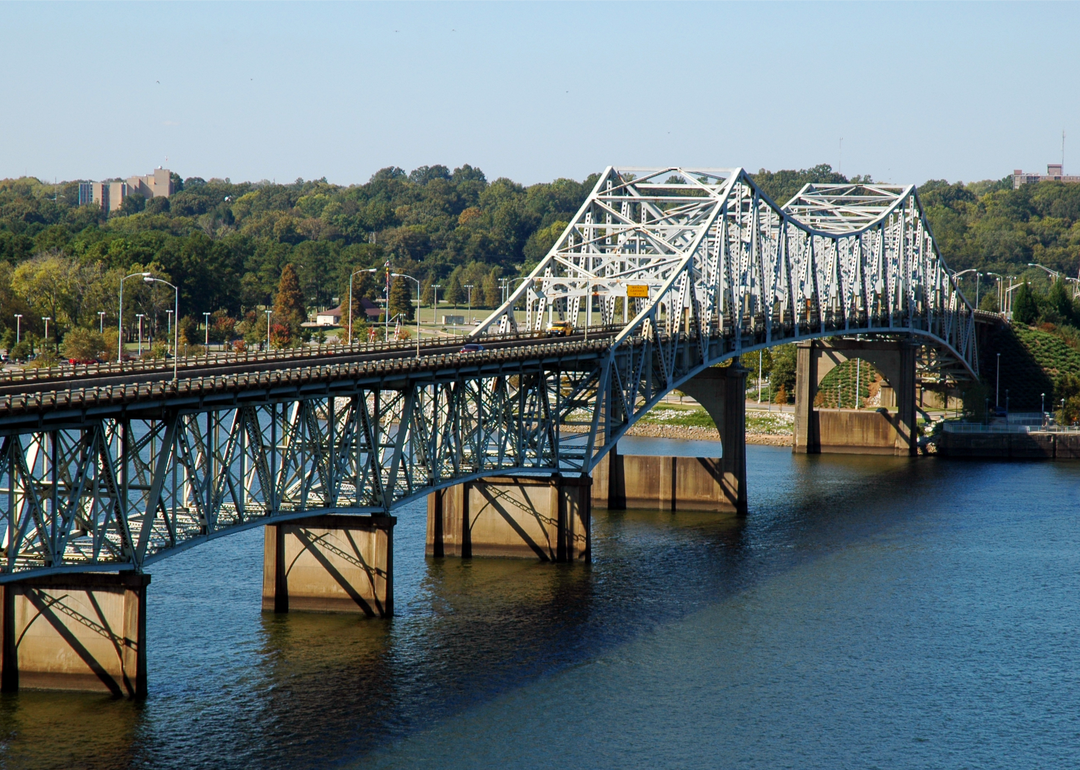 Wayne James // Shutterstock
Alabama: Lauderdale County
- Population: 93,342
- National rank: 72
Lauderdale County, particularly the area surrounding the capital city of Florence, located in the northwestern tip of the state, offers Southern-style retirement complete with a jazz and blues music scene. Retirees can indulge in notable annual cultural events year-round at the Alabama Renaissance Faire, Arts Alive, Singing River Music Fest, W.C. Handy Music Festival, and local historical museums, farms, and taverns. Add in the affordable classes and shows at the Tennessee Valley Arts Center, and Lauderdale County looks to be Alabama's prime retirement venue for individuals interested in entertainment, while also boasting a cost of living that is 17.9% below the national average.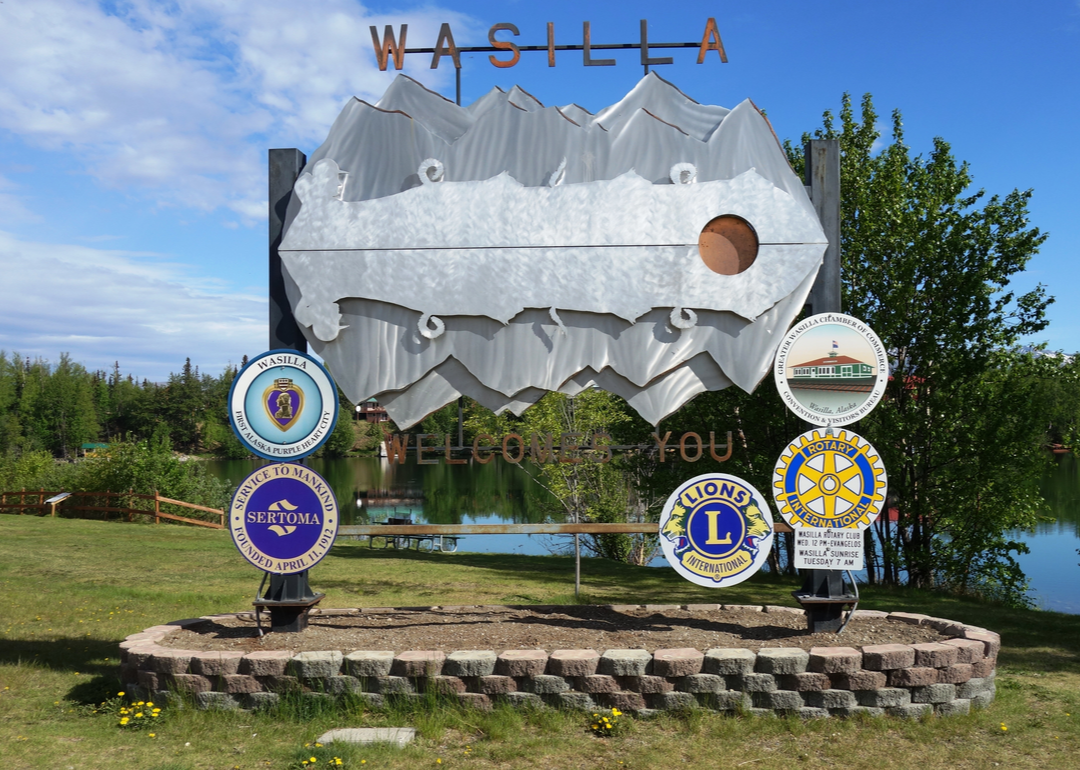 EQRoy // Shutterstock
Alaska: Matanuska-Susitna Borough
- Population: 106,807
- National rank: Not ranked
Matanuska-Susitna Borough, nicknamed Mat-Su Valley, in south-central Alaska, offers an excellent and eclectic retirement spot with libraries, walking trails, miles of scenic drives, and more. Retirees can enjoy recreational adventures year-round through dog sledding trips, wildlife viewing excursions, farm tours, and the Alaska State Fair. The local chamber of commerce of the community of Wasilla, the commercial center of the Matanuska-Susitna Borough, promotes the area's "charm, security, and familiarity of small-town living," along with affordable housing, a growing economy, and excellent government services.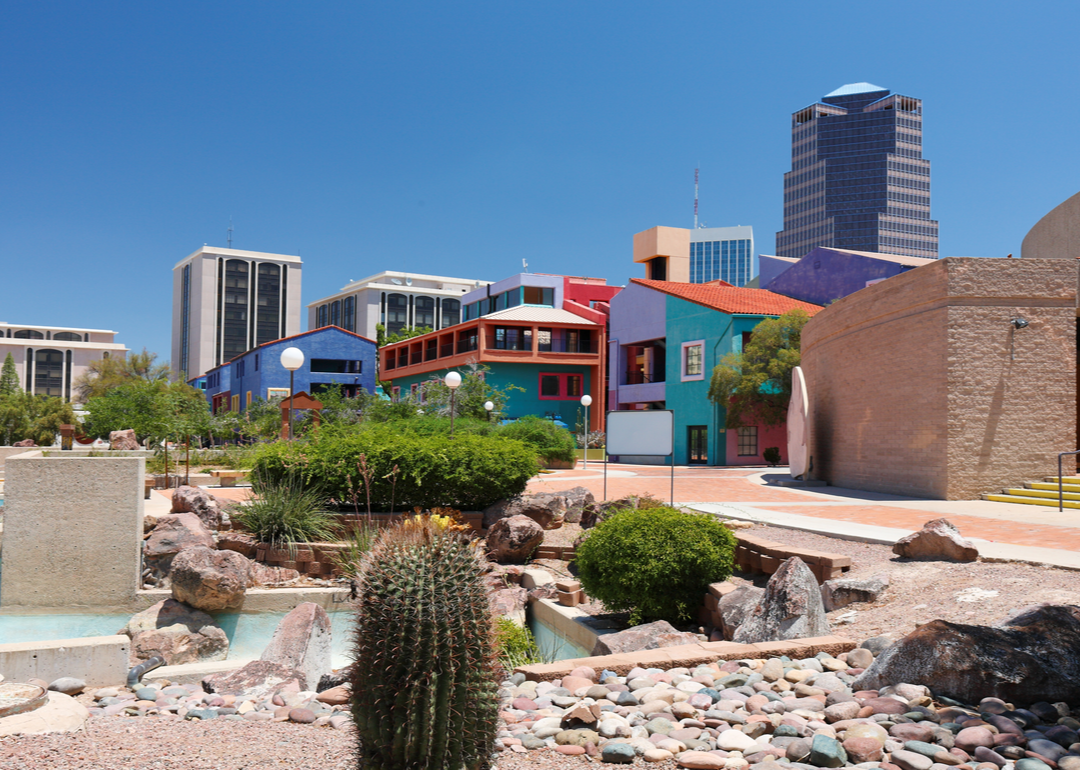 Jay Yuan // Shutterstock
Arizona: Pima County
- Population: 1,035,063
- National rank: 165
With Tuscon as the capital of Pima County, retirees can take part in all the excitement the area has to offer, such as community center programs, antique grounds, concerts, trails, wildlife viewing, golf courses, fairs and festivals, parks, pools, stadium venues, and more. Several of the ideal locations in which to retire in Pima County, as reported by Niche, include Green Valley, Catalina Foothills, Ora Valley, and Casas Adobes, as these areas are friendly, quiet, low-crime neighborhoods, based on resident reviews.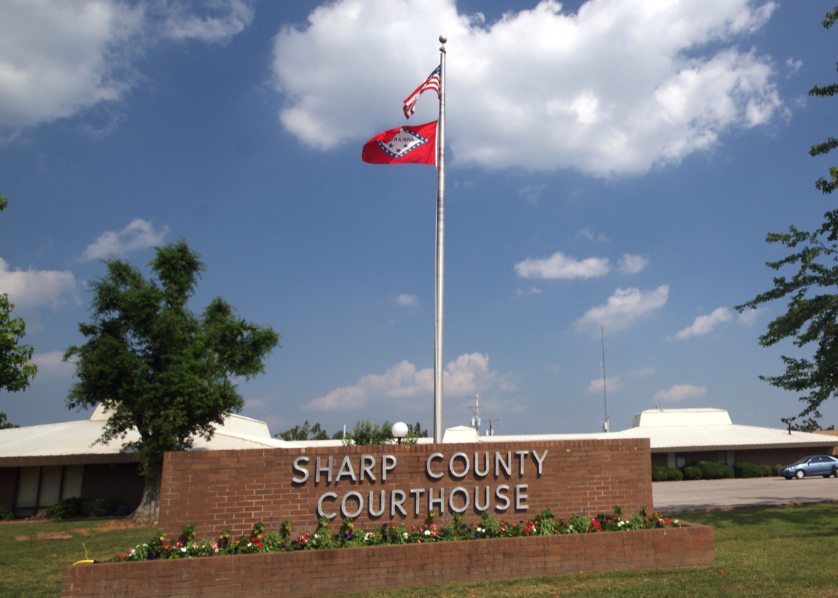 Canva
Arkansas: Sharp County
- Population: 17,243
- National rank: 41
Tucked into the foothills of the Ozark Mountains, sparsely populated Sharp County became a retirement destination with the creation of Cherokee Village, the county's first retiree-focused community. Today, the county offers many outdoor recreational activities, including fishing, boating, swimming, and golf, along with a low cost of living. Housing costs are low, even compared to the rest of the state. The median home cost in Sharp County is just $105,500, 72% less than in the state and less than half the U.S. median of $338,100. For those who need to get a taste of city life, Memphis is about a two-hour drive away.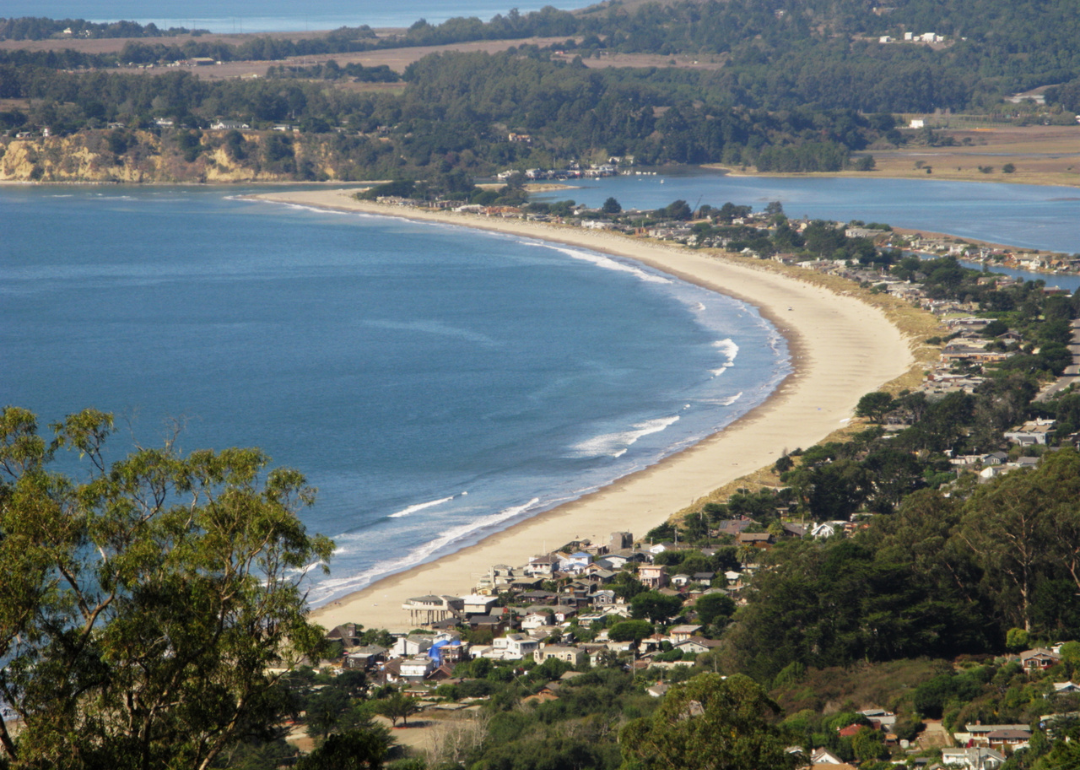 Canva
California: Marin County
- Population: 262,387
- National rank: 330
Marin County provides the beauty of California's Pacific Coast with easy access to San Francisco. The county includes the Golden Gate National Recreation Area, Muir Woods National Monument, Point Reyes National Seashore, and several other state parks and beaches. A ride over the Golden Gate Bridge at the southern end of the county gets you into San Francisco, which boasts many cultural institutions and pro sports leagues. Seniors who have been bitten by the travel bug aren't far from San Francisco International Airport.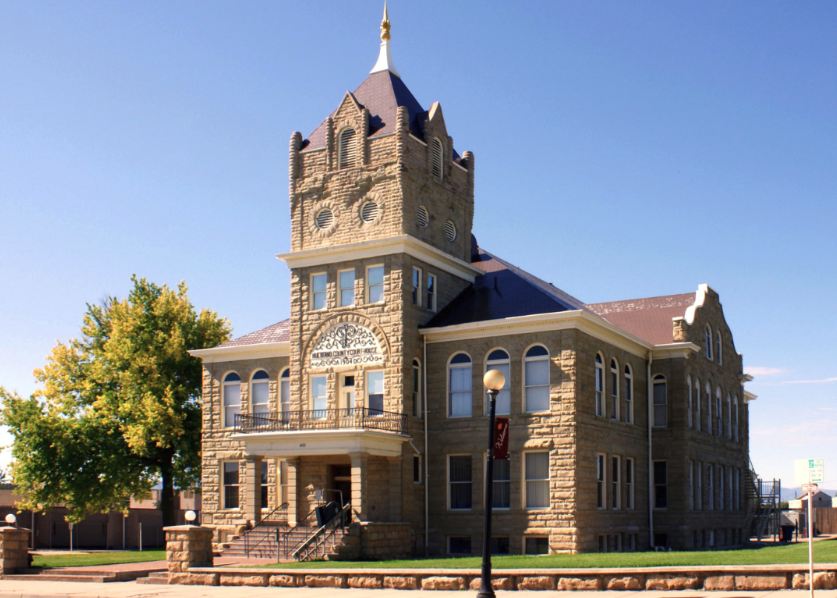 Canva
Colorado: Huerfano County
- Population: 6,787
- National rank: 305
The Spanish Peaks are a main attraction for active retirees who settle in Huerfano County. The county's cost of living is 21.4% lower than the U.S. average, making it a financially responsible choice for seniors on a fixed income. Though Huerfano County sees up to 93 inches of snow annually, it also experiences an average of 271 sunny days each year, compared to the U.S. average of 205. Accordingly, the county's Comfort Index rating of 7 out of 10 indicates that the overall climate, with an average summer high of 82 degrees and an average winter low of 19 degrees, remains neither too hot nor too cold for long periods of time.
Joe Gowac // Shutterstock
Connecticut: Middlesex County
- Population: 164,568
- National rank: 182
Middlesex County—just 30 miles northeast of New Haven—sits on the Connecticut River and comprises 25 municipalities that offer a range of rural and suburban living options for retirees. Stretching from the city of Middletown in the north to the coastal enclaves of Clinton, Westbrook, and Old Saybrook, Middlesex County combines a rich history with access to larger cities like New York City and Boston via the Shoreline East and Amtrak trains. The Middlesex County Area Transit program, part of a statewide agency called the Aging & Disability Resource Connection, provides transportation for residents over the age of 60, as well as people of all ages who have disabilities.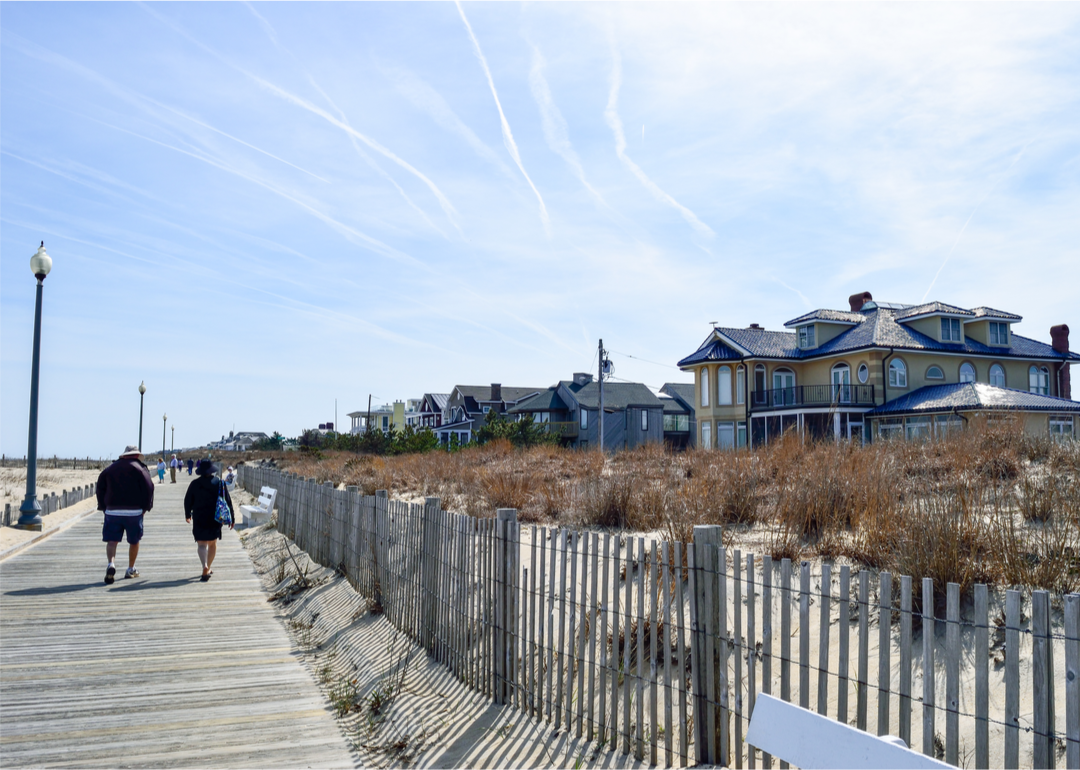 Dex Sightseeing Photography // Shutterstock
Delaware: Sussex County
- Population: 234,045
- National rank: 28
Sussex County has been promoted by publications such as The Wall Street Journal as an ideal location for retirement, citing a wide range of factors that contribute to its appeal. It boasts a serene saltwater bay shoreline—shared with seagulls and snow geese—along with miles of nearby farmland. Location is another likely draw since Sussex County is about a two-hour drive to Baltimore, a practical day trip for many residents.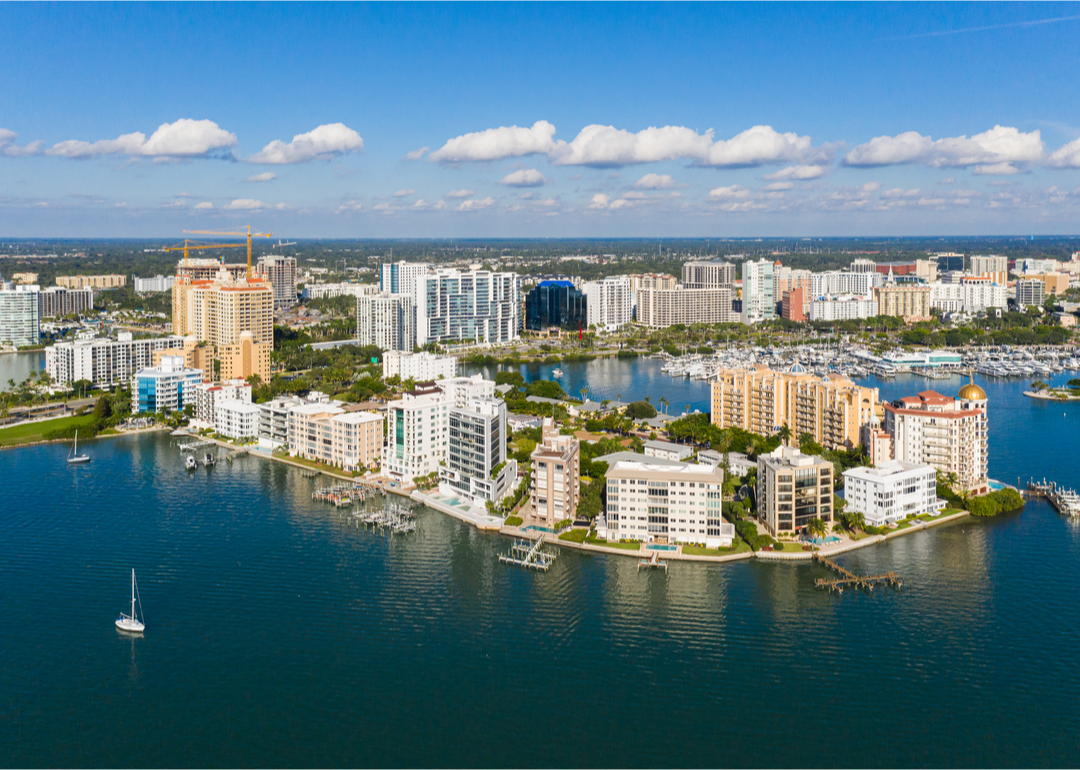 Creative Couple Media // Shutterstock
Florida: Sarasota County
- Population: 429,336
- National rank: 1
Niche is not the only source ranking Sarasota County as a leading retirement spot; U.S. News & World Report also brands the county as a mix of paradise and reality, ranking it the #11 region in the U.S. for retirement. While retirees can enjoy year-round warmth and award-winning beaches in Sarasota County, they also have access to exciting arts and cultural opportunities, in addition to neighborhood services and other perks through the government's park, recreation, and natural resource programs that include golfing, boating, and fishing.
Ancha Chiangmai // Shutterstock
Georgia: Union County
- Population: 24,183
- National rank: 27
Union County promises both adventure and solitude within its mountain community borders, which contain Georgia's highest peak, Brasstown Bald. The crisp and clean high-altitude air is enjoyable throughout the year, signified by a 7.6 out of 10 Comfort Index Rating on Best Places and the county also sees only about four inches of snow annually. The county seat of Blairsville, located in the Blue Ridge Mountains and less than two hours from Atlanta, is a popular retirement spot, with a low violent crime rate and a cost of living 11.7% below the national average which makes it safe and financially sensible for retirees.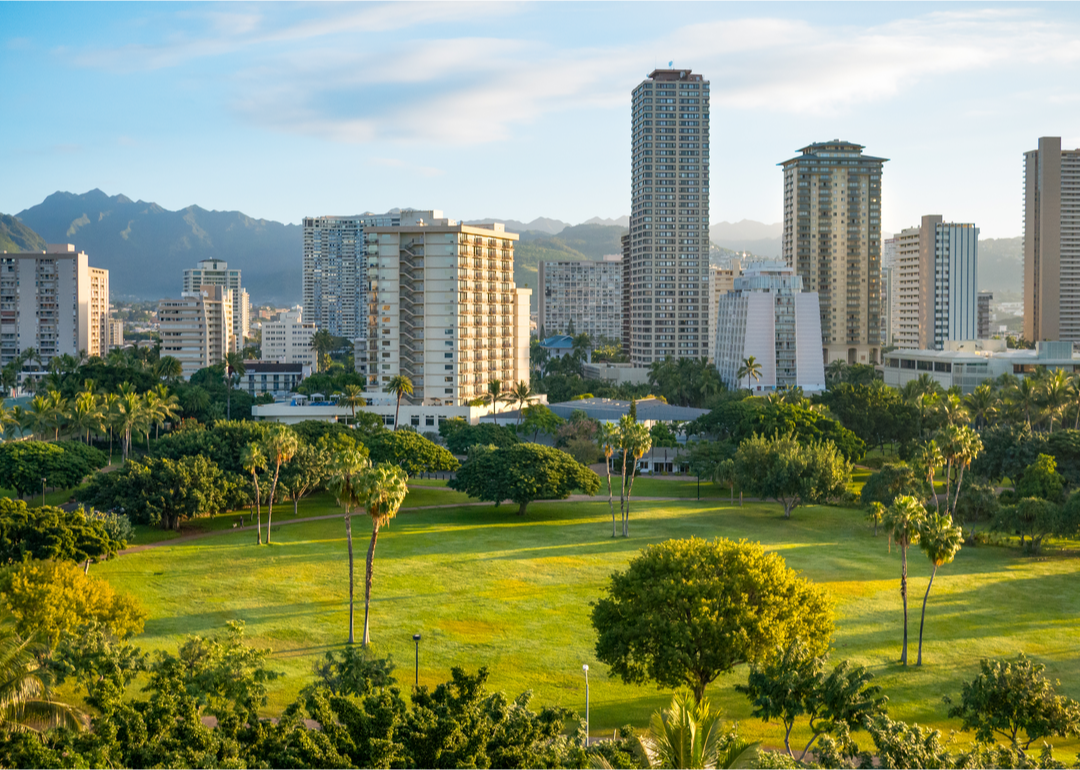 Leigh Trail // Shutterstock
Hawaii: Honolulu County
- Population: 1,015,167
- National rank: Not ranked
Retiring in the consolidated city-county of Honolulu on the island of Oahu famously offers gorgeous weather and year-round fun—but it comes at an expense, according to Kiplinger, which has ranked Hawaii as the #2 state for retirement. The publication reports that while the average household income for individuals aged 65 and older is the highest in the U.S. at 33.8%, the cost of living is a staggering 87% above the U.S. average. However, the high cost of living is somewhat countered by the affordable health care system across the county and state, which has led to the Honolulu area being home to some of the country's healthiest residents, as noted by U.S. News & World Report.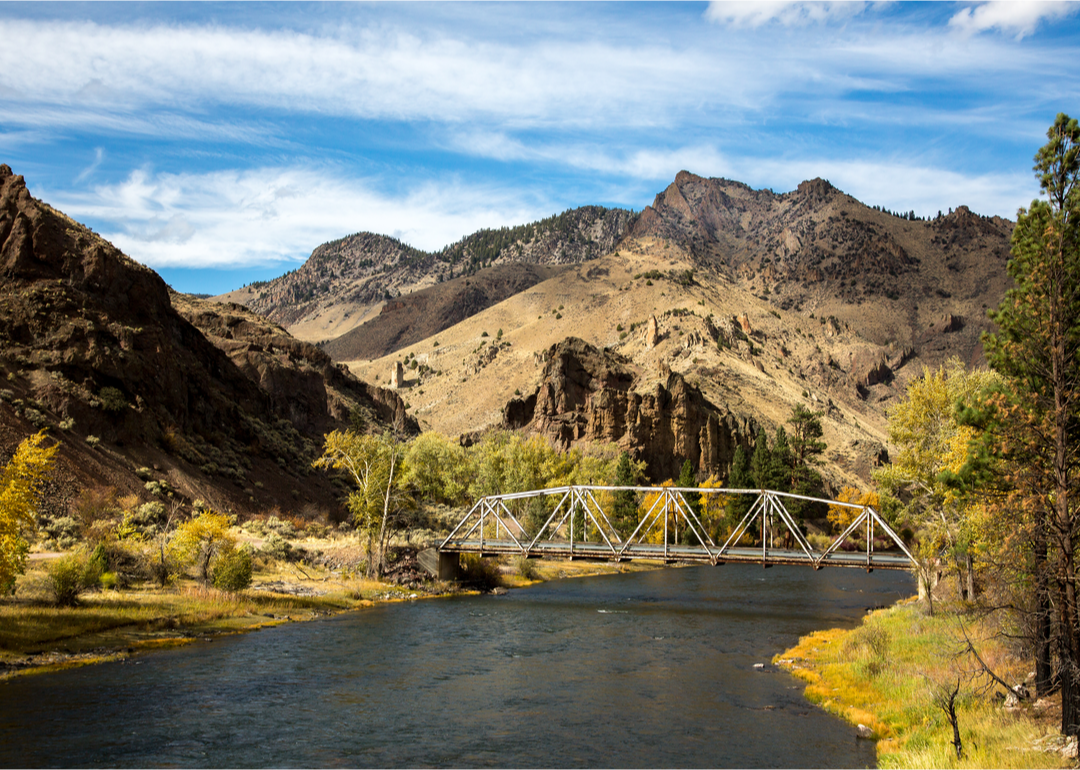 Bob Pool // Shutterstock
Idaho: Lemhi County
- Population: 7,948
- National rank: 1106
A cost of living that is 9.6% below the national average is one reason why retirees choose to live in Lemhi County, and Salmon was voted the best town in the county in which to retire, according to Niche. Desirable weather, health care access, and year-round entertainment also make Lemhi County a comfortable retirement spot. The scenic byways, canyons, rivers, mountains, hot springs, biking and hiking trails, and ghost towns make Lemhi County an especially appealing option for retirees who enjoy outdoor activities.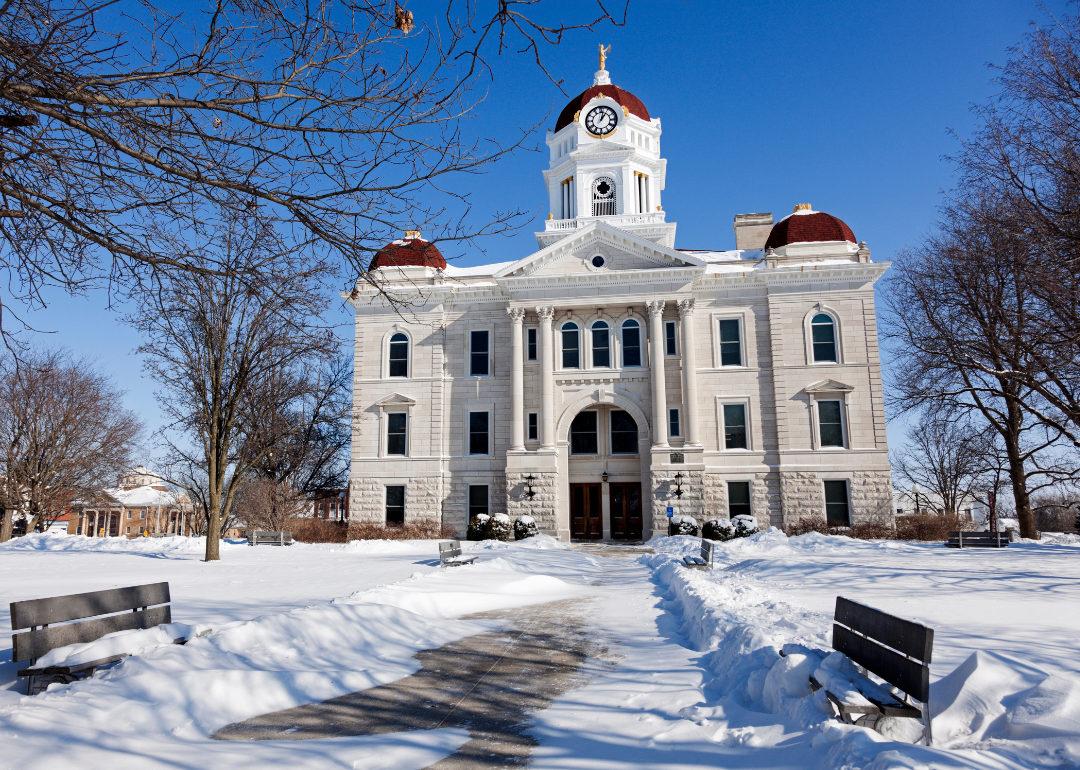 Canva
Illinois: Hancock County
- Population: 17,750
- National rank: 288
For those who prefer the quiet life, Hancock County provides small-town living at an affordable price—the cost of living here is 26.8% lower than the U.S. average. The area is known mainly as an agricultural region—87% of the county's 521,000 acres are devoted to farmland. The county isn't all farms though, as the Mississippi River forms its western border and provides opportunities for a riverfront lifestyle. History buffs may enjoy the county's role in American history. Before he became President, Zachary Taylor led troops at Fort Johnson and Fort Edwards in Warsaw, and from 1839 to 1846, Nauvoo was home to the Church of Jesus Christ of Latter-day Saints and its leaders Joseph Smith—who was murdered here—and Brigham Young.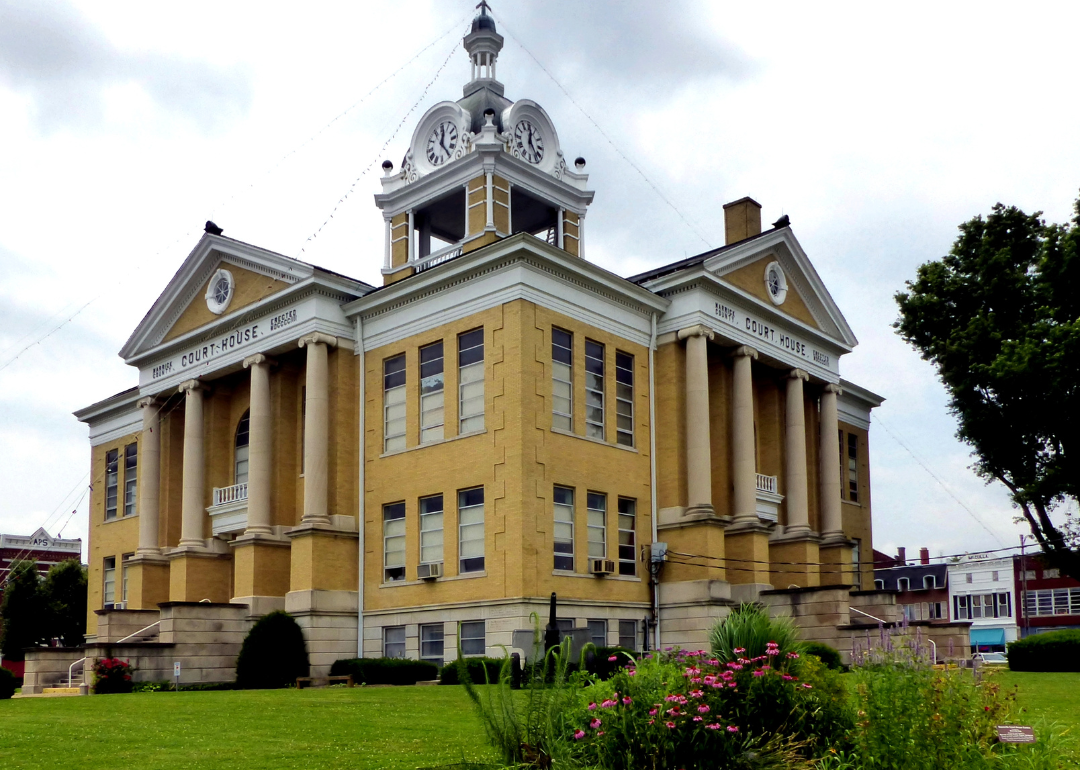 Canva
Indiana: Warrick County
- Population: 63,575
- National rank: 209
Warrick County, in southwestern Indiana, provides small-town living, but its proximity to Evansville allows residents access to the amenities of Indiana's third-largest city. The Ohio River serves as the county's southern border, and along it lies Rivertown Trail, a riverfront path that runs from Angel Mounds State Historic Site, through downtown Newburgh to the Locks & Dam Park. Many lakes dot the county, providing ample opportunities for paddling, boating, fishing, swimming, and hiking. The county also has four golf and country clubs, including Victoria National Golf Club, ranked 47th in Golf Digest's 2021-2022 ranking of the country's best courses.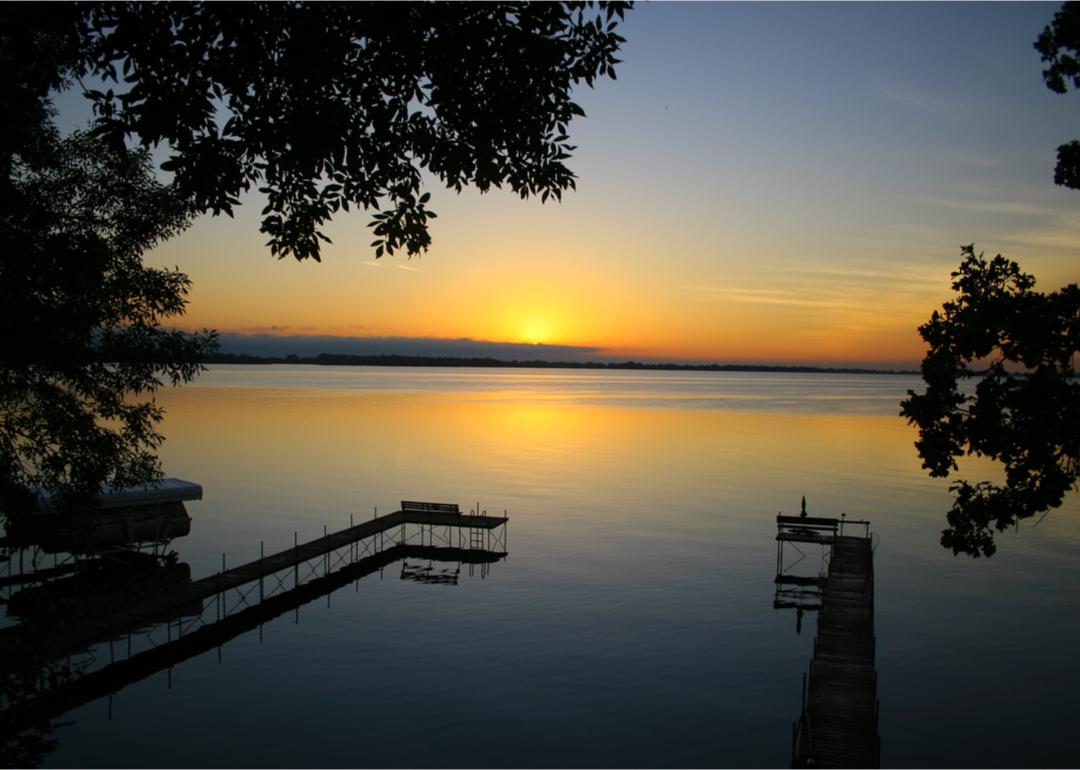 Karl Kraüt // Shutterstock
Iowa: Dickinson County
- Population: 17,536
- National rank: 106
This Iowa county, named after former New York Sen. Daniel Dickinson, offers a cost of living that is 10% lower than the national average, giving retirees extra bang for their buck in the northwest region of the state. Home to the largest natural lakes in Iowa, the county provides dozens of recreational and sports-related outdoor activities for retirees to enjoy in the warm weather, while also hosting the University of Okoboji Winter Games during the cold winter months. Niche notes that Dickinson County received high grades for housing choices, diversity, health and fitness opportunities, weather, and more, making it clear why retirees choose this region of Iowa.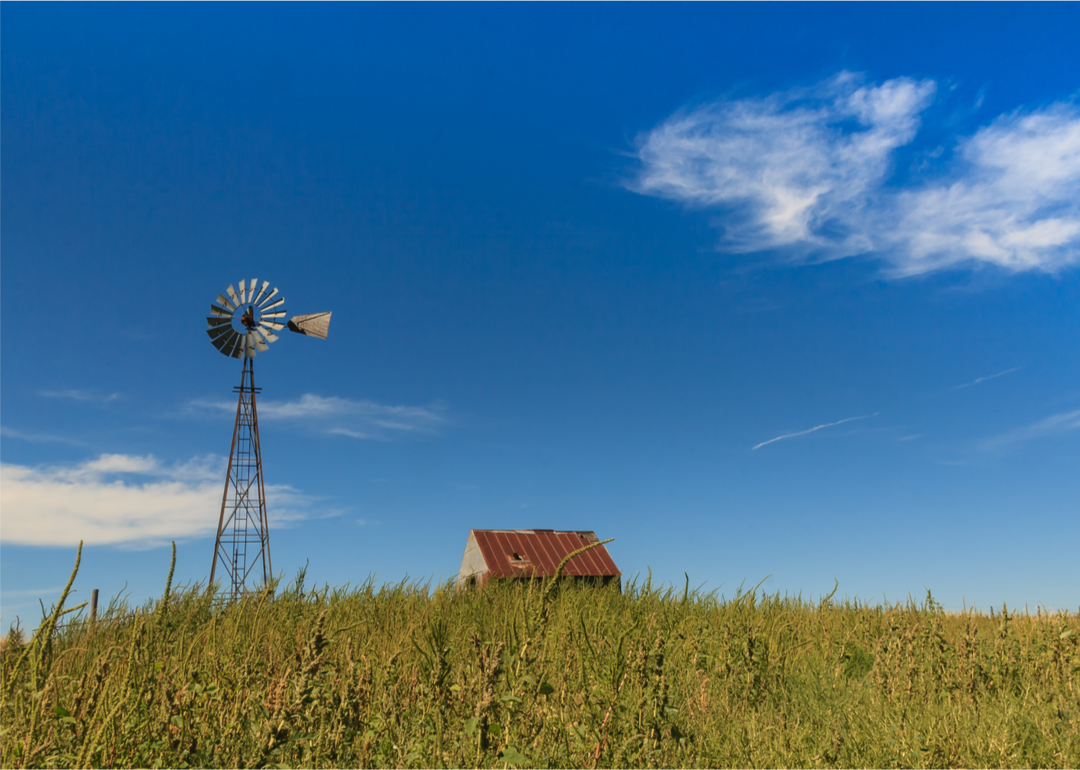 Melanie Hobson // Shutterstock
Kansas: Greenwood County
- Population: 6,049
- National rank: 43
In Kansas, there really is no place like home, as Dorothy so famously uttered in "The Wizard of Oz," and retirees appear to feel the same way about Greenwood County—located in the southeast section of the state—which offers a cost of living that is 30% lower than the U.S. average. Retirees can enjoy the Farm and Art Market, the local museum, a city pool, the historical society, an activity center, and Lake Eureka, where fishing, boating, and water sports are among the outdoor activities provided for the intimate population of about 6,200 neighbors. It's no surprise that Niche ranks the county seat of Eureka as the sixth best place to retire in Kansas.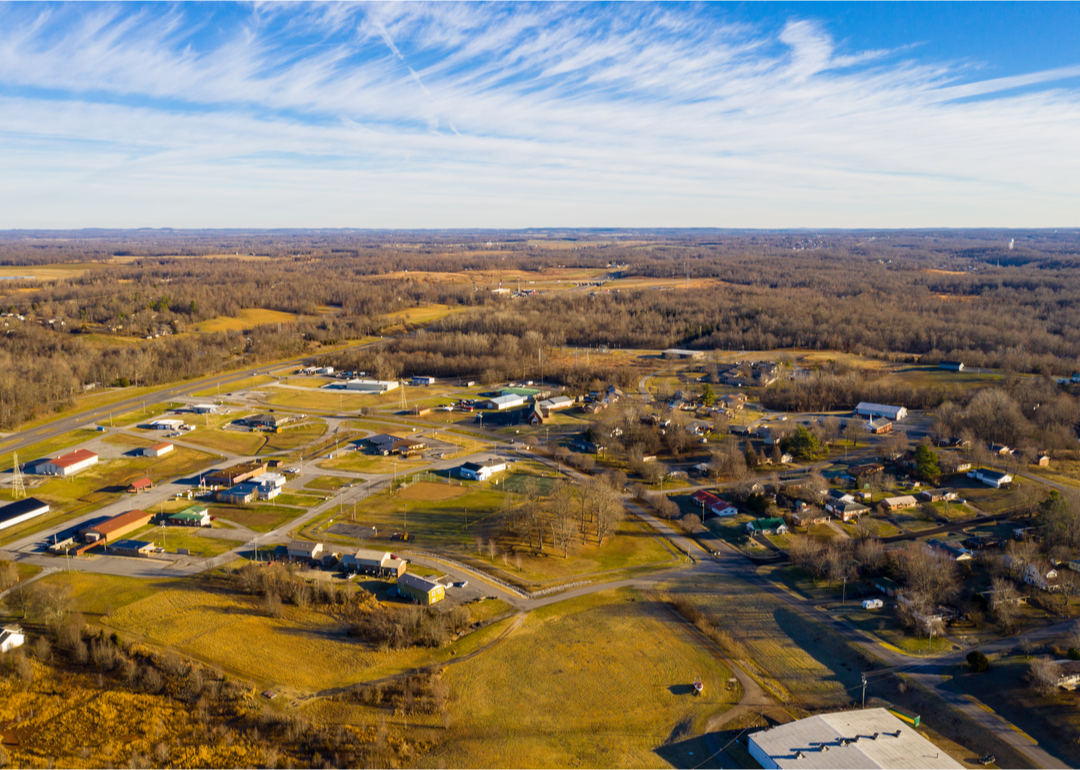 Felix Mizioznikov // Shutterstock
Kentucky: Lyon County
- Population: 8,700
- National rank: 107
Mostly rural farming communities comprise Lyon County, which is located within Land Between the Lakes National Recreation Area, a 170,000-acre recreation area that straddles Kentucky and Tennessee. Additionally, several lakeside retirement communities spread throughout the county's 257 square miles enable retirees to enjoy outdoor activities like biking, hunting, and fishing. For inside entertainment, the Lyon County Senior Center offers an array of activities, including line dancing, Bible study, bingo, a bookmobile, congregate meals, and even blood pressure checks for seniors in the area.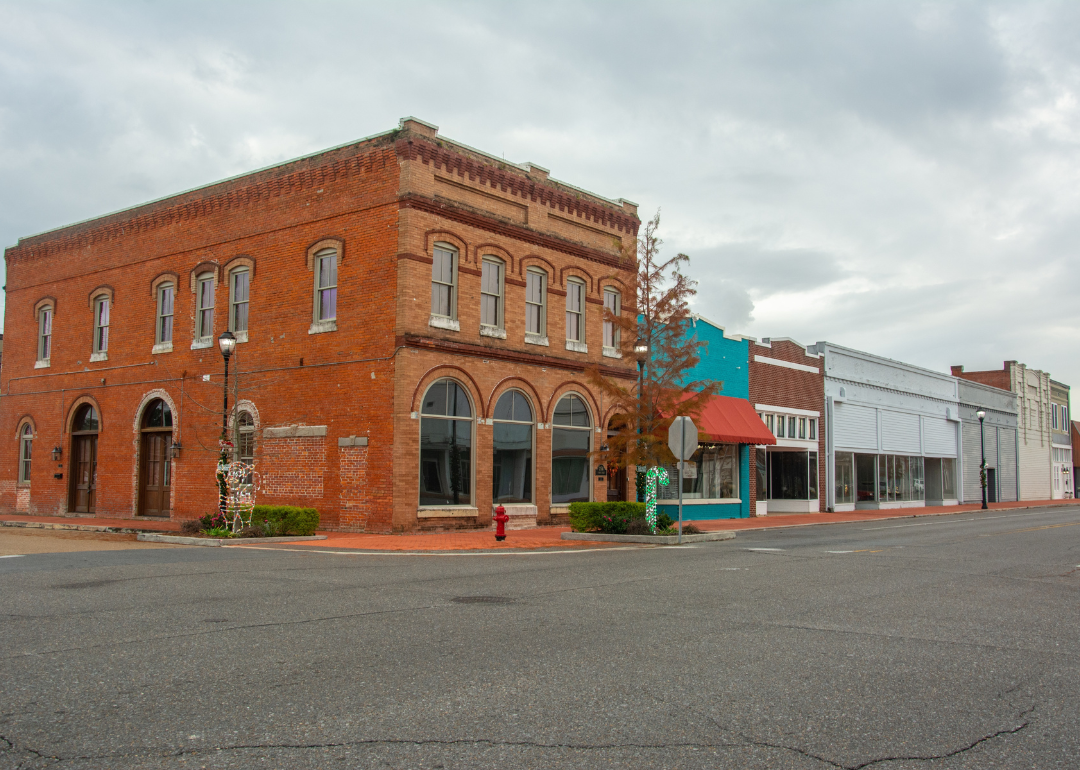 Nina Alizada // Shutterstock
Louisiana: Jefferson Davis Parish
- Population: 32,270
- National rank: 337
Southwestern Louisiana is very affordable—but the summers can be brutal. Compared to the rest of the country, it costs 18.7% less to live here, and the government provides additional financial relief at tax time. The Louisiana state government allows retirees aged 65 and up to exclude some benefits from their taxable income for state income taxes. This includes up to $6,000 of annual retirement income—$12,000 if taxpayers are married, filing jointly, and both have retirement income—as well as Social Security benefits that incur federal taxes. Those savings may be needed to ensure good air conditioning in July and August when the average daily temperature can top 91 degrees.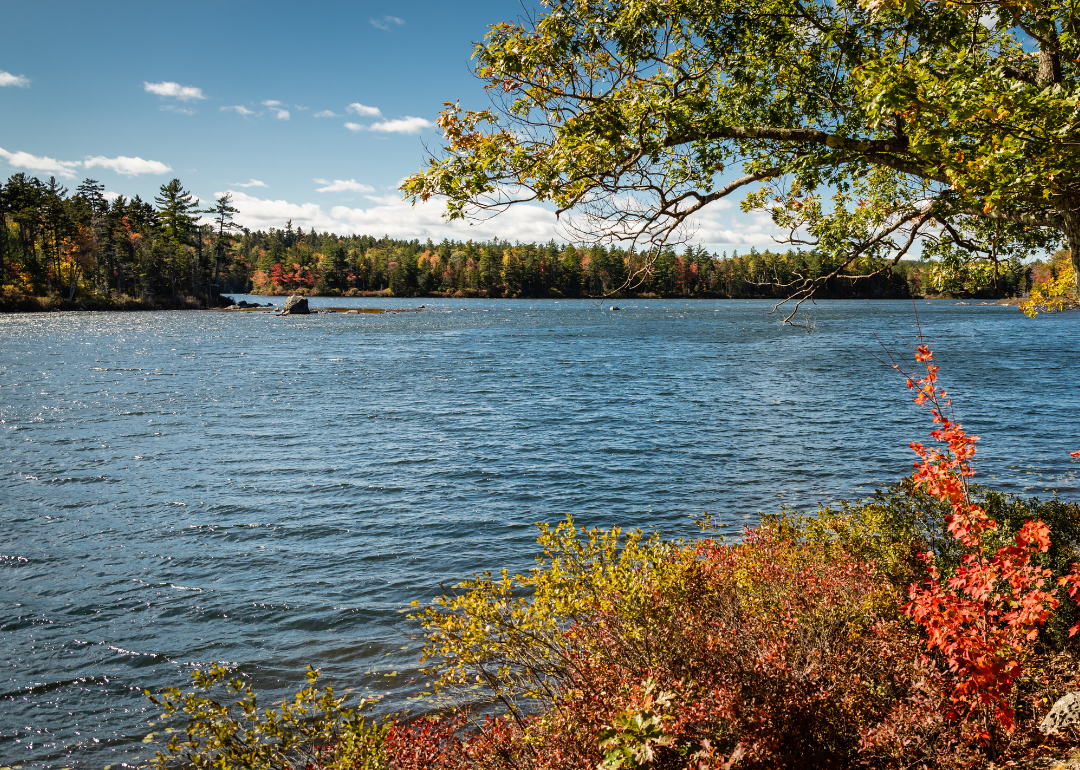 Canva
Maine: Hancock County
- Population: 55,417
- National rank: 55
Residents of Hancock County can enjoy the splendor of Maine's coast, which includes Acacia National Park, a wonderland of 47,000 acres on Mt. Desert Island. As one of the country's most-visited national parks, outdoor lovers can take advantage of a number of activities, including hiking, climbing, boating, fishing, tidepooling, and stargazing. The picturesque coastal town of Bar Harbor lies next to the park and hosts the renowned Bar Harbor Music Festival, as well as a daylong Fourth of July bash every year. Living in Hancock County does require a tolerance for cold weather—the county averages 66.6 inches of snow per year, and low temperatures in January hover around 8 degrees.
Justin DeRosa // Shutterstock
Maryland: Worcester County
- Population: 52,322
- National rank: 17
Niche gives Worcester County an overall grade of A- for its wealth of outdoor activities, health and fitness opportunities, weather, diversity, and housing, which is why retirees often opt to settle in this area. The cost of living is 0.3% higher than the national average, and the plentiful summer activities and recreational opportunities, including beaches, county fairs, U.S. Air Force air shows, fishing tournaments, crab derbies, and art and seafood festivals, are often viewed as far outweighing this slightly elevated cost.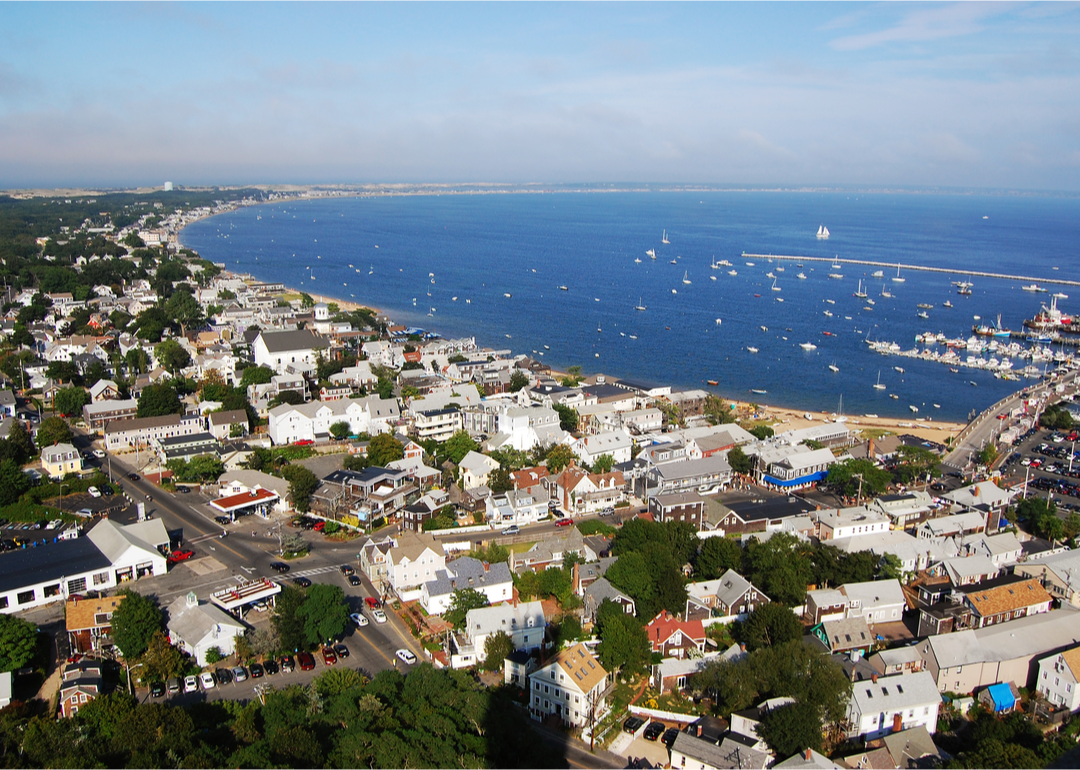 Wangkun Jia // Shutterstock
Massachusetts: Barnstable County
- Population: 227,942
- National rank: 30
When not sinking their toes into the sand or sunbathing on a boat, retirees in Barnstable County enjoy museums, artistic centers, opera houses, theaters, and festivals. The region also offers miles of outdoor recreational opportunities, including sailing, whale watching, and cycling along the Cape Cod Rail Trail, a scenic, 25-mile paved bike trail running through 7 of the county's 15 towns.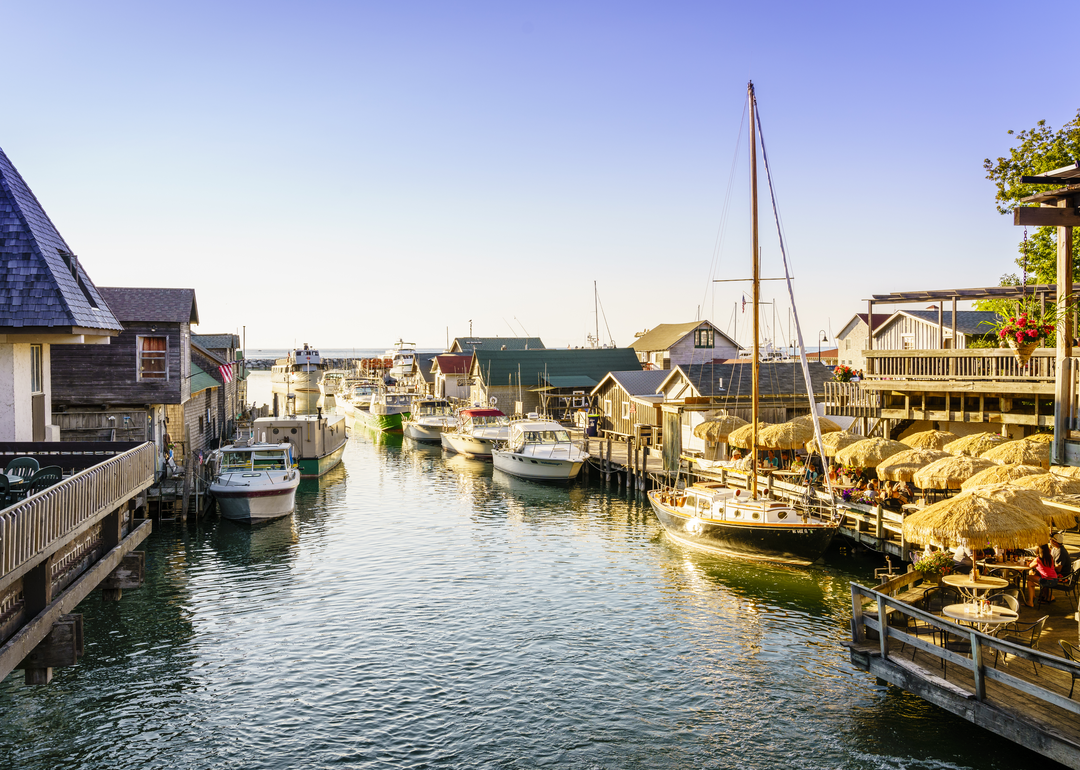 Alexey Stiop // Shutterstock
Michigan: Leelanau County
- Population: 22,251
- National rank: 53
Along with an overall grade of A, Niche ranked Leelanau County as the seventh-best county in which to live in Michigan. The county offers many outdoor recreation and exercise activities for retirees, specifically on the Leelanau Peninsula Wine Trail. Sleeping Bear Dunes National Lakeshore, which stretches along 35 miles of the Lake Michigan coast, was voted the most beautiful place in America in 2011 by "Good Morning America" viewers.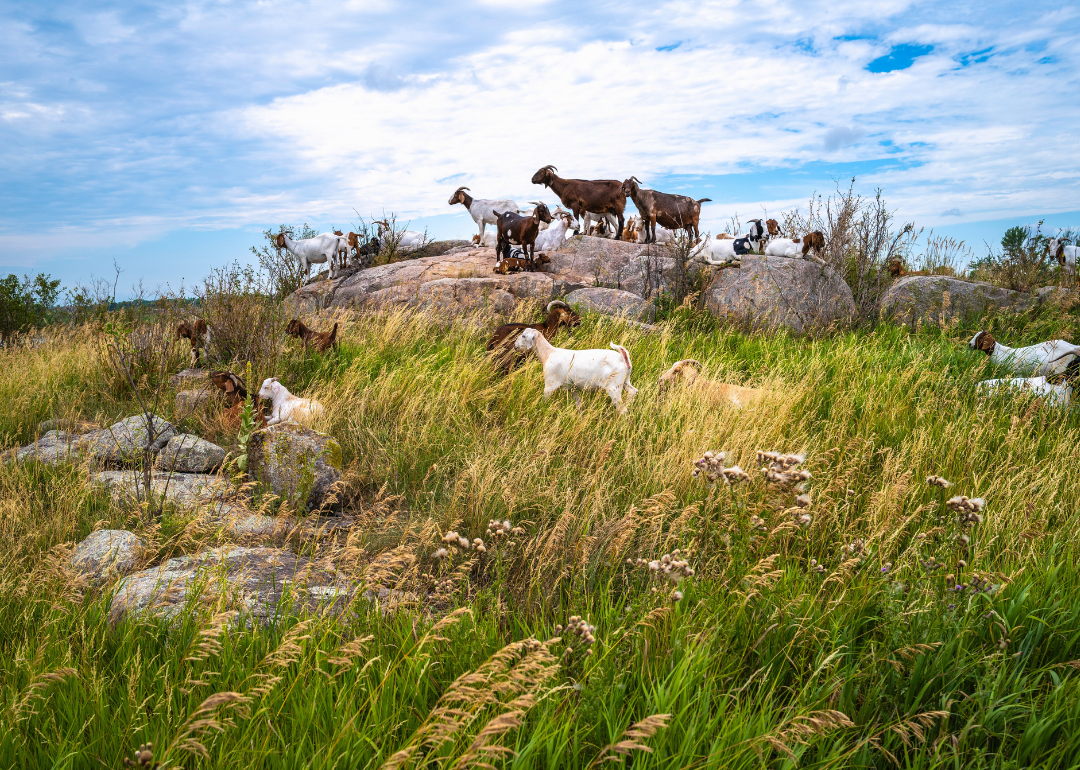 NayaDadara // Shutterstock
Minnesota: Big Stone County
- Population: 5,155
- National rank: 124
Big Stone County is home to Big Stone Lake and roughly three dozen other bodies of water, affording active retirees endless opportunities for swimming, fishing, boating in the summer, biking and birding in the fall and spring, and cross-country skiing and snowmobiling in the winter. Additionally, the county seat of Ortonville is home to Fairway View Senior Communities, a large complex of catered and assisted-living facilities.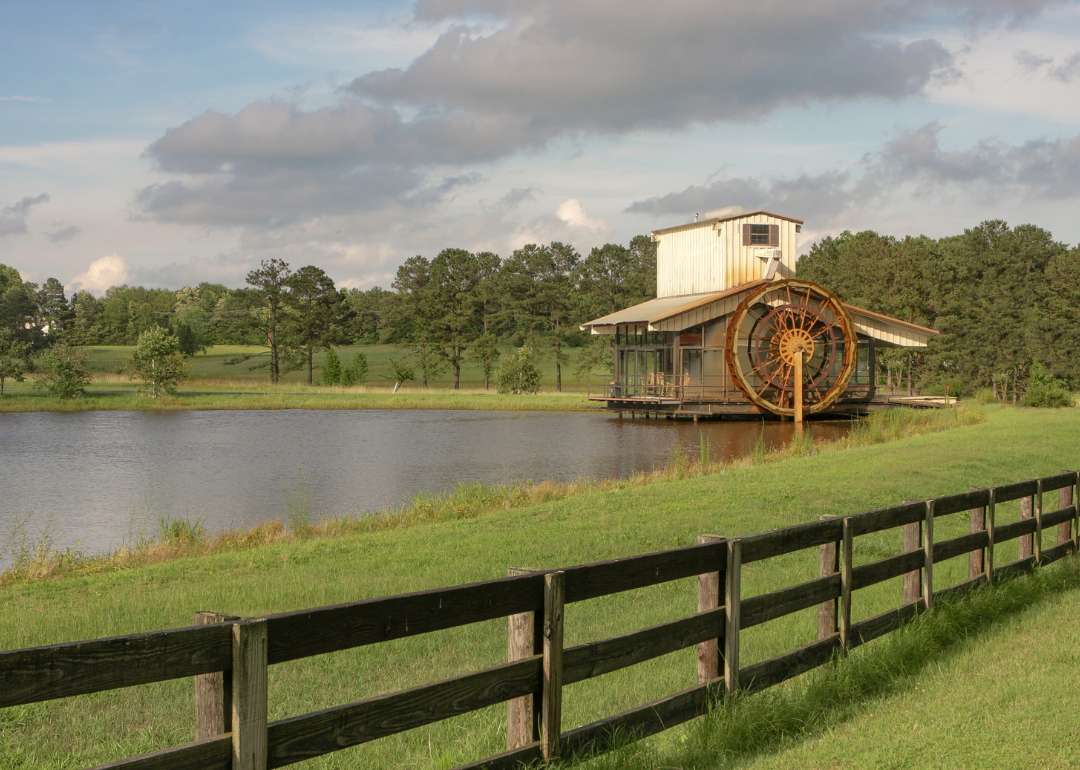 Ronnie Howard // Shutterstock
Mississippi: Winston County
- Population: 17,846
- National rank: 299
With just 29.2 people per square mile, Winston County is a place for those who seek some peace and quiet. Outdoors lovers can explore the Tombigbee National Forest, and go fishing, boating, and birding at the Sam D. Hamilton Noxubee National Wildlife Refuge, which is a National Audubon Society-designated Important Bird Area that spans Winston, Noxubee, and Oktibbeha counties. Nanih Waiya Mound, located in the southern part of the county, is the legendary birthplace of the Choctaw Indian tribe. The tribe still has a presence in Winston County and is developing a travel plaza with a restaurant and casino that will open along Highway 25 in 2024.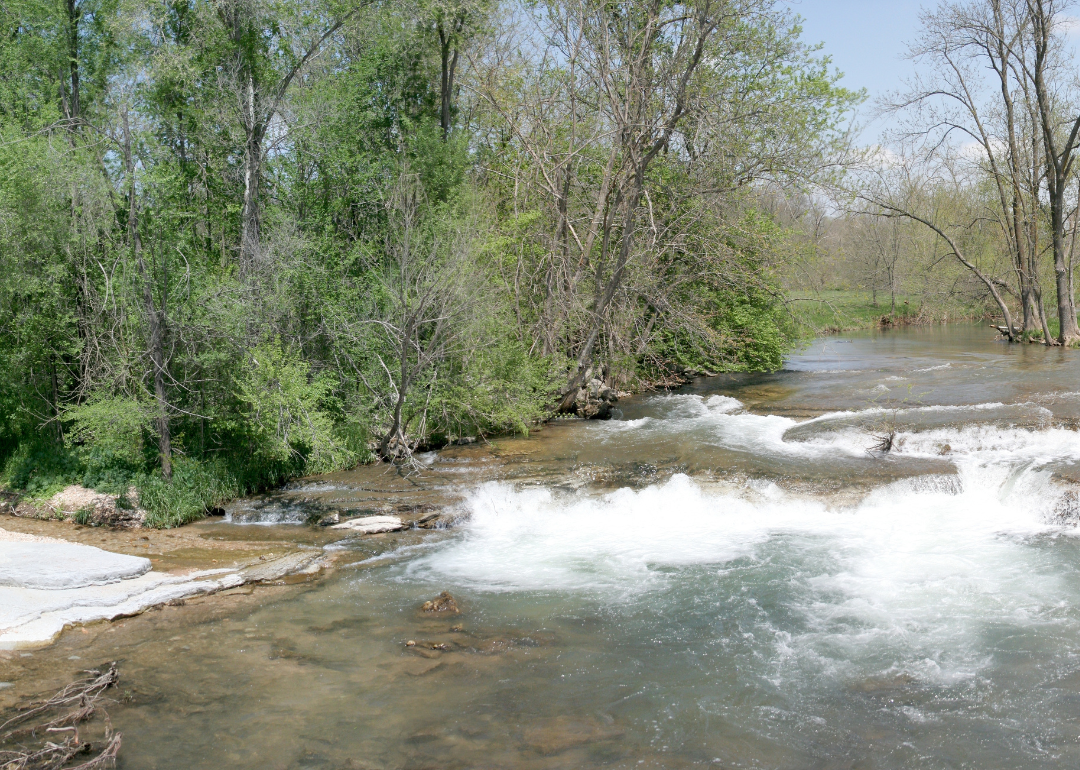 Jothi Pallikkathayil // Shutterstock
Missouri: Stone County
- Population: 31,018
- National rank: 79
Nature enthusiasts and live music lovers alike are sure to love spending their golden years in Stone County, Missouri, where the cost of living is 15% lower than the national average. Situated in the southwestern portion of the state, Stone County is home to Table Rock Lake and surrounded by the Ozark Mountains, providing active retirees with ample opportunities for boating, fishing, hiking, and water sports. Although it's still a rural area, it became a popular relocation place for people of all ages during the pandemic, growing 3.4% to about 32,000 people. It's also a stone's throw away from Branson, which is known as the Live Music Capital of the World thanks to its 40+ theaters offering an abundance of concerts, comedy shows, and other entertainment geared toward both old and young alike.
Glenn Taylor // Shutterstock
Montana: Ravalli County
- Population: 43,790
- National rank: 967
The TV show "Yellowstone" has helped put Ravalli County on the map. The Kevin Costner western films in the Bitterroot Valley, which is nestled between the Sapphire Mountains and the Bitterroot Mountains. Those who enjoy outdoor adventures can take full advantage of the 1.6-million-acre Bitterroot National Forest, which offers hiking, hunting, rafting, fishing, biking, skiing, and more. Life in Ravalli County can be rugged—only 300 miles of the county's 550 miles of roads are paved. For those who live outside of towns, it can be more difficult to get basic services like mail, utilities, and emergency response. However, the communities are tight-knit, and neighbors are known for their willingness to help each other.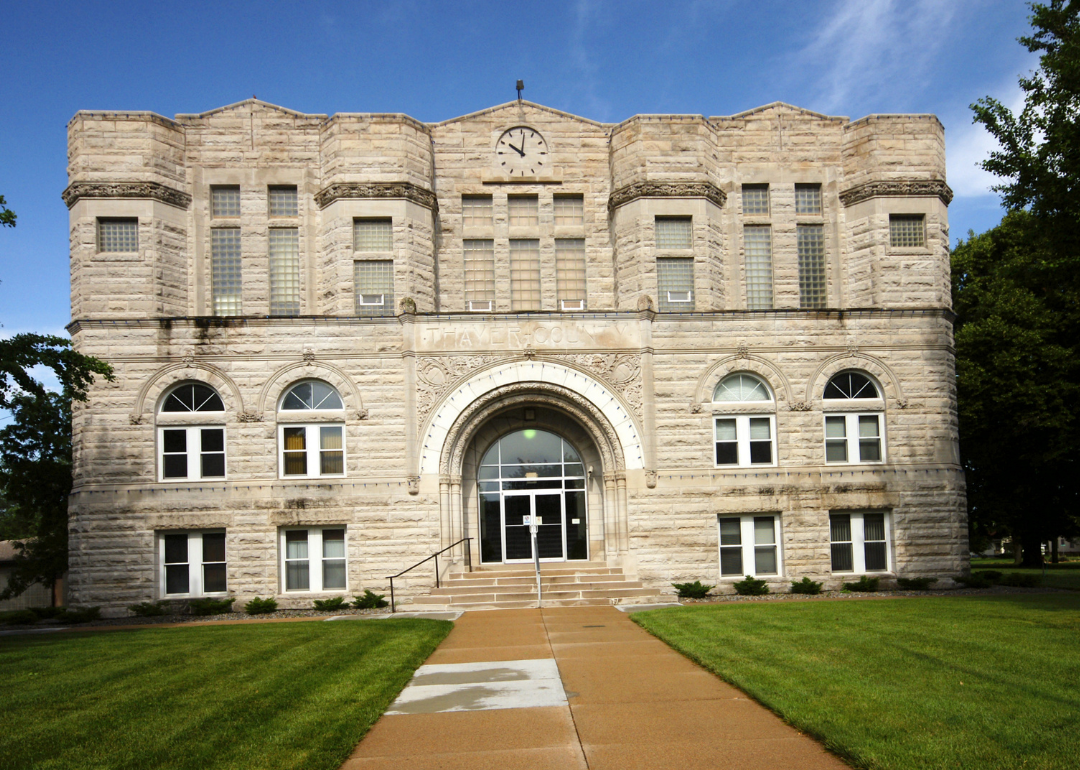 Canva
Nebraska: Thayer County
- Population: 5,053
- National rank: 78
Retirees in Thayer County can enjoy establishments and activities like the Belvidere Train Watching Station, Bruning Opera House, Centennial Park Arboretum, and Pony Express Trail. Alexandria State Recreation Area, which includes 55 acres of mature forest and two bodies of water, is also a popular spot for seniors who love the outdoors to picnic and fish. Thayer County also ranks #1 on Niche's list of Nebraska counties with the lowest cost of living.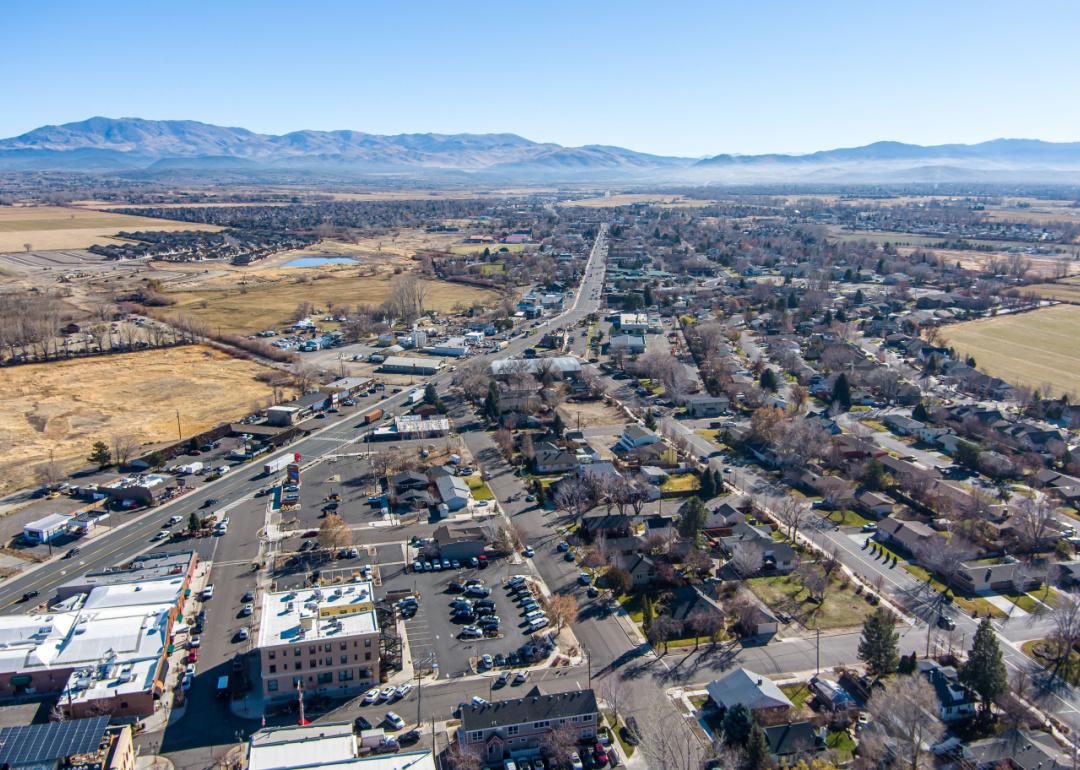 Gchapel // Shutterstock
Nevada: Douglas County
- Population: 49,158
- National rank: 280
With hundreds of miles of open space surrounding Lake Tahoe, Douglas County is considered a hidden jewel of Northern Nevada. However, when retirees in the area also want to enjoy city life, the county is located less than 50 miles from the Reno Tahoe region, where they can partake in a vibrant restaurant and event scene. Bordering California to the west, Douglas County also gives retirees the option to cross over to the Golden State at their leisure.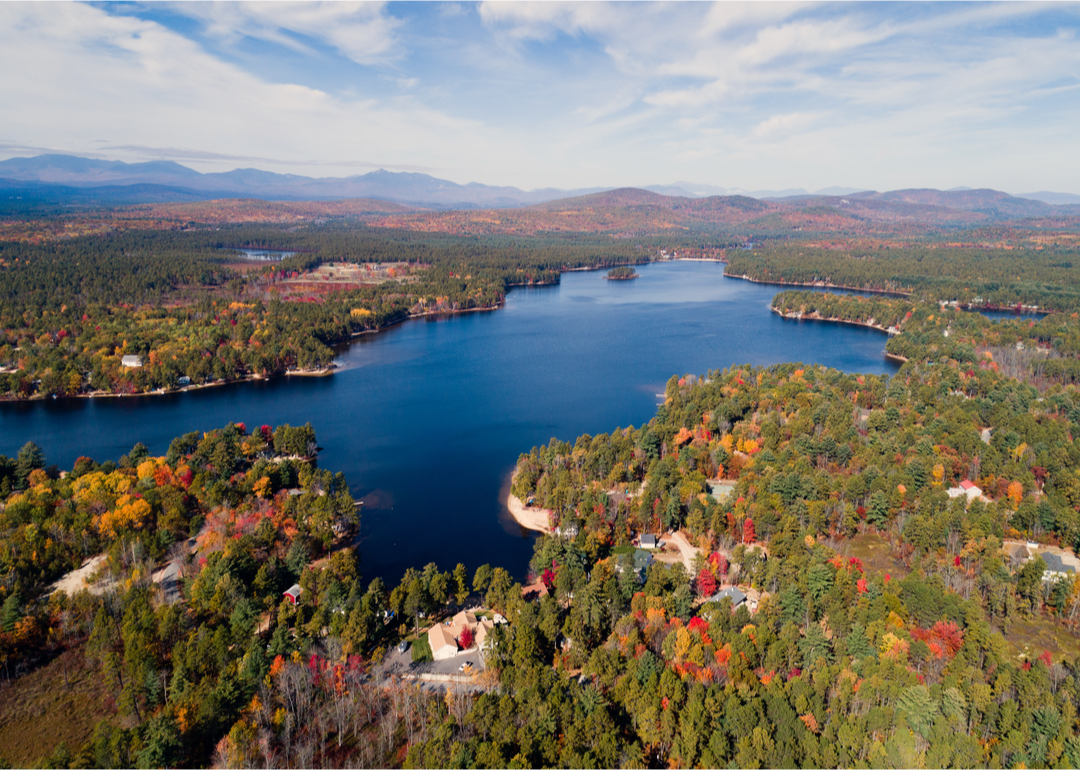 NEKVT // Shutterstock
New Hampshire: Carroll County
- Population: 49,961
- National rank: 177
Nestled between White Mountain National Forest and Lake Winnipesaukee, Carroll County is part of the gorgeous New England landscape. A "friendly tax structure, low crime rates, low poverty rates, outstanding schools, vibrant communities, and renowned medical facilities," are all reasons for retirees to consider settling in the area, according to the county's website. Plus, senior living services such as the ServiceLink Aging and Disability Resource Center are available to make retiring a safe move.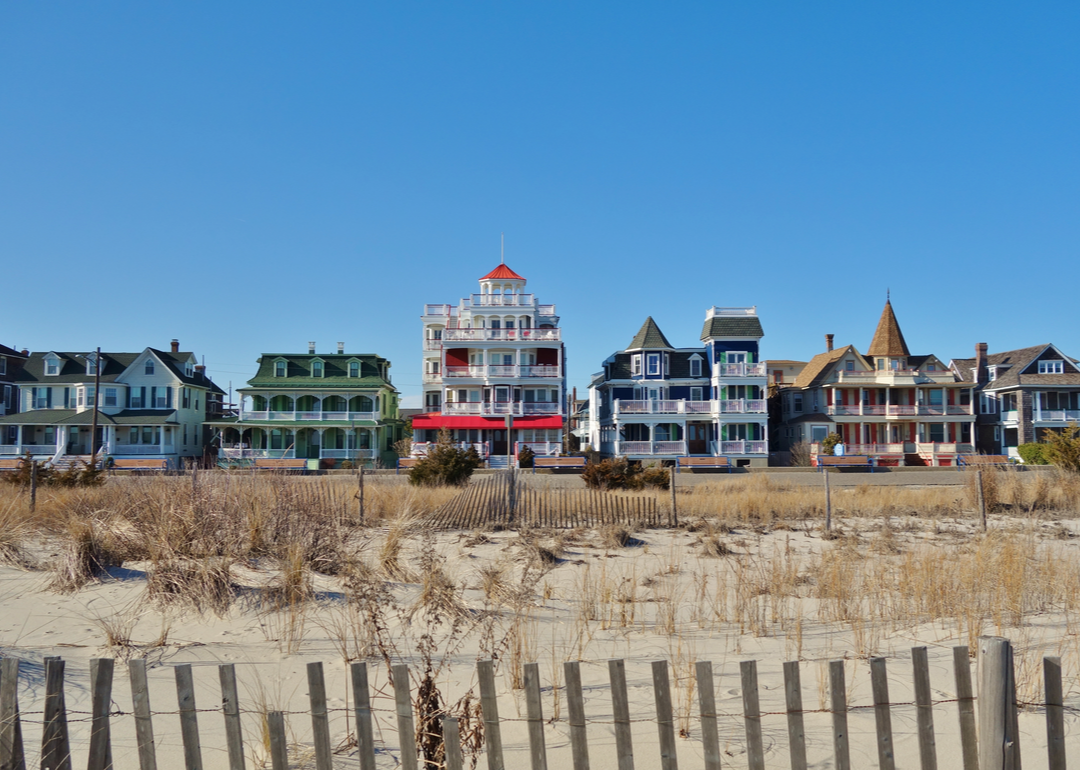 EQRoy // Shutterstock
New Jersey: Cape May County
- Population: 95,488
- National rank: 56
Famous parks, zoos, and the Cape May Peninsula, which is located between the Atlantic Ocean and the Delaware Bay, lure many retirees to Cape May County at the southernmost tip of the Garden State. Gov. Phil Murphy set a goal to bring in up to 150 million visitors to New Jersey annually by 2023, particularly in this county, where large and ever-growing wineries are already attracting thousands of visitors. Situated less than an hour from Atlantic City, Cape May County also offers retirees a plethora of restaurants, gambling venues, and a vibrant arts and nightlife scene.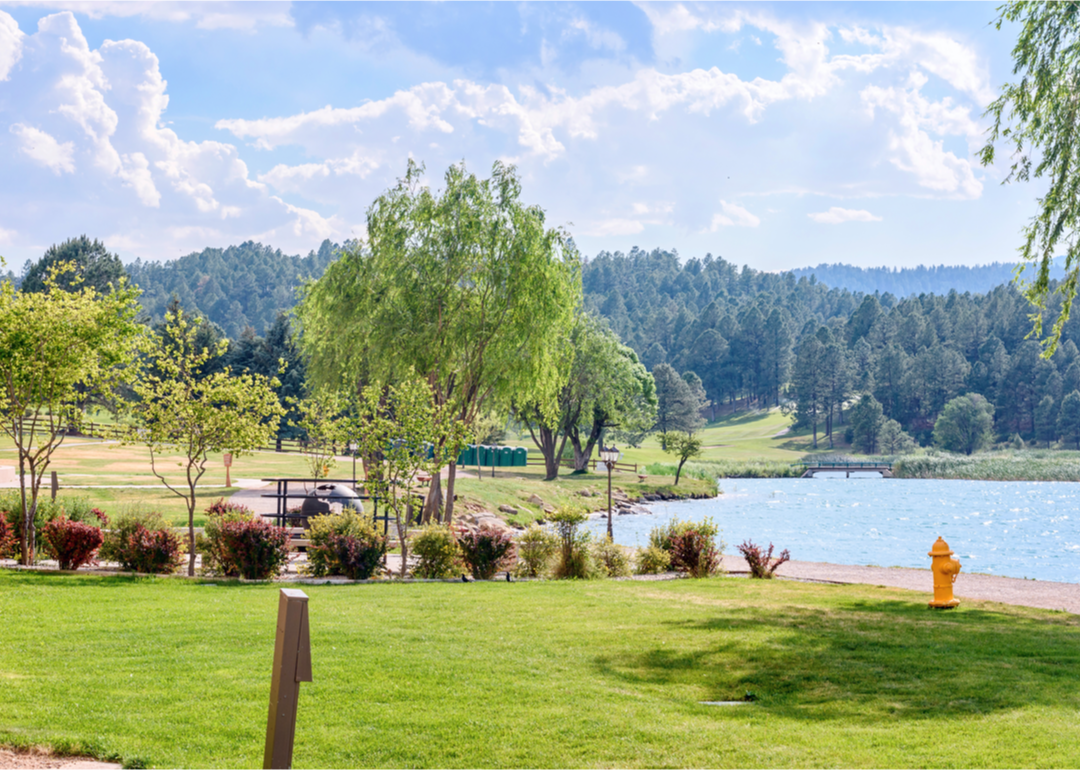 FrimuFilms // Shutterstock
New Mexico: Lincoln County
- Population: 20,084
- National rank: 193
The Ruidoso Valley Chamber of Commerce calls Lincoln County the "Playground of the Southwest," offering retirees endless leisure opportunities: racetrack and casino betting, biking or hiking in the nearby Lincoln National Forest, outdoor concerts and sporting events, beaches, lakes, golf courses, and museums, plus various fairs and festivals. The county boasts a Best Places Comfort Index rating of 7.8 out of 10; local temperatures typically reach a low of 23 degrees in the winter and a high of 84 degrees in the summer.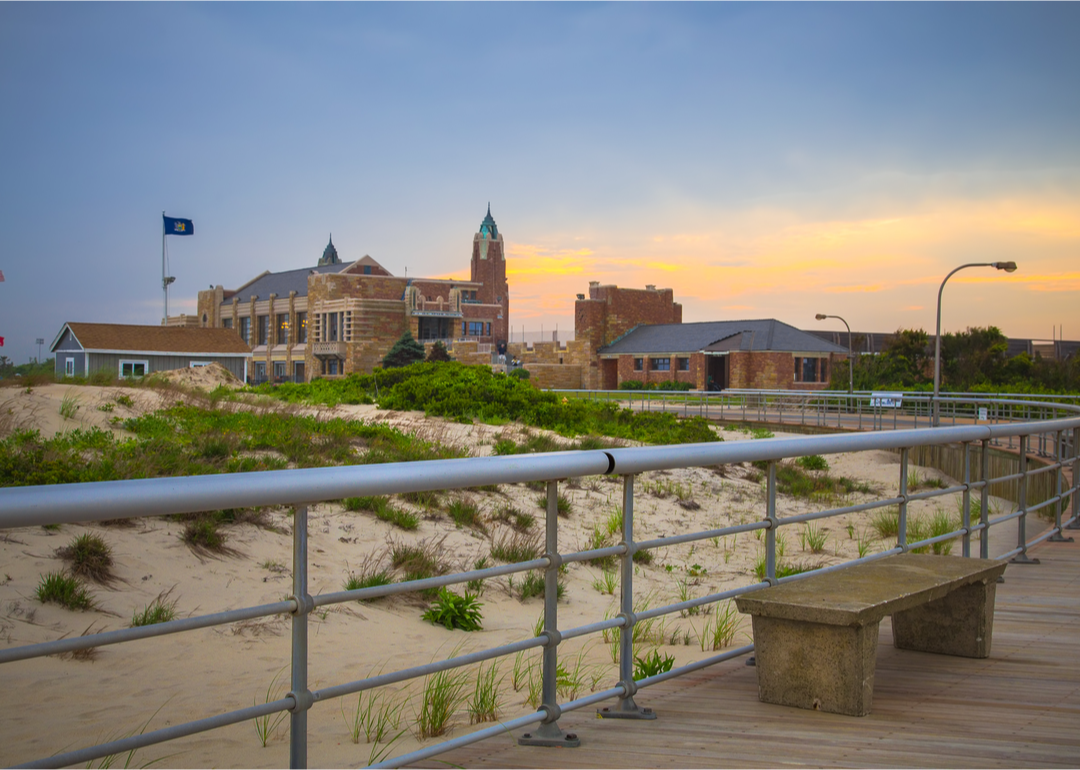 littlenySTOCK // Shutterstock
New York: Nassau County
- Population: 1,391,678
- National rank: 323
Retiring in Nassau County comes at a price—specifically, a cost of living that is 60.6% higher than the national average, primarily due to the fact that it is less than an hour from New York City. With such close access to "the world's most important city," according to Business Insider, retirees can engage with an endless list of possibilities for entertainment, food, sporting events, theater and the arts, and more. Niche's three top cities for retirement in Nassau County—Lake Success, Great Neck Plaza, and Woodbury—offer suburban havens outside the bustling city.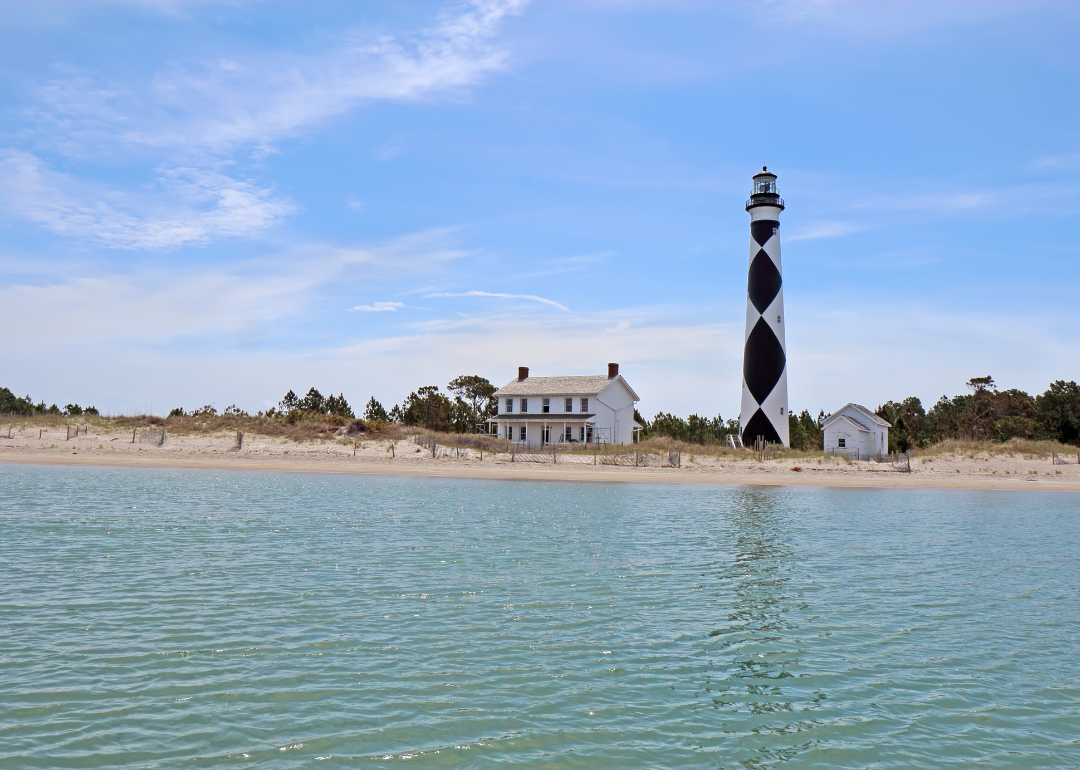 Canva
North Carolina: Carteret County
- Population: 67,944
- National rank: 10
Carteret County has long been a destination for retirees, with its moderate climate, coastal living, and abundance of activities, and it has the stamp of approval to prove it. In 2020, it was North Carolina's first coastal county to receive RetireNC's Certified Retirement Community designation, a recognition of the county's ability to provide services and amenities targeted toward creating an enriched senior lifestyle. Among those amenities are plenty of outdoor activities, including boating, fishing, golfing, and relaxing on Emerald Isle Beach, voted North Carolina's best beach in 2018. The Leon Mann Jr. Senior Enrichment Center in Morehead City offers a wide variety of indoor activities, including twice-monthly senior dances. The county boasts quality healthcare options, with Carteret Health Care, the state's only hospital that's part of the Mayo Clinic Care Network.
CJ Cagney // Shutterstock
North Dakota: Barnes County
- Population: 10,869
- National rank: 410
Awarded an overall grade of B+ for retirees by Niche, Barnes County, boasting a cost of living that is 24.4% lower than the U.S. average, has a population of just under 11,000 locals. The county seat of Valley City offers acres of parks, scenic byways, and a walkable downtown filled with quaint shops and eateries. There is also a vibrant arts and culture program through Valley City State University, which promotes performances that are open to the community year-round.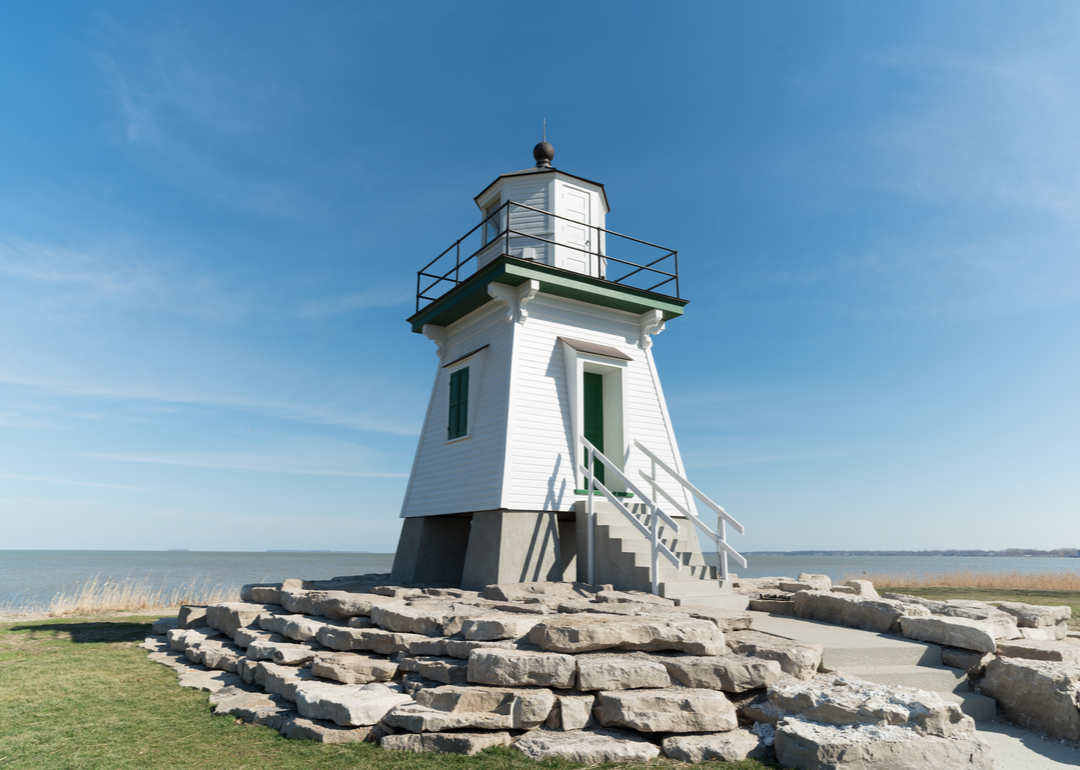 Jeff Warneck // Shutterstock
Ohio: Ottawa County
- Population: 40,479
- National rank: 212
Several senior living communities throughout Ottawa County provide retirees with many options to find a place to call home. Nestled on Lake Erie in the northwestern region of the state, Ottawa County's cost of living is 18.4% lower than the national average, making frugal senior budgets go further. With money-saving housing, plentiful health care, and affordable transportation and shopping, retirees have more money to enjoy recreational activities in the thriving Ottawa County Parks system or water sports, including fishing, kayaking, and sailing, along Lake Erie.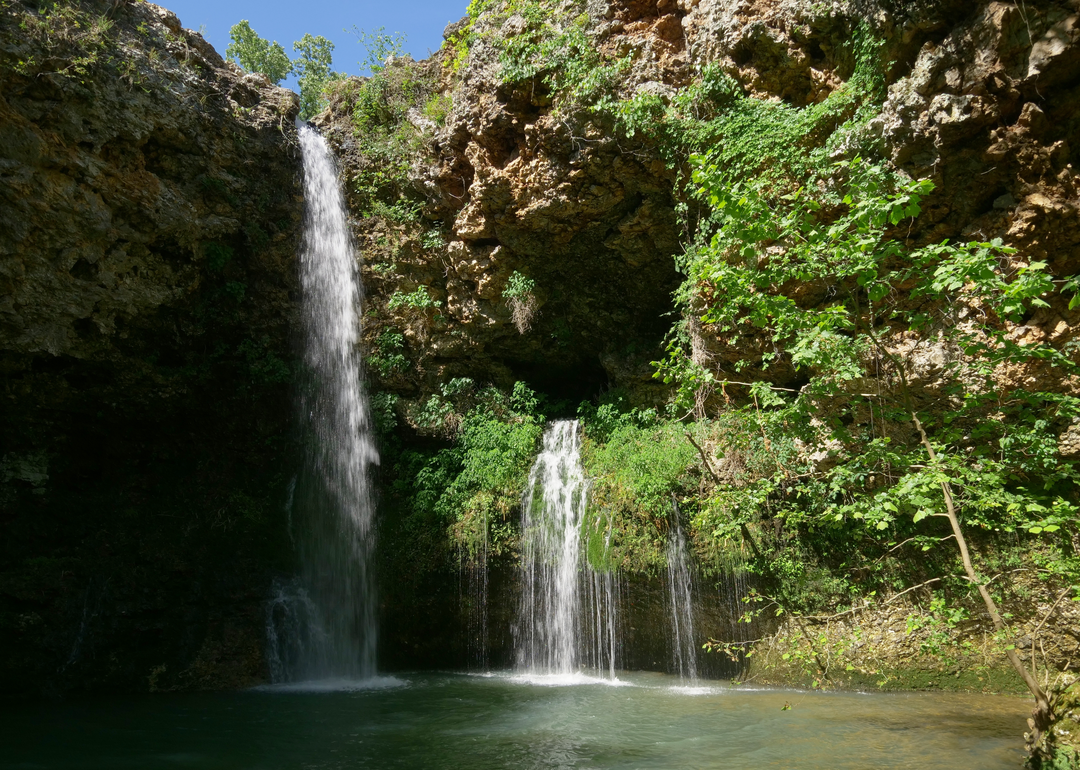 Patrick Horton // Shutterstock
Oklahoma: Delaware County
- Population: 40,688
- National rank: 97
Delaware County features enjoyable lake living, with Niche singling out the town of Grove as the prime spot for retirees to settle. Home to Grand Lake O' the Cherokees and Natural Falls State Park, the county also boasts a cost of living that is 16.5% lower than the national average and a Best Places Comfort Index of 7.3 out of 10. Retirees can locate affordable housing in this northeastern section of the state, including a handful of notable senior living facilities.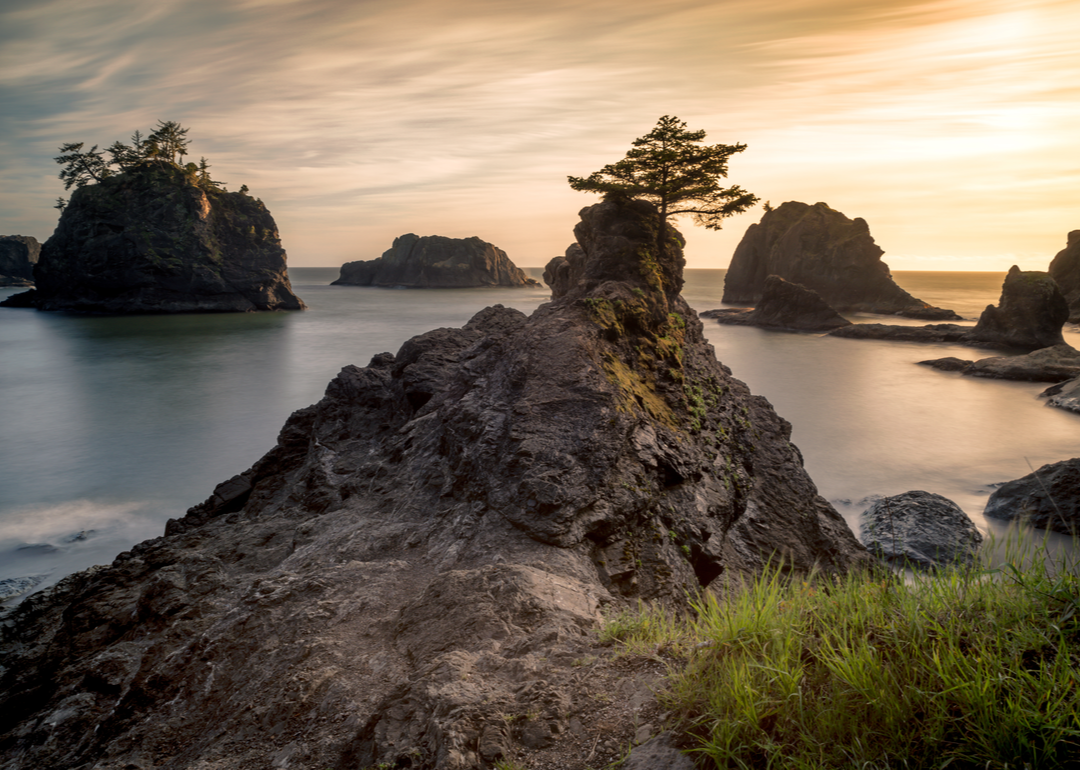 Manuela Durson // Shutterstock
Oregon: Curry County
- Population: 23,234
- National rank: 134
According to Niche, Curry County is the best county for retirees in the Beaver State, and the town of Harbor in Curry County is ranked #1 in the entire state for retirement. With additional high grades in Niche for climate, health and fitness opportunities, and outdoor activities, retirees in this southwestern portion of the state also have access to a multitude of amenities in a safe area with a low crime rate. The one benefit that Curry County cannot offer, like so many other choice retirement spots nationwide, is a low cost of living, but it's just 0.4% lower than the U.S. average.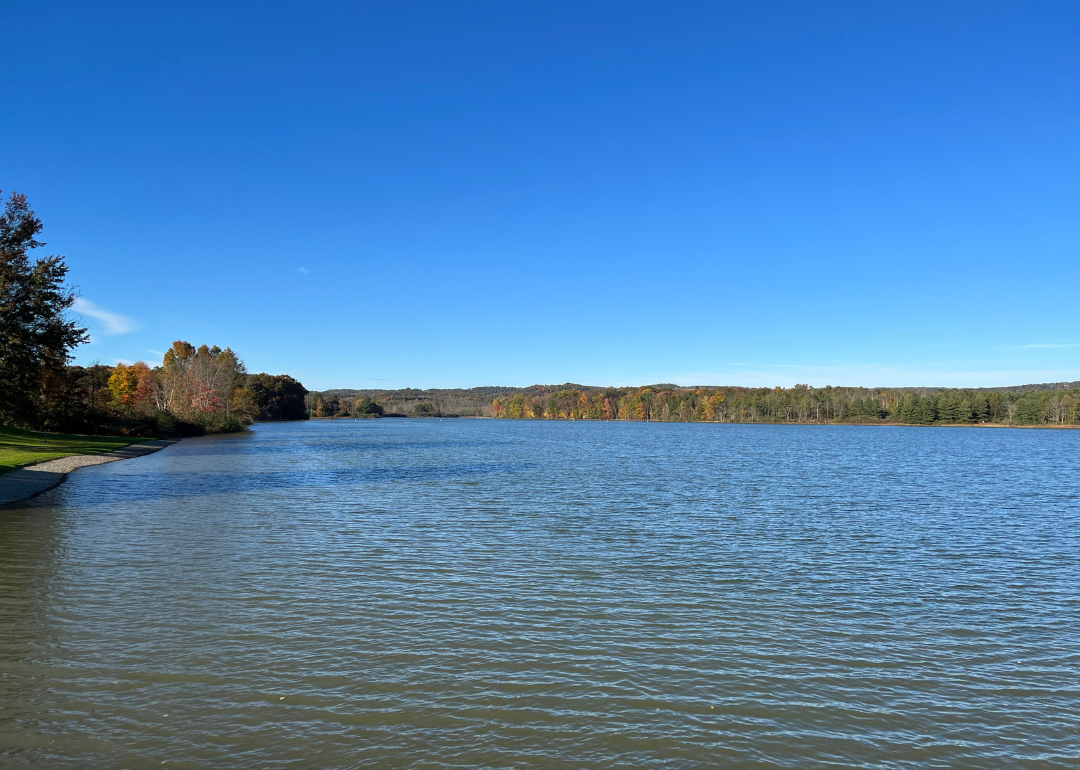 Scenic Corner // Shutterstock
Pennsylvania: Montour County
- Population: 18,198
- National rank: 123
More than 25% of Montour County residents are 65 years or older, making the area very senior-friendly. Lake Chillisquaque, Montour Preserve, Danville Riverfront Park, and Geisinger Stewardship Forest—which offers 8 miles of trails across 300 acres—are just a few of the locations that retirees who particularly enjoy the outdoors can visit. Montour County Senior Center in Danville also provides several resources to the area's aging population, including personal enrichment classes and health and wellness services.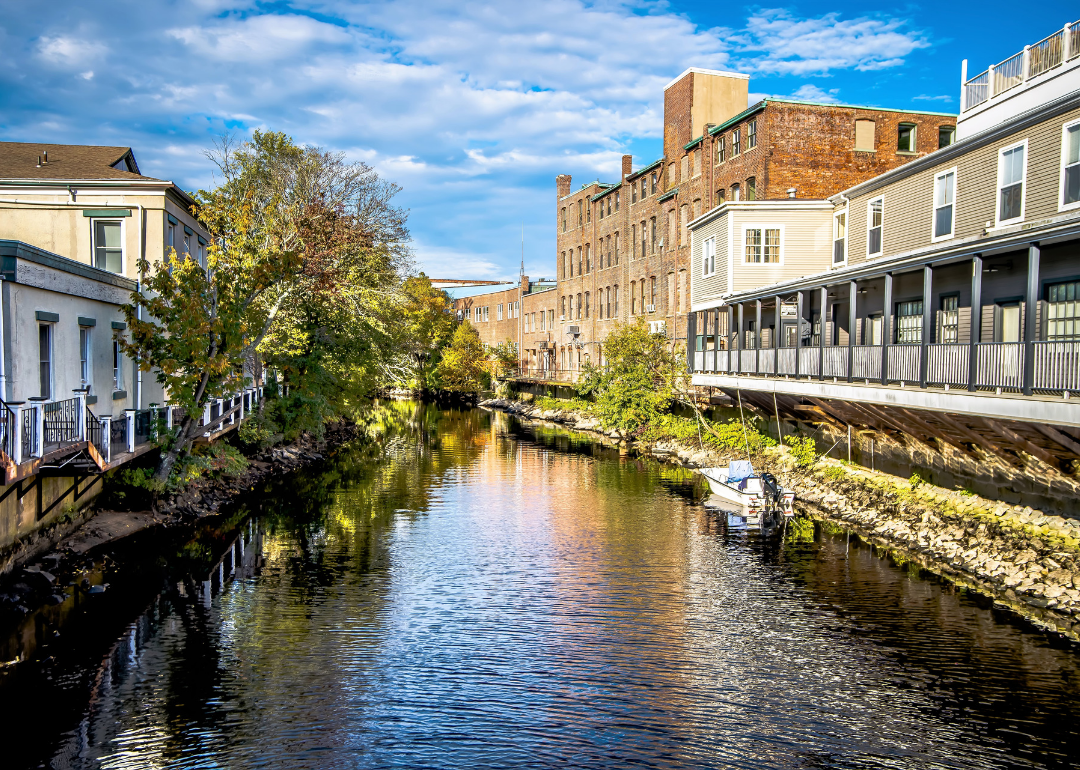 digidreamgraphix // Shutterstock
Rhode Island: Washington County
- Population: 129,735
- National rank: 117
Washington County is the southernmost county in the Ocean State. Known locally as "South County," the region centers around casual coastal living. Residents can explore the affluent coastal resort area of Watch Hill, home to the luxurious Ocean House hotel, scenic Napatree Point, and the Flying Horses Carousel, which is considered the oldest continuously operating carousel in America. Further east, retirees can enjoy iconic seafood hotspots, with South Kingstown's Matunuck Oyster Bar offering top-rated seafood and salt pond sunsets, while the Coast Guard House and Monahan's Clam Shack in the town of Narragansett provide sweeping ocean views along the seawall.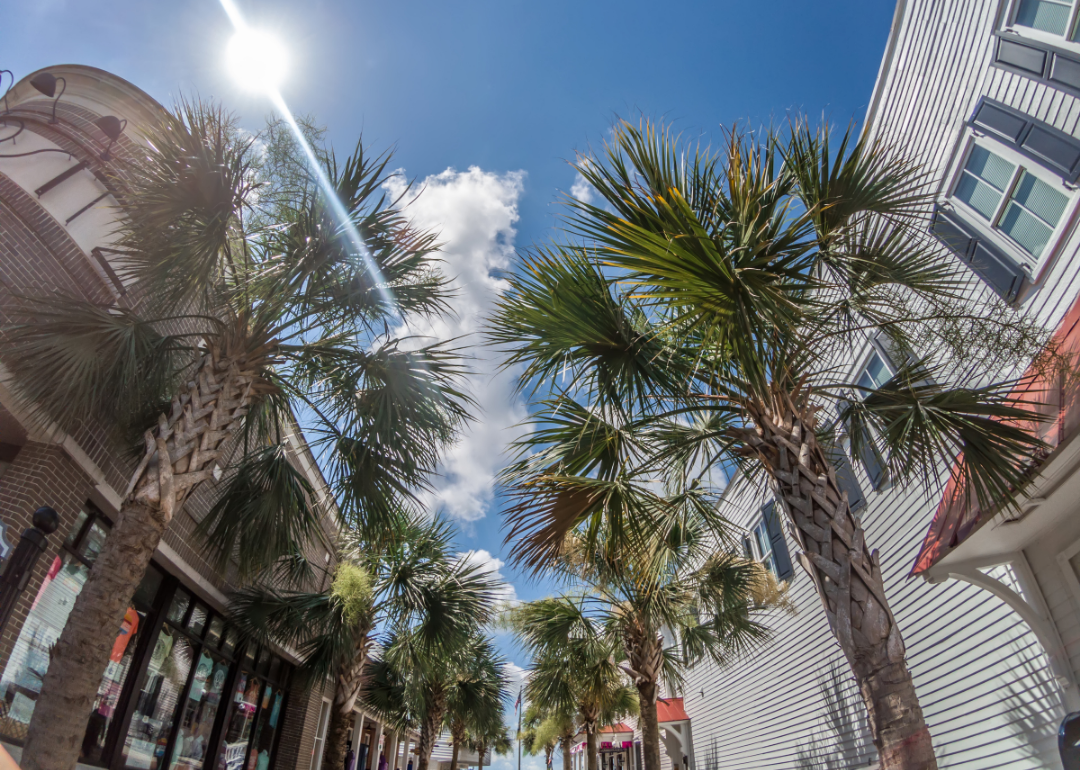 Canva
South Carolina: Beaufort County
- Population: 186,007
- National rank: 22
Beaufort County covers 923 square miles in the south-central portion of South Carolina, with plenty of activities for retirees, from learning about the history of the United States Marine Corps at Parris Island to attending any of the area's annual water, shrimp, or film festivals to enjoying all the resort town of Hilton Head has to offer. Best Places reports a 7.2 out of 10 Comfort Index—noting April, May, and October as the most pleasant months of the year—and a 7.5% lower cost of living than the U.S. average.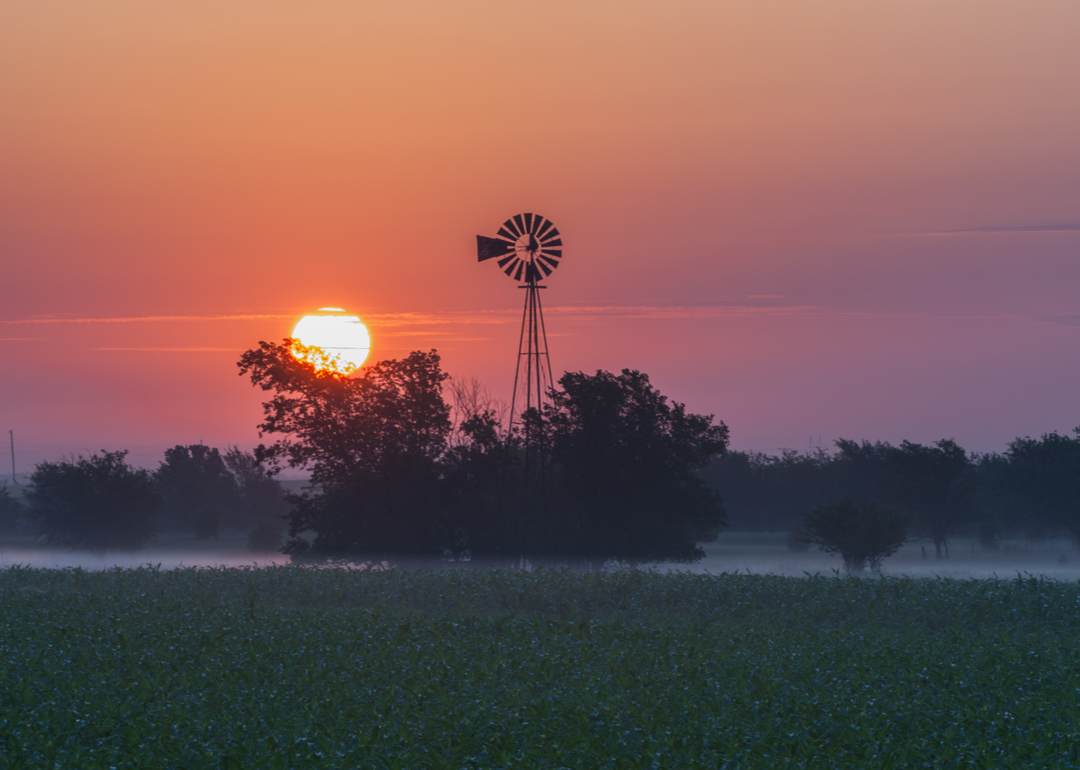 David Fossler // Shutterstock
South Dakota: Hutchinson County
- Population: 7,412
- National rank: 191
This quaint county of just over 7,000 residents in South Dakota is a great place to call home for retirees looking for peace and quiet. And those thinking of settling here can anticipate a cost of living 27.1% below the national average. Parkston and Freeman, both with populations hovering around 1,500 residents, are the top locations in the county for retirees, with Niche awarding both of the small and personable towns a grade of A+ for retirement living.
Dee Browning // Shutterstock
Tennessee: Sullivan County
- Population: 157,843
- National rank: 48
Residents of Sullivan County don't have to make a choice between a laidback lifestyle or being on the go—they can have them both in Sullivan County, located in the northeast part of the state along the Virginia border. Outdoors lovers will appreciate the recreation opportunities within the foothills of the Appalachian Mountains and in Cherokee National Forest, and anglers will appreciate fishing for smallmouth bass on South Holston Lake and going flyfishing for trout at South Holston River. and on South Holston Lake. For a livelier pace, it doesn't get faster than NASCAR racing at Bristol Motor Speedway. Bristol, which straddles the Tennessee and Virginia border, is also home to the Birthplace of Country Music Museum and a lively dining scene. All of this comes at an affordable price—the county's cost of living is 20.8% lower than the rest of the country.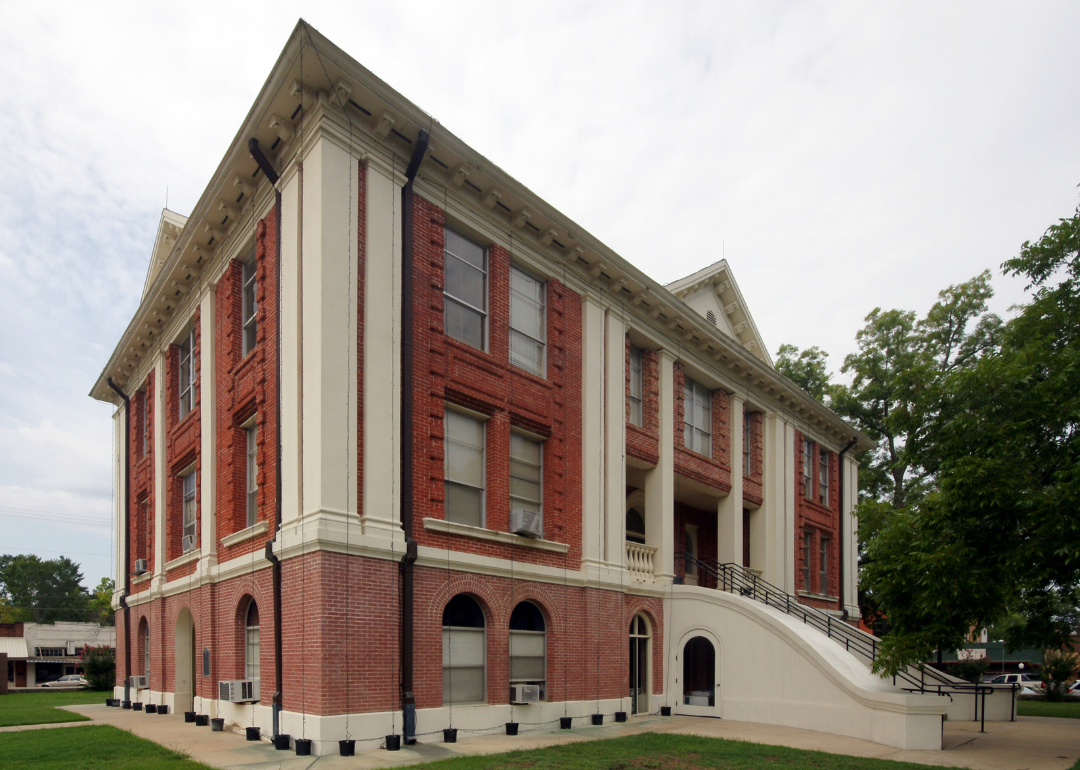 Canva
Texas: Sabine County
- Population: 9,974
- National rank: 26
Founded in 1836, Sabine County, located in Deep East Texas along the Louisiana border, is one of Texas' original counties, a point of pride among the locals. Residents enjoy a quiet and relaxing lifestyle that leverages the area's natural beauty. Water lovers will appreciate its 85 square miles of water, which includes the Toledo Bend Reservoir and Sam Rayburn Reservoir. Those, along with the Sabine National Forest on the county's eastern border provide ample opportunities for fishing, camping, hunting, hiking, and boating. Sabine isn't all quiet though, with events like Pineland Day, Milam Settlers Day, and the annual Sale on the Trail, which cuts through the county along the historic El Camino Real de los Tejas trail—aka Route 21—with 111 miles of yard sales to explore.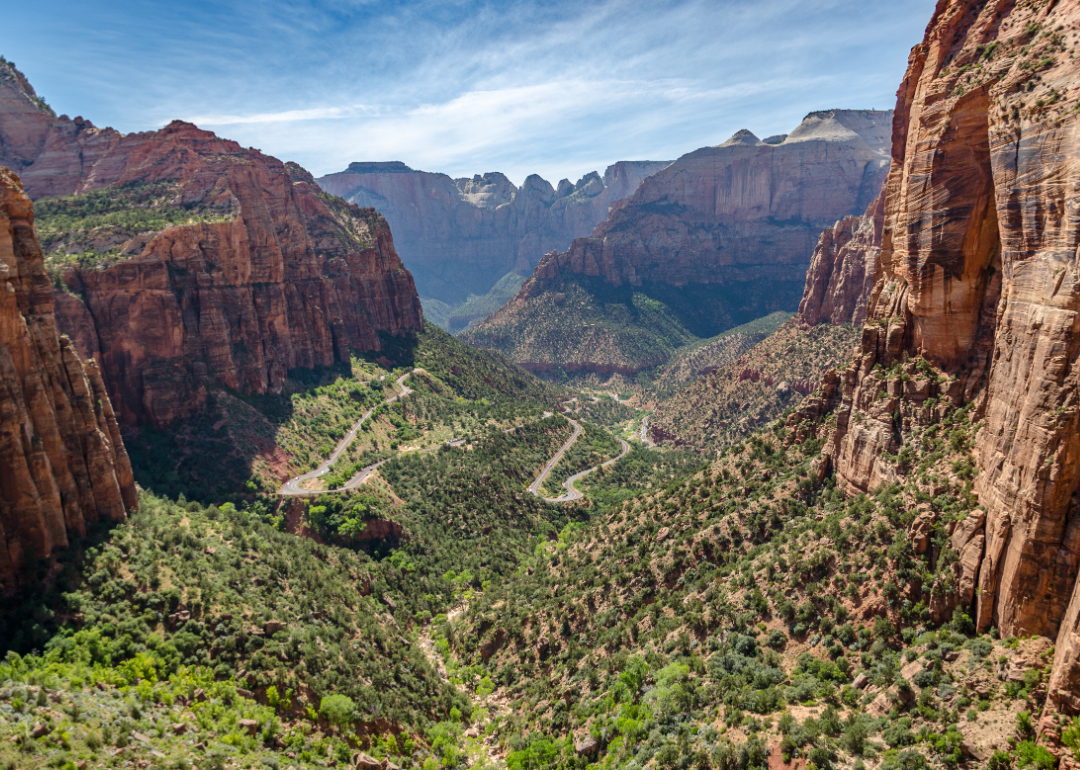 Canva
Utah: Washington County
- Population: 176,533
- National rank: 1278
Located in the southwest corner of Utah, Washington County covers approximately 1.5 million acres, with 66,000 of those acres designated as wilderness areas. Once known for its former cotton colonies, the county is now popular for Zion National Park, featuring the Lower and Upper Emerald Pool Trails and the Kolob Canyons Area. When not enjoying outdoor recreation, retirees here frequent the St. George Utah Senior Citizen Center, which offers an array of activities including dancing, games, and arts and crafts. A cost of living that is 9.9% higher than the national average could be a welcome compromise for active seniors anxious to spend their golden years in the great outdoors.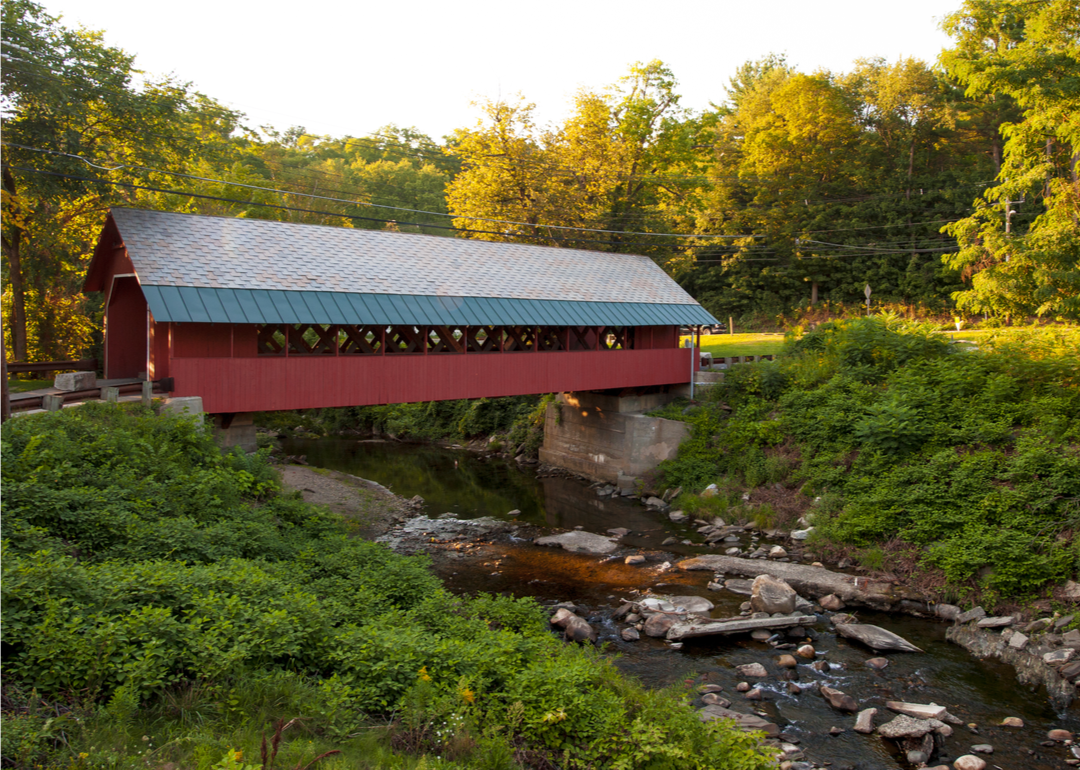 Liquid Productions, LLC // Shutterstock
Vermont: Windham County
- Population: 45,811
- National rank: 292
This southeast section of the Green Mountain State is perfect for retirees who love all four seasons, mountains, and a cost of living that is 0.3% lower than the national average. With dozens of mountains to ski or hike, orchards to explore, playhouses and museums to visit, and restaurants and spas to enjoy, retirees have plenty of recreational and cultural activities on hand to keep busy all year round. Niche awarded Dummerston and Guilford as the top two towns in Windham County to retire, giving them both a grade of A-.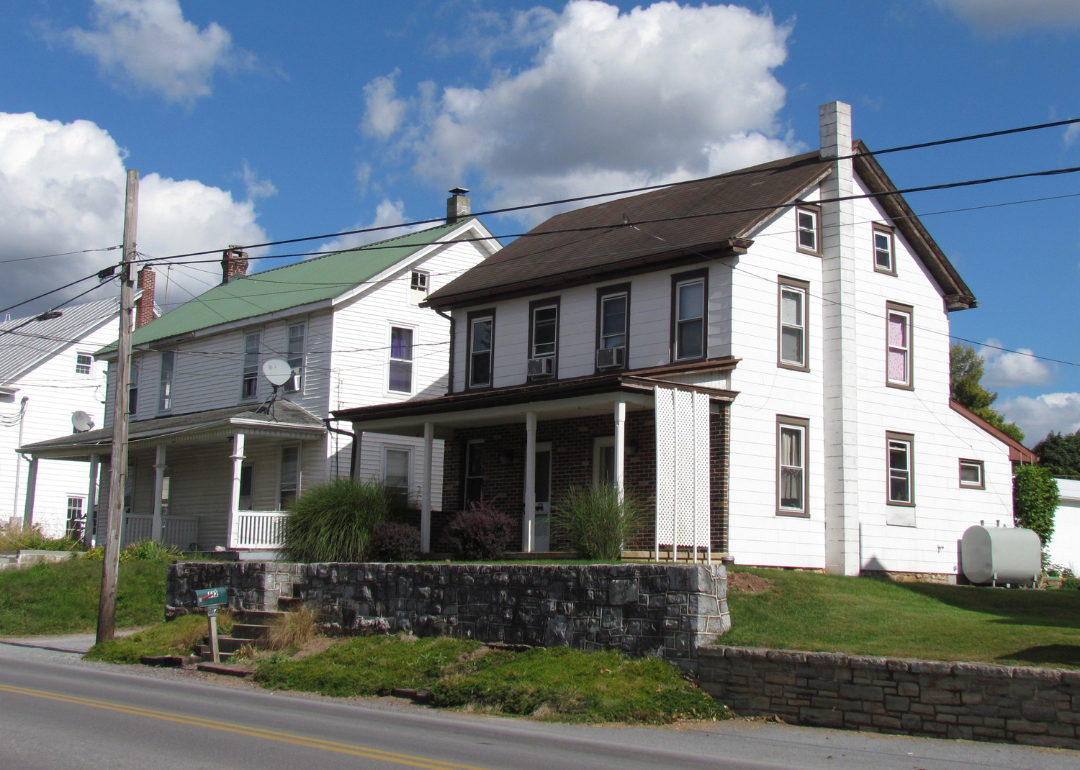 Richard L. Bowman // Shutterstock
Virginia: Lancaster County
- Population: 10,916
- National rank: 15
With 180 miles of shoreline, coastal living is attainable and affordable in Virginia's Northern Neck, a peninsula along the Rappahannock River and Chesapeake Bay. Although the area has attracted many wealthier retirees, the area's cost of living is 6.8% lower than the national average. This is a boon for paddlers and boaters who want to spend their golden years exploring the county's vast waterways. Foodies can revel in Lancaster County's location on Virginia's Oyster Trail and in the Northern Neck George Washington Birthplace wine-growing region. History buffs can explore the county's history, which dates back to 1651, as well as nearby Richmond and Washington, D.C., both of which are close enough for weekend getaways.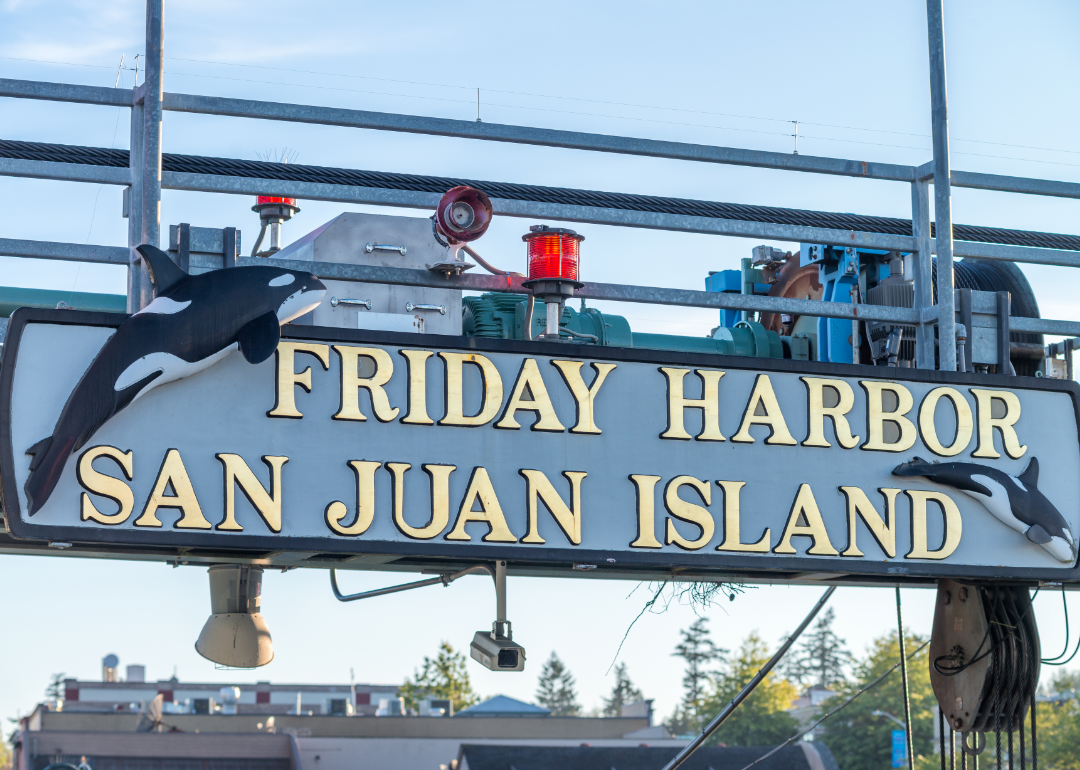 Canva
Washington: San Juan County
- Population: 17,631
- National rank: 157
Comprising over 700 islands northwest of the state of Washington in the Salish Sea, San Juan County offers retirees a variety of outdoor activities, art festivals, and top-notch seafood. Friday Harbor, the county seat and the only incorporated town in the county, boasts world-class whale watching along the border with Canada. However, this prime outdoor living comes at a price; the cost of living in San Juan County is 35.2% above the national average.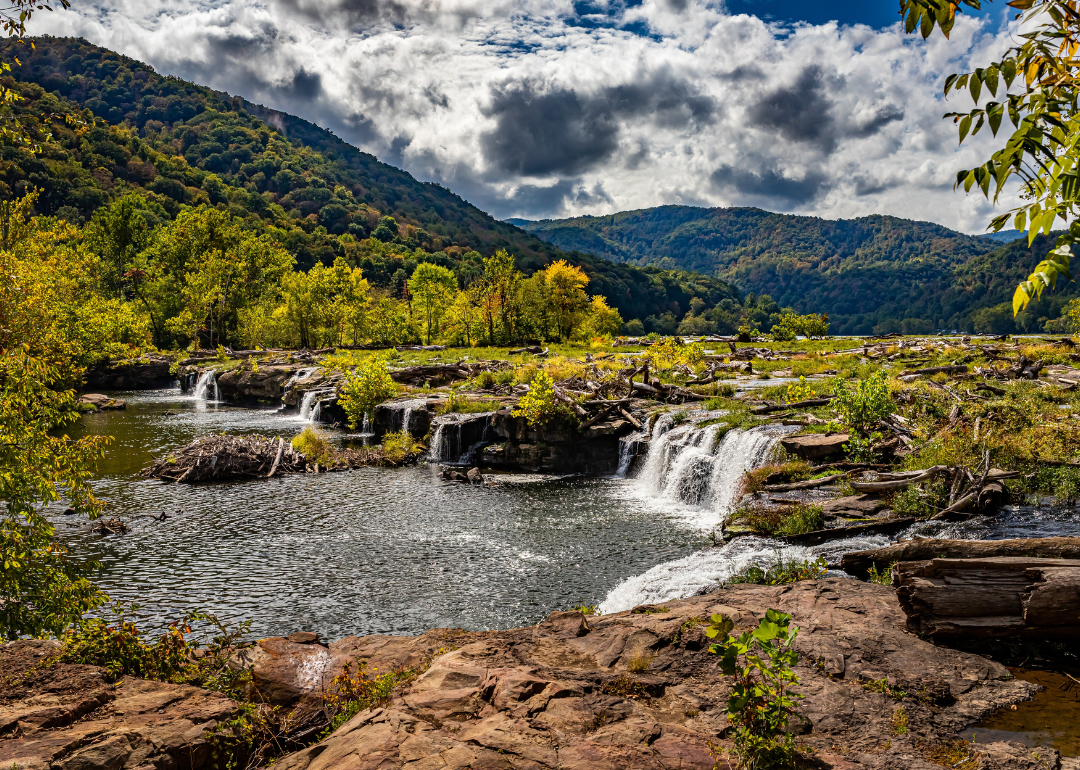 Gestalt Imagery // Shutterstock
West Virginia: Summers County
- Population: 12,125
- National rank: 87
Retirees who really want to get away from it all can escape to southeastern West Virginia, where Summers County has just one incorporated city, along with several unincorporated areas tucked into the Allegheny mountains. New River Gorge National Park & Reserve, Pipestem Resort State Park, and Bluestone State Park highlight the beauty of this area, offering vast opportunities for active retirees who want to spend their days, hiking, biking, birding, paddling, fishing, swimming, camping, and golfing. Residents enjoy this beauty at a fraction of the price—the cost of living in Summers County is 26.3% lower than the national average. Hinton, the county seat, has a history as a railroad town, and today it's one of the stops on Amtrak's Cardinal line that goes between New York and Chicago three times a week.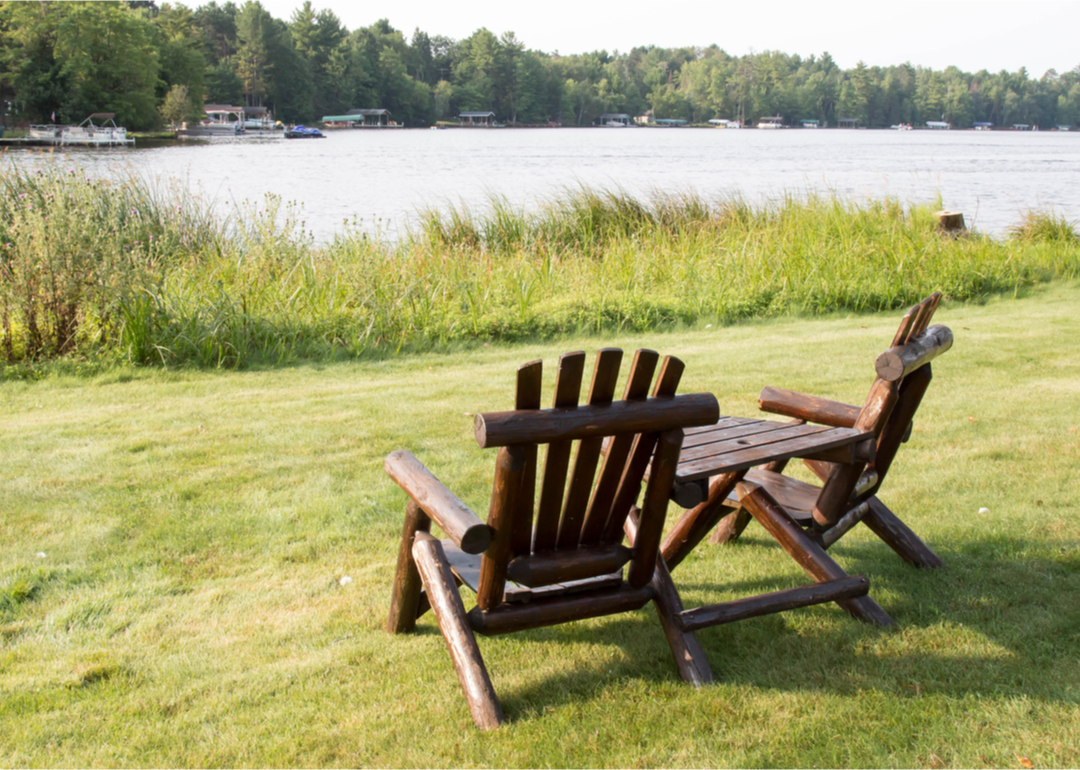 Kara Grubis // Shutterstock
Wisconsin: Vilas County
- Population: 22,813
- National rank: 65
For retirees who do not want to own a home, the large selection of assisted living facilities in Vilas County offers retirees an opportunity to live mortgage-free in the state's northernmost section. With activities like golfing, hunting, and geocaching, retirees keep busy with outdoor recreation when not busy indoors at the local casino, bowling alley, and museums. Factor in a cost of living that is 10.4% lower than the U.S. average, and it is clear why retirees enjoy calling this Wisconsin county their home.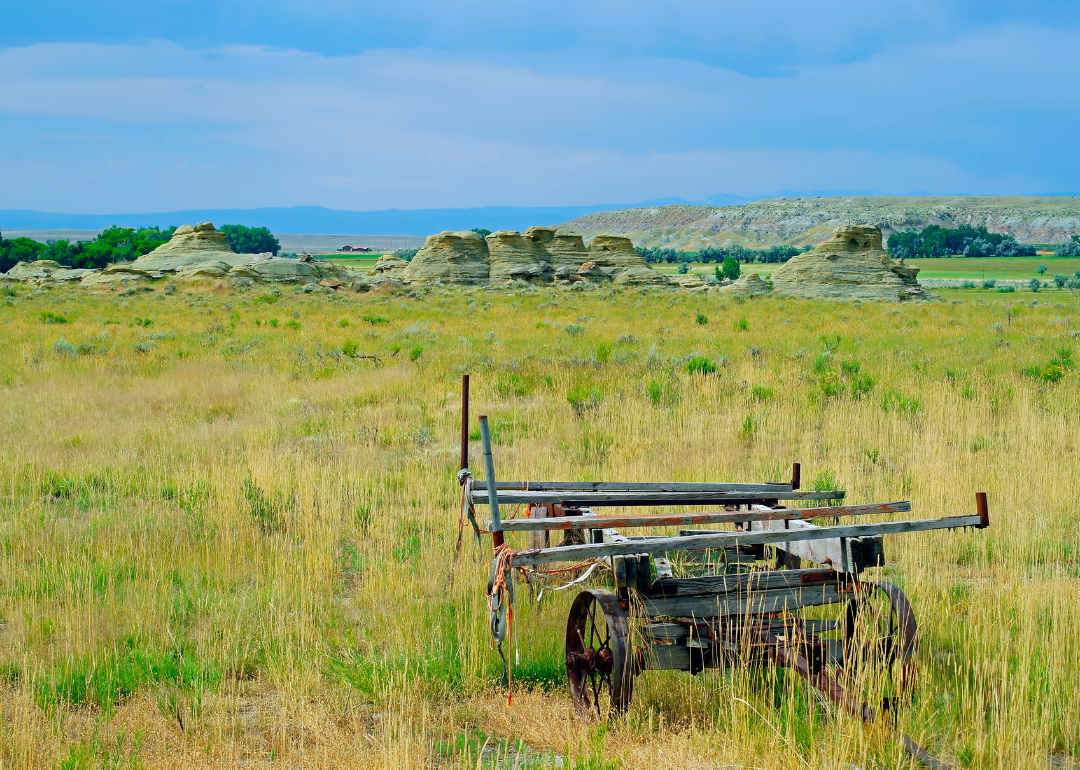 Fsendek // Shutterstock
Wyoming: Washakie County
- Population: 7,768
- National rank: 1418
Surrounded by mountains, Washakie County is in the Bighorn Basin. Part of the Bighorn Range cuts through the northeastern tip of the county, providing opportunities for skiing in the winter and hiking in the summer. For those who prefer a therapeutic soak, the warm waters of Hot Springs State Park are a short drive to neighboring Thermopolis. Towns here host several musical events throughout the year, including an annual BBQ and Bluegrass Festival, Nowoodstock Music Festival, and the Wyoming Singer-Songwriter Contest. The county scores higher than its peer group in terms of overall health, according to U.S. News & World Report.