Chaos is back in the used car market. While prices had finally started to drop towards normal late last year, this trend has abruptly reversed course.
Inflationary pressure from new and used cars is back in early 2023, with new car prices setting records every month this year.
Using its PricePulse data set, CoPilot measures the difference between what any used car price would have been today, if not for the extraordinary dynamics of the past two years, versus how much it is actually worth now, at retail.
Black Men Sundays talks about building generational wealth. Check out every episode in the media player below: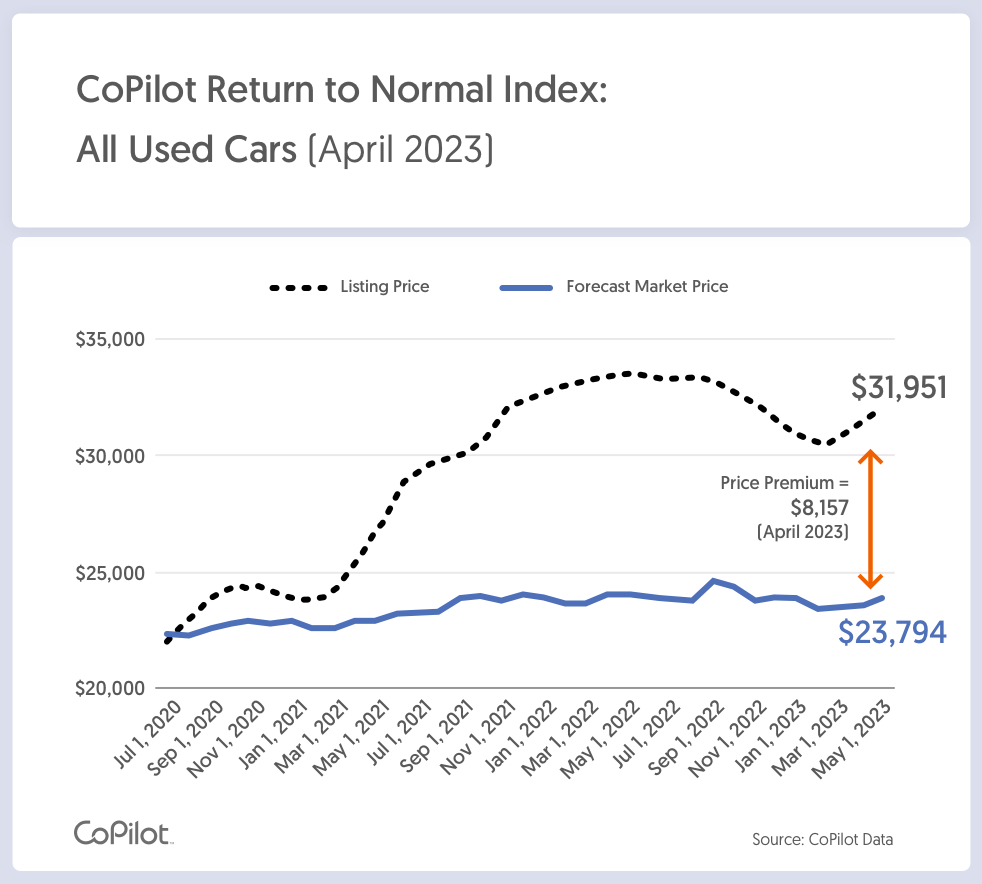 CoPilot
Forecasted Used Car Prices and Actual Listed Price Show Significant Gap
As of May 1st, 2023, used car prices saw their second biggest month-over-month increase in well over a year. Used car prices jumped by 5% in the past eight weeks alone, to an average of $31,951.

With consumer confidence still high, more affluent consumers remain willing to pay near record-high prices for some of the priciest vehicles on the market. It is a tale of two markets: As the most expensive vehicles, like SUVs, surge in price, affluent consumers are showing they're more than willing to pay, with sales levels remaining consistently high throughout the early part of this year. At the same time, interest rate hikes and banks tightening credit are making auto loans increasingly difficult to obtain for the average buyer.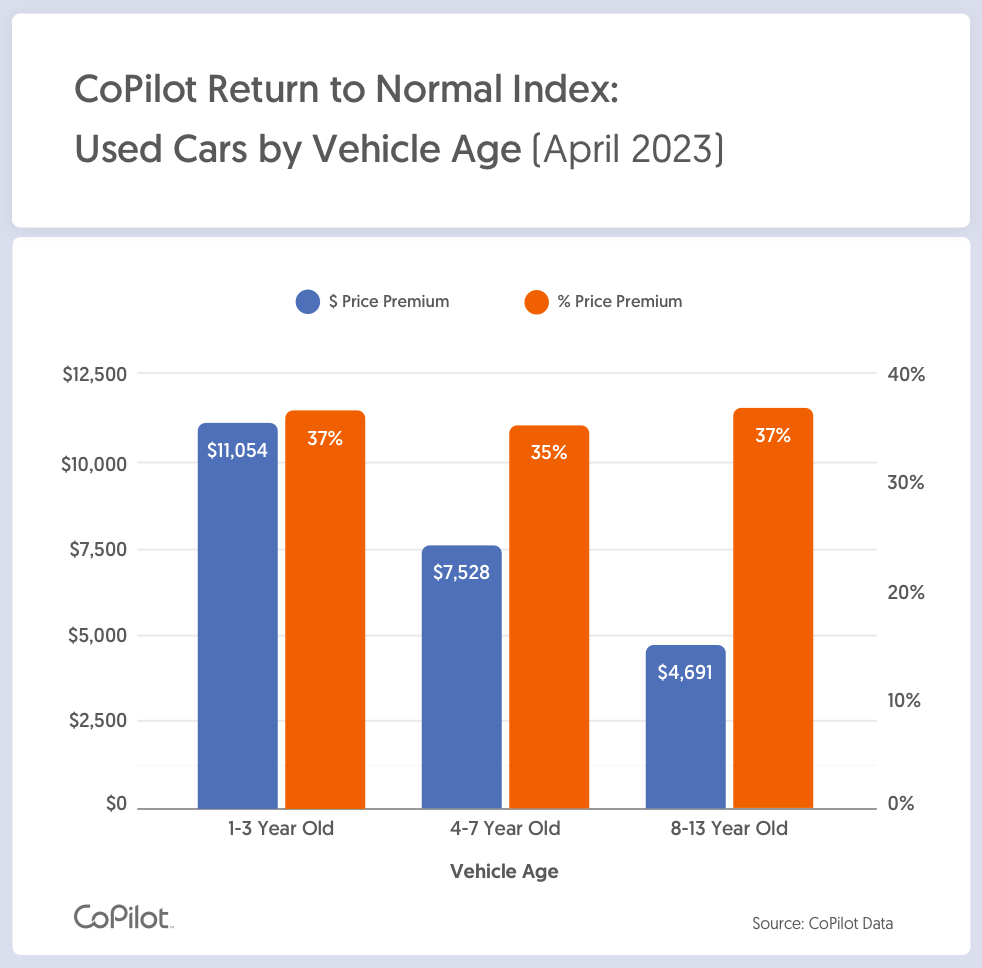 CoPilot
Price Increases Are Highest For Newer, More Expensive Cars
Despite the Federal Reserve's ongoing interest rate hike campaign, price increases have largely been propelled by the most expensive vehicles in the market. The newest used car models (1-3 year old vehicles) are showing the most substantial price increases overall, up 4% (or $1,700) in the past two months to a near-record high price of $41,281. These cars will remain in short supply, as the reduced new car manufacturing and leasing since Covid is now reflected in used car trade-ins.
New cars continue to see surging demand and short supply in recent months; sales jumped by about 30% since October 2022, driving prices up by nearly 5% (or $2,200) to a new all-time high of $50,916 in April.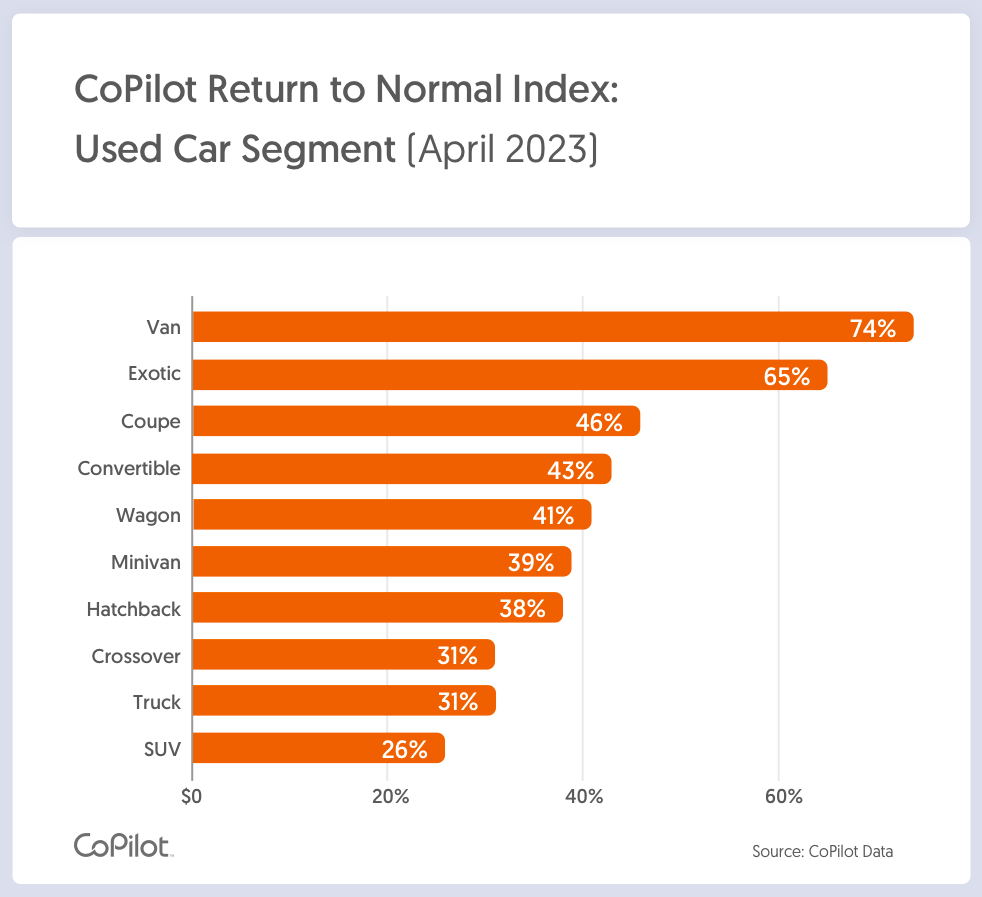 CoPilot
SUVs Closest To Normal Levels, Despite Prices Up A Staggering 8% In Two Months
Despite being closer to normal levels, SUVs, Trucks, and Crossovers have seen some of the highest sales demand, and therefore highest price increases. Used SUVs saw a staggering $1,028 increase in price since April, and are up 8% (or about $3,100) in the past eight weeks alone. Used SUV sales have also surged this year. Despite these increases, used SUVs still remain the segment closest to returning to normal levels.
Minivans increased in price for the second month in a row, now listed at an average price of $24,543, representing a price increase of $658 (or 3%) since April. Meanwhile the average listing price for used pickup trucks was $41,279, up 2% (or $618), making it the third consecutive month in which used pickup truck prices increased.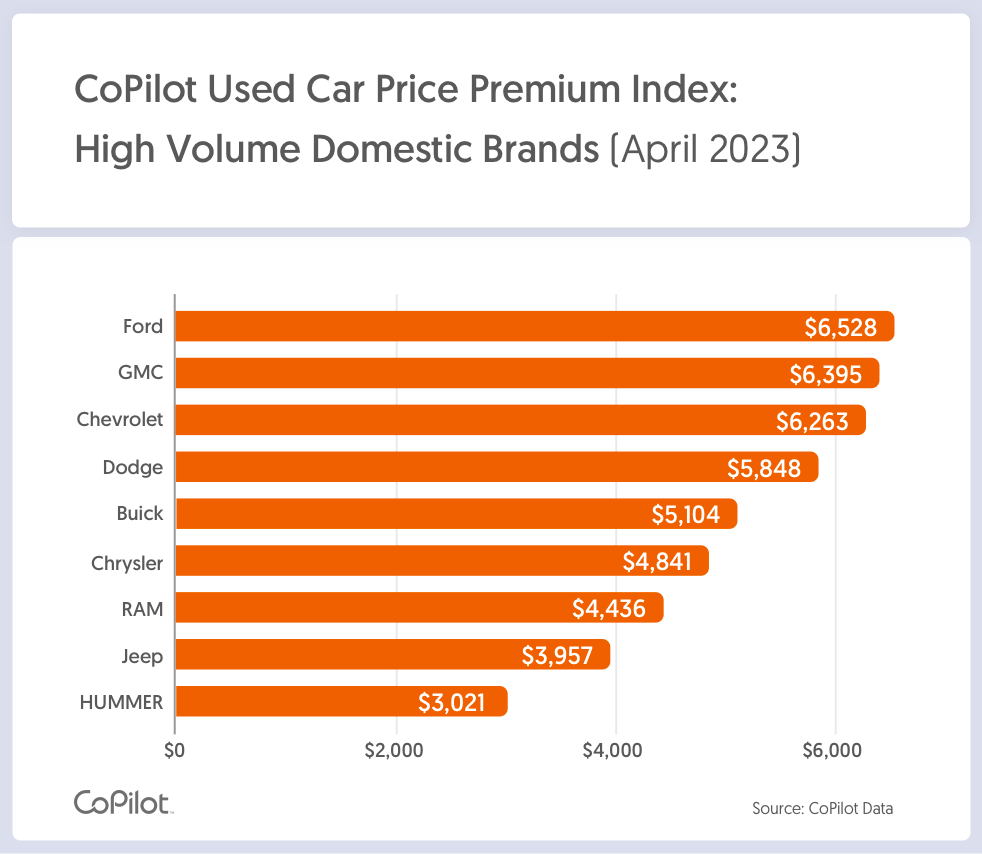 CoPilot
Ford Sees Highest Domestic Price Increase, GM Close Behind And Struggling
In May 2023, high-volume domestic brands had an average Price Premium of $8,595 (or 36%), above projected normal levels. General Motors (GMC, Buick, Chevrolet, and Cadillac) has seen skyrocketing demand in recent months, with prices for their used SUVs up nearly 12% (or over $5,000) since February. With GM among the companies hardest hit by chip shortage issues, prices could remain elevated for some time as manufacturers struggle to replenish supply of new vehicles. 
The Premium for domestic brands jumped from April, up by 4% (or $336).
In May, used Ford had the highest Price Premium among domestic brands, listed at $6,528, or 25%, above projected normal levels. They were followed by used GMC, which had a Price Premium of $6,395 or 20%, above projected normal levels.
CoPilot
Toyota Tops The Charts As High-Volume Foreign Car Prices Increase For Second Consecutive Month
In May 2023, the Price Premium for high-volume foreign brands averaged $6,792 (or 38%), above projected normal levels. This represents a 7% (or $442) increase in Premium since April, and marks the second consecutive monthly increase in Premium for foreign brands. 
Among foreign brands, used Toyotas commanded the highest Price Premium, listed at $6,179, or 27%, above projected normal levels. They were followed by used Kias, which had a Price Premium of $5,431, or 32%, above projected normal levels, and used Volkswagens, whose May Premium was $5,251, or 29%, above normal.
This story was produced by CoPilot and reviewed and distributed by Stacker Media.