Stacker compiled a list of cities with the fastest-growing home prices in Florida using data from Zillow.
Cities are ranked by the dollar change in the Zillow Home Values Index for all homes from the 12 months ending July 2023. The charts in this story were created automatically using Matplotlib.
Black Men Sundays talks about building generational wealth. Check out every episode in the media player below:
Data was available for 576 cities and towns in Florida. The typical home value in the United States was $349,679 in July, 1.4% higher than the year before, and a new record.
Metros with the most cities in the top 50:

No.1. Miami-Fort Lauderdale-Pompano Beach, FL: 45

No.2. Orlando-Kissimmee-Sanford, FL: 2

No.3. Cape Coral-Fort Myers, FL: 1

No.3. Port St. Lucie, FL: 1

No.3. Sebastian-Vero Beach, FL: 1
Read on to see which cities made the list.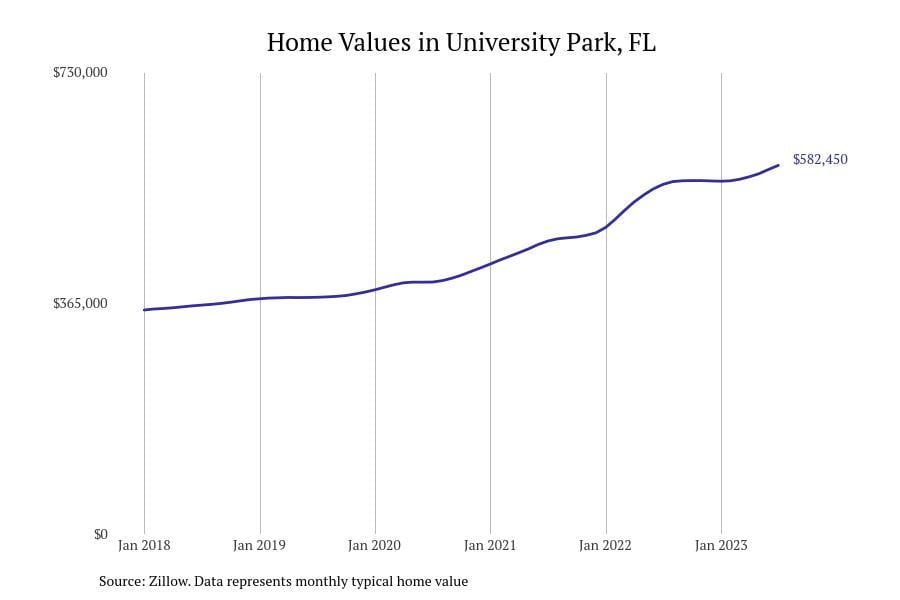 Stacker
#50. University Park
- Typical home value: $582,450
- 1-year price change: +$30,039 (+5.4%)
- 5-year price change: +$220,825 (+61.1%)
- Metro area: Miami-Fort Lauderdale-Pompano Beach, FL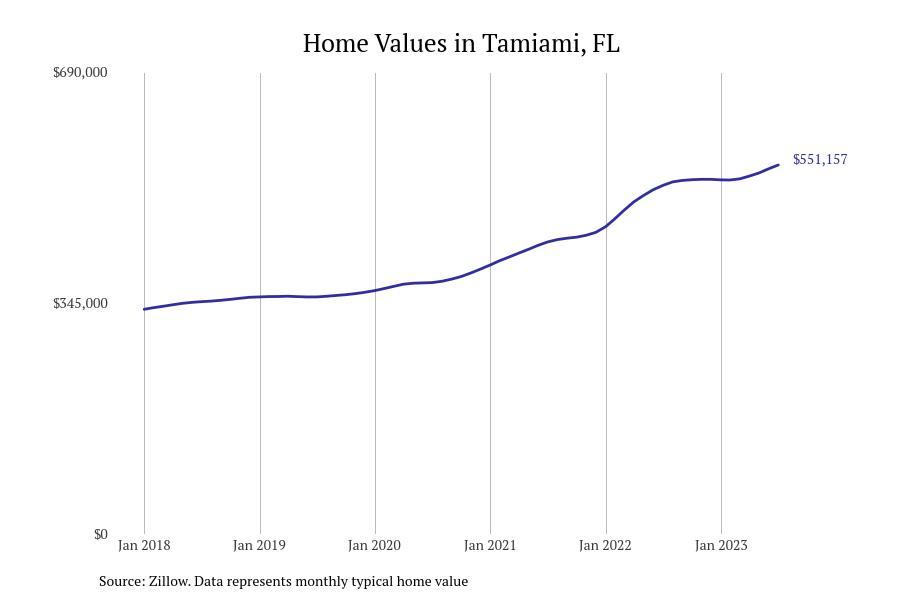 Stacker
#49. Tamiami
- Typical home value: $551,157
- 1-year price change: +$30,457 (+5.8%)
- 5-year price change: +$204,159 (+58.8%)
- Metro area: Miami-Fort Lauderdale-Pompano Beach, FL
Stacker
#48. Davie
- Typical home value: $501,060
- 1-year price change: +$30,717 (+6.5%)
- 5-year price change: +$183,275 (+57.7%)
- Metro area: Miami-Fort Lauderdale-Pompano Beach, FL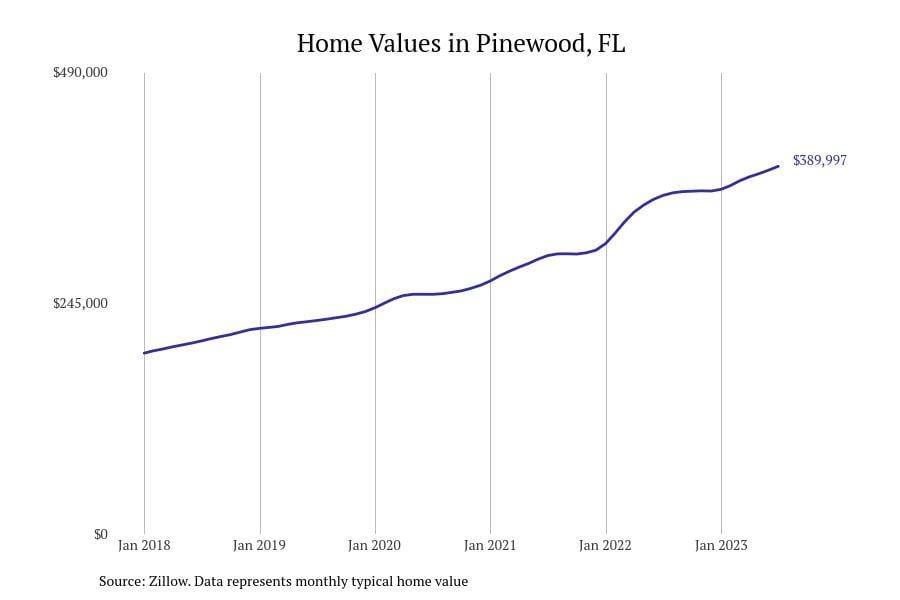 Stacker
#47. Pinewood
- Typical home value: $389,997
- 1-year price change: +$30,891 (+8.6%)
- 5-year price change: +$185,251 (+90.5%)
- Metro area: Miami-Fort Lauderdale-Pompano Beach, FL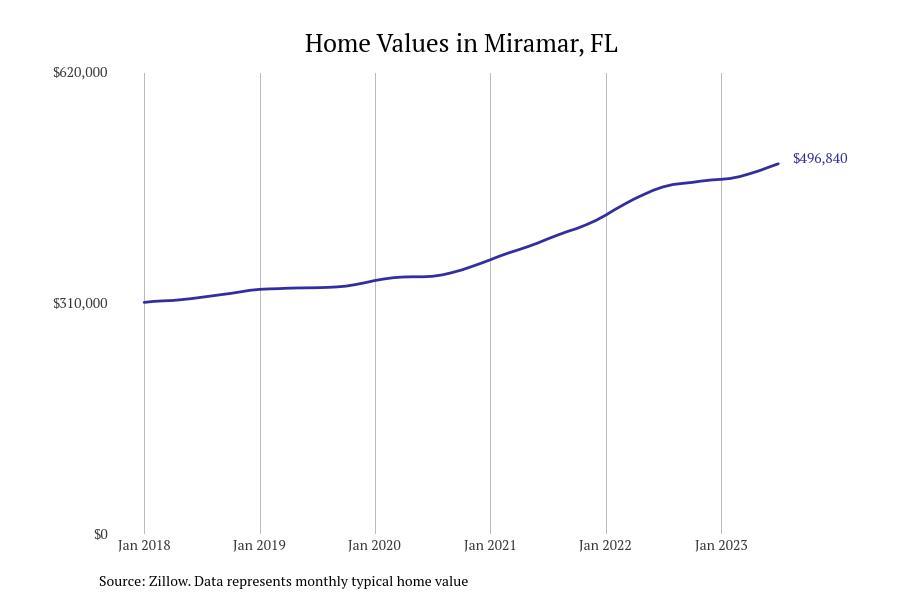 Stacker
#46. Miramar
- Typical home value: $496,840
- 1-year price change: +$31,037 (+6.7%)
- 5-year price change: +$179,190 (+56.4%)
- Metro area: Miami-Fort Lauderdale-Pompano Beach, FL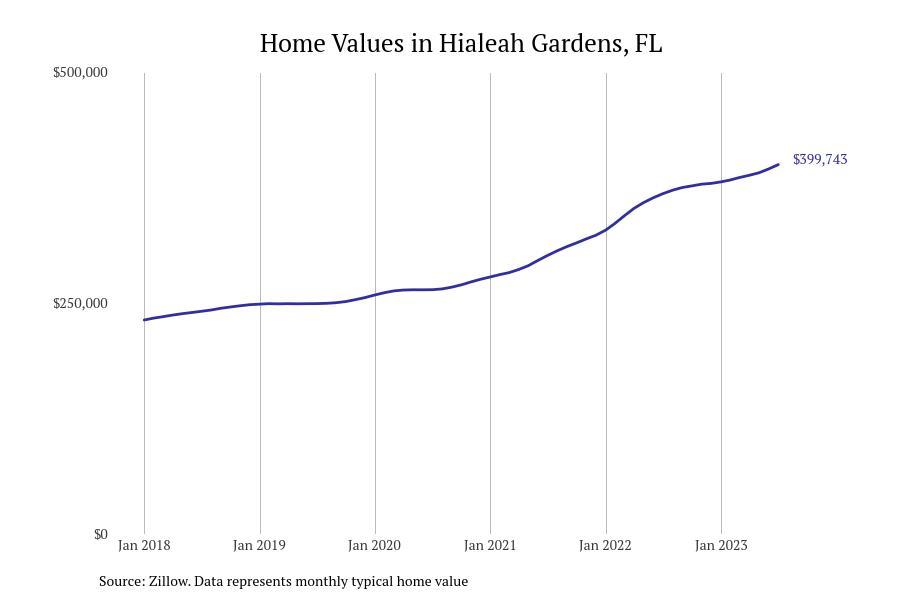 Stacker
#45. Hialeah Gardens
- Typical home value: $399,743
- 1-year price change: +$31,373 (+8.5%)
- 5-year price change: +$158,721 (+65.9%)
- Metro area: Miami-Fort Lauderdale-Pompano Beach, FL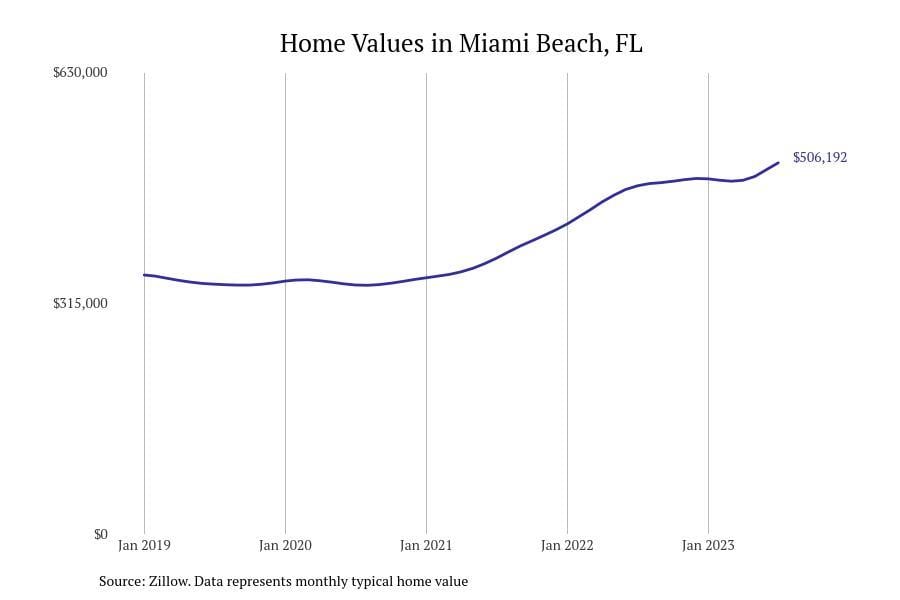 Stacker
#44. Miami Beach
- Typical home value: $506,192
- 1-year price change: +$31,392 (+6.6%)
- 5-year price change: +$158,972 (+45.8%)
- Metro area: Miami-Fort Lauderdale-Pompano Beach, FL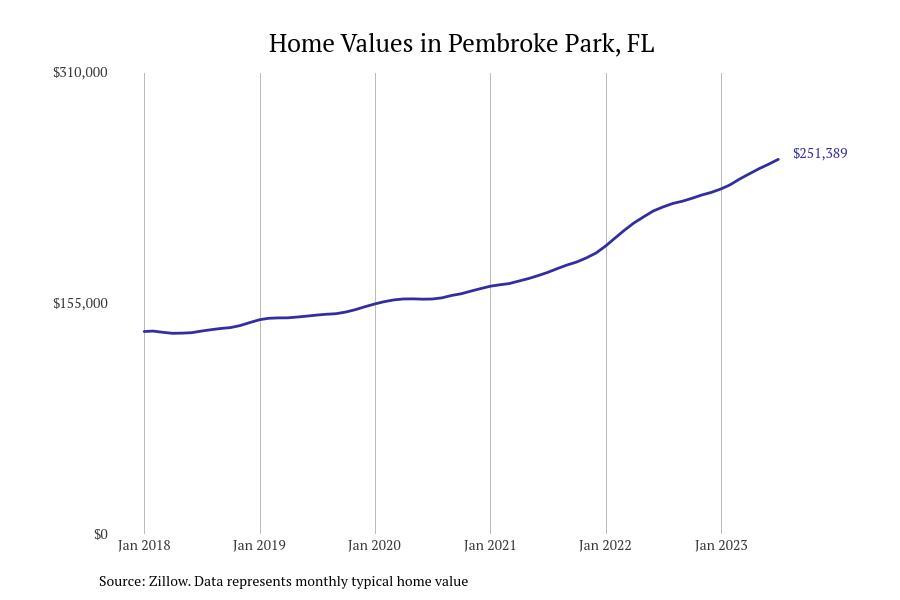 Stacker
#43. Pembroke Park
- Typical home value: $251,389
- 1-year price change: +$31,954 (+14.6%)
- 5-year price change: +$115,228 (+84.6%)
- Metro area: Miami-Fort Lauderdale-Pompano Beach, FL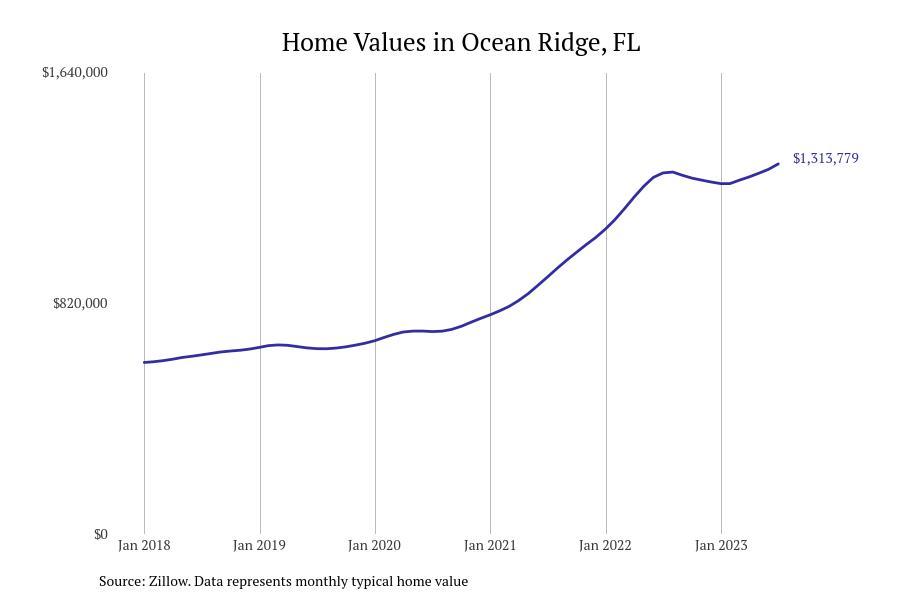 Stacker
#42. Ocean Ridge
- Typical home value: $1,313,779
- 1-year price change: +$32,062 (+2.5%)
- 5-year price change: +$678,049 (+106.7%)
- Metro area: Miami-Fort Lauderdale-Pompano Beach, FL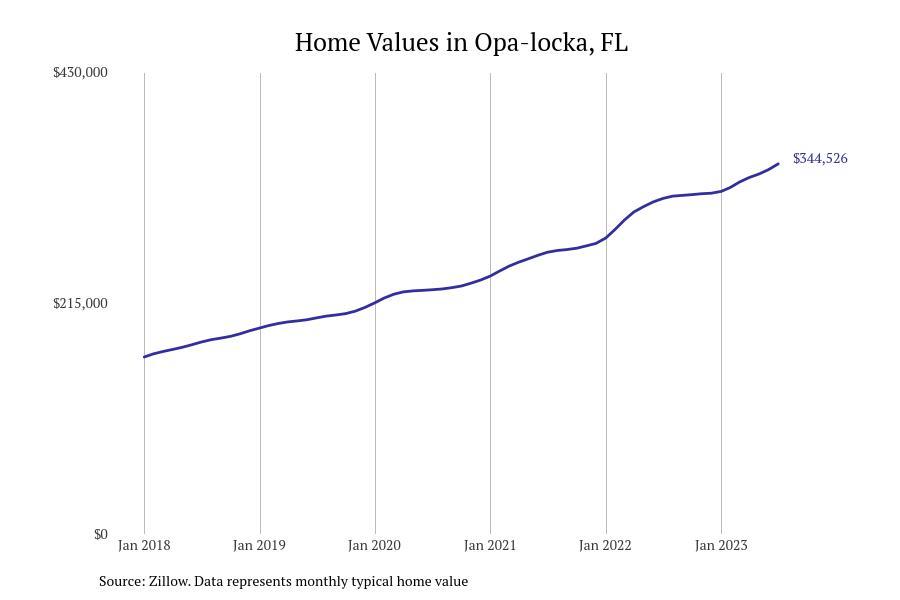 Stacker
#41. Opa-locka
- Typical home value: $344,526
- 1-year price change: +$32,196 (+10.3%)
- 5-year price change: +$165,829 (+92.8%)
- Metro area: Miami-Fort Lauderdale-Pompano Beach, FL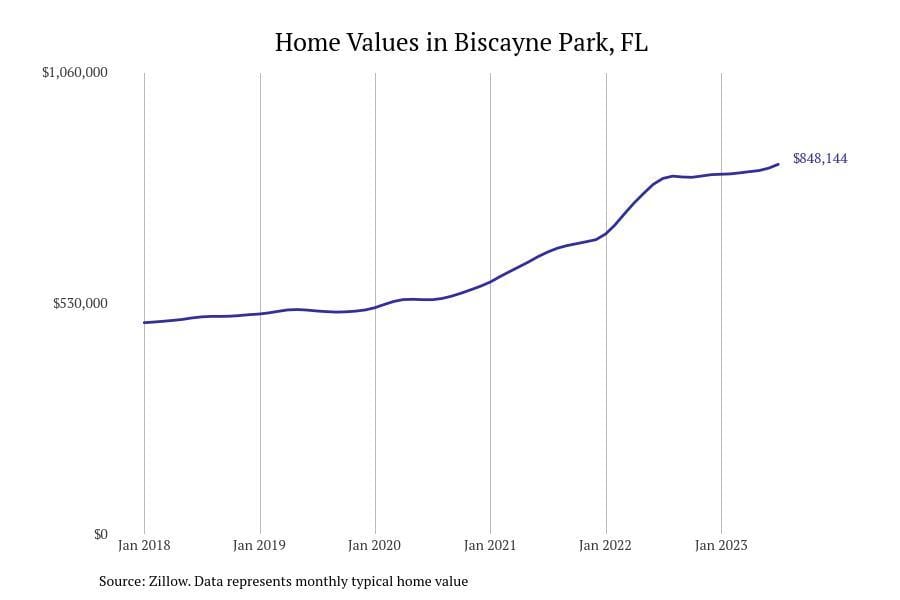 Stacker
#40. Biscayne Park
- Typical home value: $848,144
- 1-year price change: +$32,259 (+4.0%)
- 5-year price change: +$350,028 (+70.3%)
- Metro area: Miami-Fort Lauderdale-Pompano Beach, FL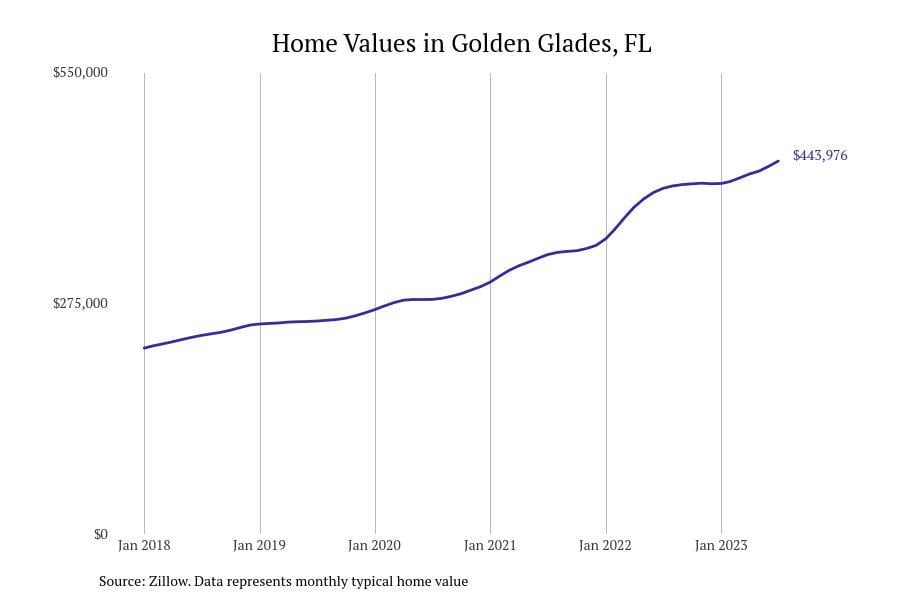 Stacker
#39. Golden Glades
- Typical home value: $443,976
- 1-year price change: +$32,480 (+7.9%)
- 5-year price change: +$207,582 (+87.8%)
- Metro area: Miami-Fort Lauderdale-Pompano Beach, FL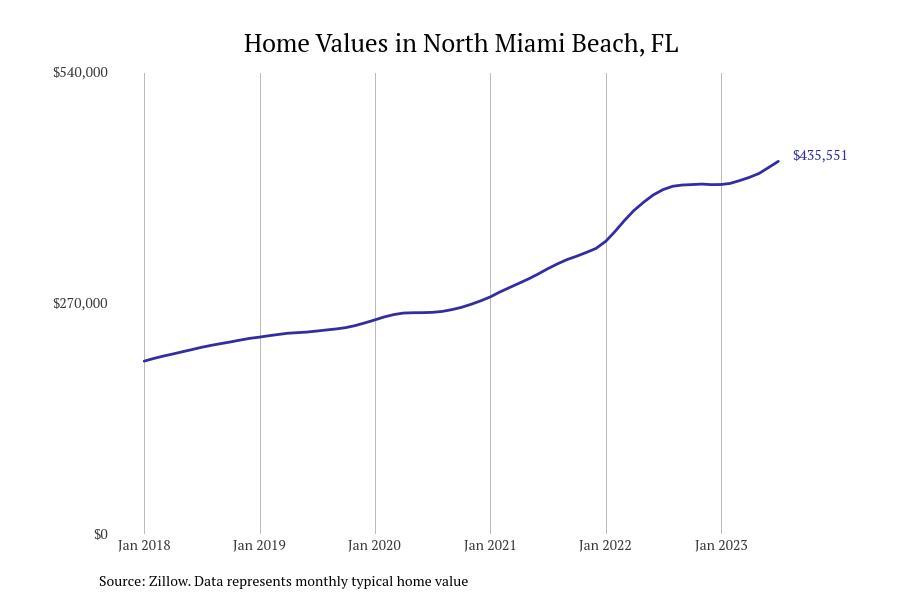 Stacker
#38. North Miami Beach
- Typical home value: $435,551
- 1-year price change: +$33,014 (+8.2%)
- 5-year price change: +$217,375 (+99.6%)
- Metro area: Miami-Fort Lauderdale-Pompano Beach, FL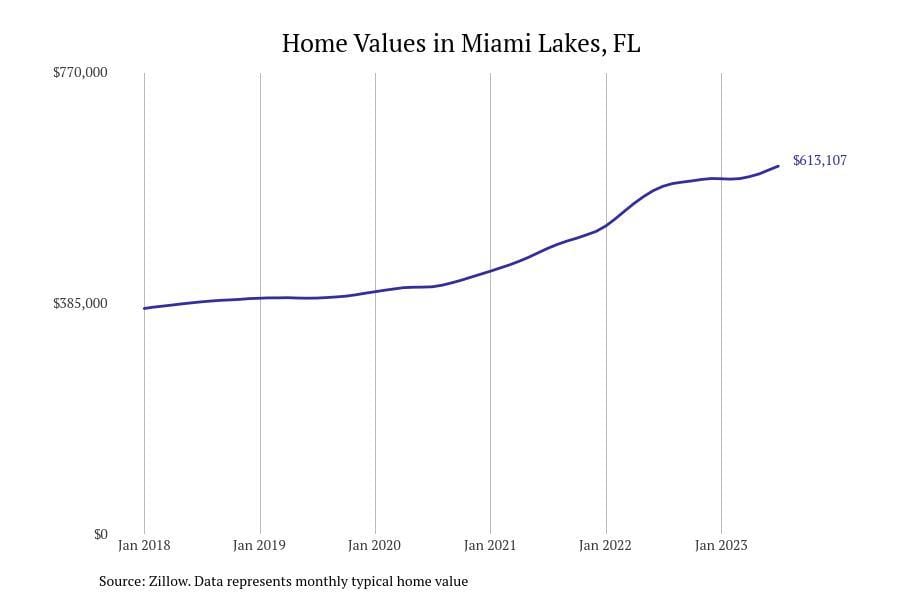 Stacker
#37. Miami Lakes
- Typical home value: $613,107
- 1-year price change: +$33,542 (+5.8%)
- 5-year price change: +$226,174 (+58.5%)
- Metro area: Miami-Fort Lauderdale-Pompano Beach, FL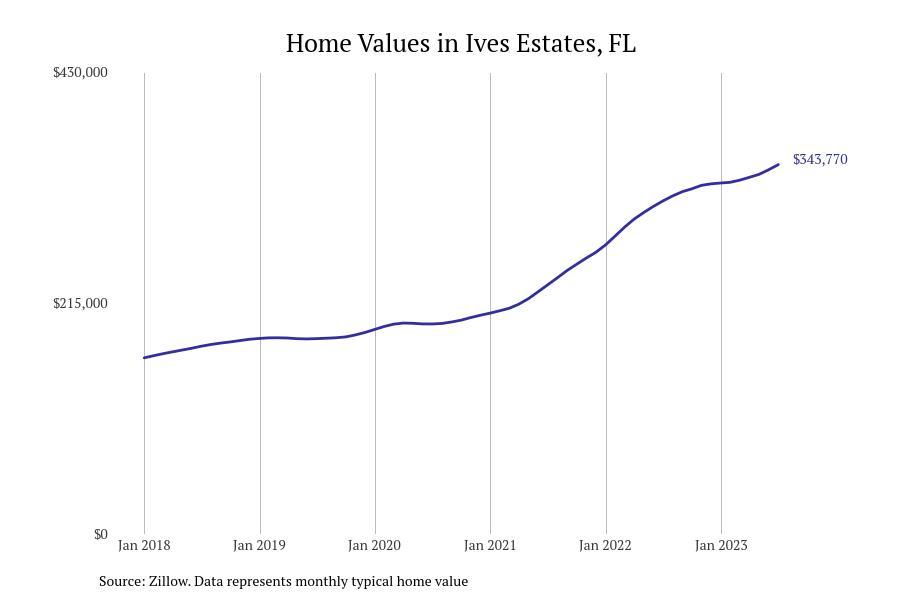 Stacker
#36. Ives Estates
- Typical home value: $343,770
- 1-year price change: +$33,757 (+10.9%)
- 5-year price change: +$168,968 (+96.7%)
- Metro area: Miami-Fort Lauderdale-Pompano Beach, FL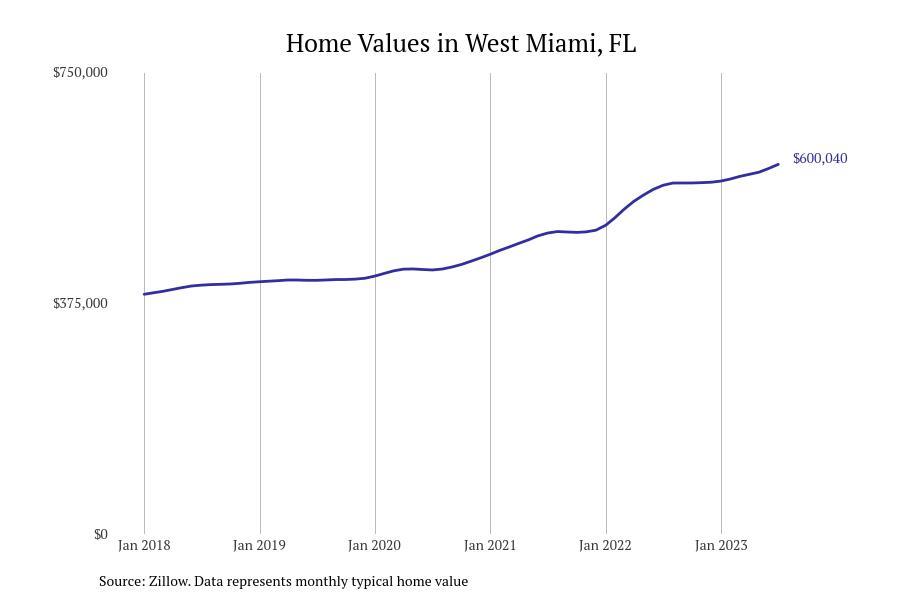 Stacker
#35. West Miami
- Typical home value: $600,040
- 1-year price change: +$33,959 (+6.0%)
- 5-year price change: +$196,050 (+48.5%)
- Metro area: Miami-Fort Lauderdale-Pompano Beach, FL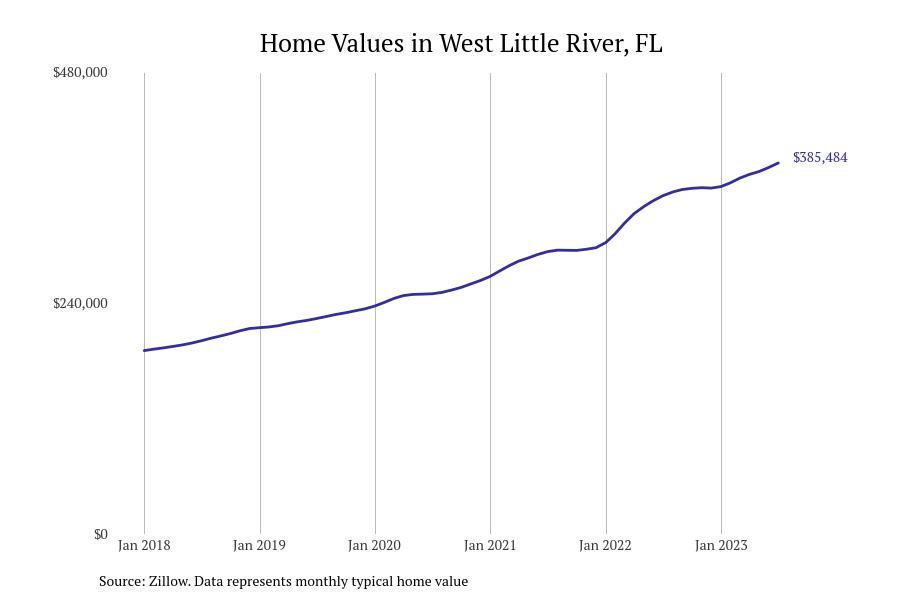 Stacker
#34. West Little River
- Typical home value: $385,484
- 1-year price change: +$33,992 (+9.7%)
- 5-year price change: +$184,710 (+92.0%)
- Metro area: Miami-Fort Lauderdale-Pompano Beach, FL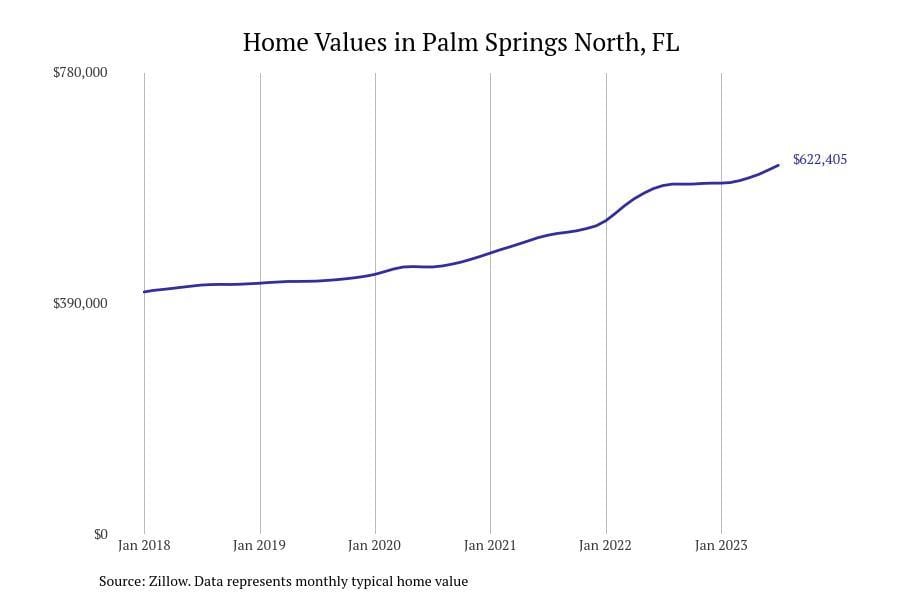 Stacker
#33. Palm Springs North
- Typical home value: $622,405
- 1-year price change: +$34,054 (+5.8%)
- 5-year price change: +$202,106 (+48.1%)
- Metro area: Miami-Fort Lauderdale-Pompano Beach, FL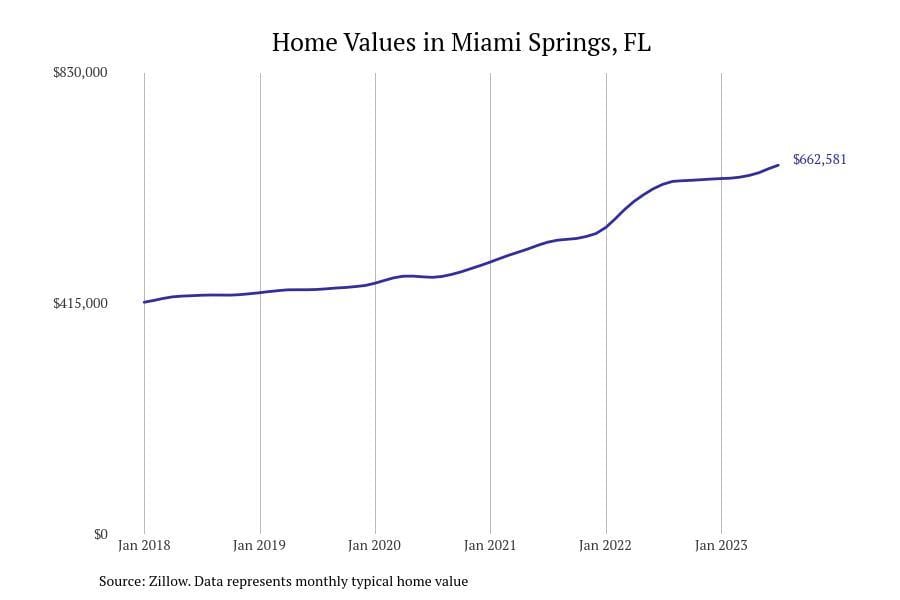 Stacker
#32. Miami Springs
- Typical home value: $662,581
- 1-year price change: +$34,212 (+5.4%)
- 5-year price change: +$233,656 (+54.5%)
- Metro area: Miami-Fort Lauderdale-Pompano Beach, FL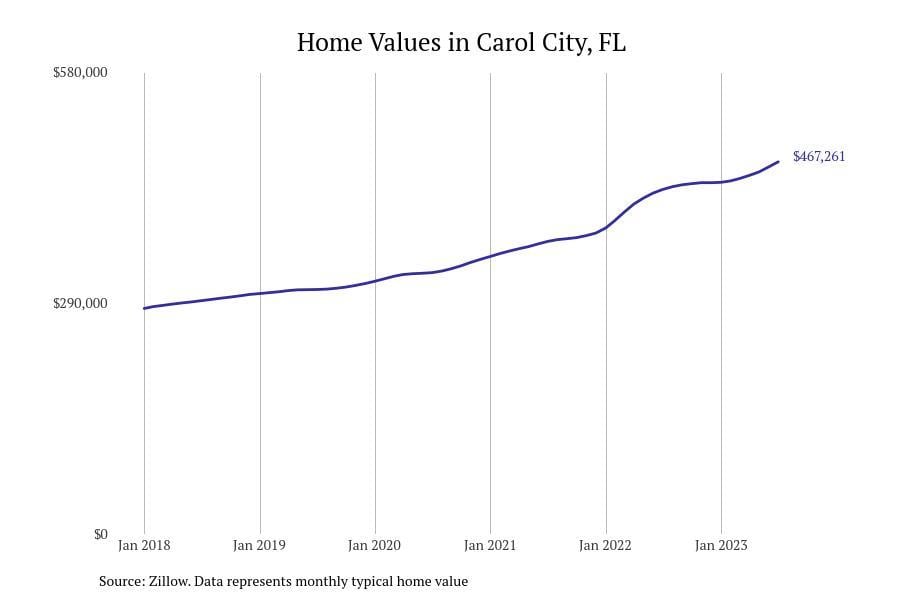 Stacker
#31. Carol City
- Typical home value: $467,261
- 1-year price change: +$34,613 (+8.0%)
- 5-year price change: +$174,349 (+59.5%)
- Metro area: Miami-Fort Lauderdale-Pompano Beach, FL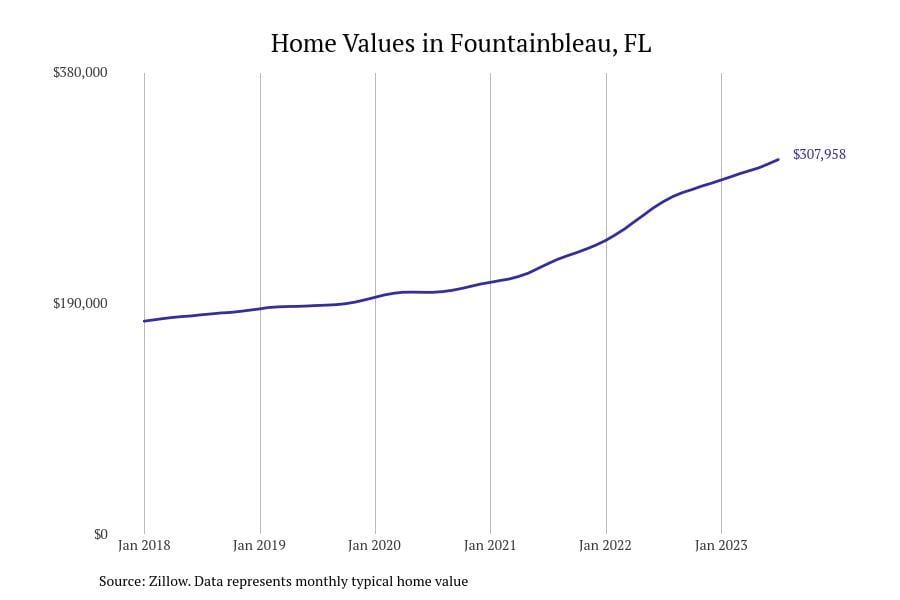 Stacker
#30. Fountainbleau
- Typical home value: $307,958
- 1-year price change: +$34,744 (+12.7%)
- 5-year price change: +$127,635 (+70.8%)
- Metro area: Miami-Fort Lauderdale-Pompano Beach, FL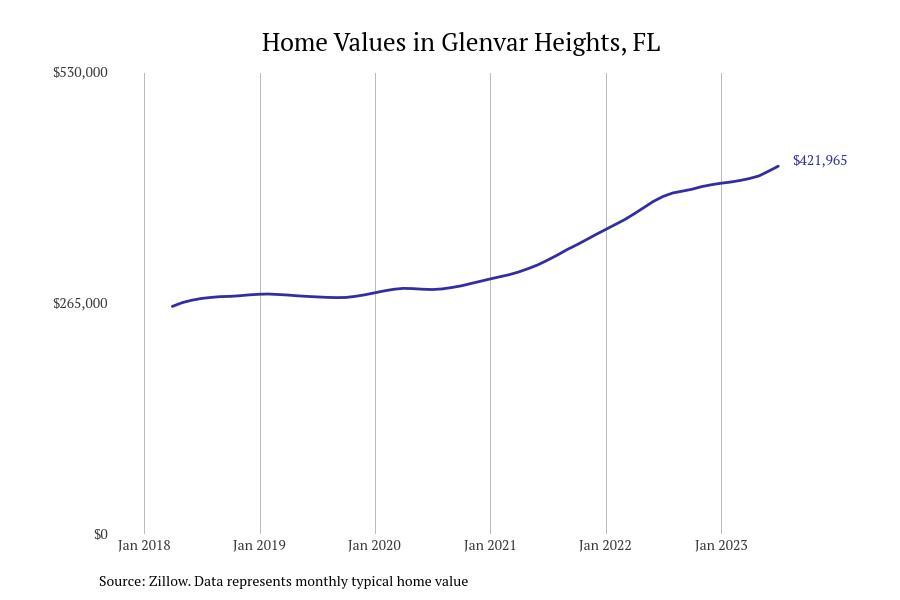 Stacker
#29. Glenvar Heights
- Typical home value: $421,965
- 1-year price change: +$34,762 (+9.0%)
- 5-year price change: +$151,756 (+56.2%)
- Metro area: Miami-Fort Lauderdale-Pompano Beach, FL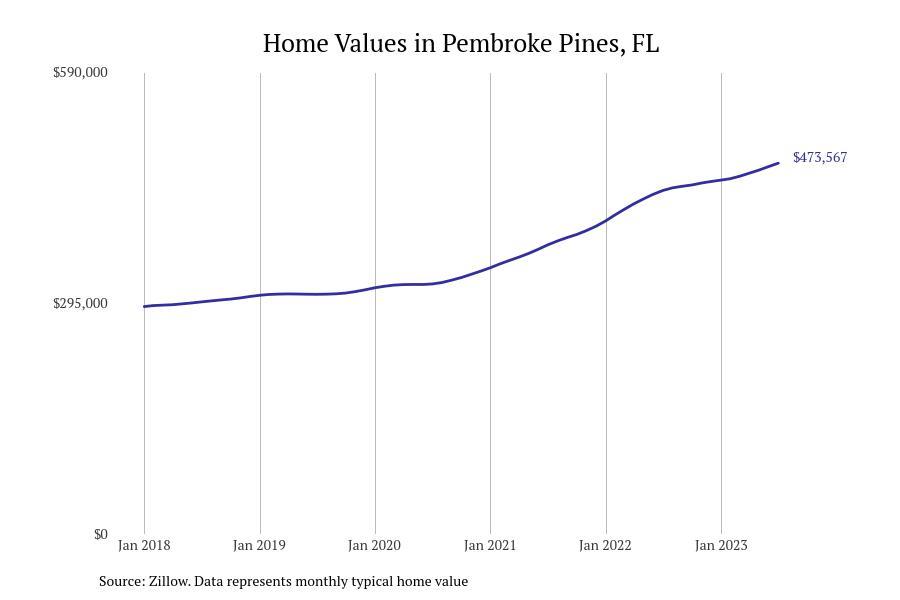 Stacker
#28. Pembroke Pines
- Typical home value: $473,567
- 1-year price change: +$34,829 (+7.9%)
- 5-year price change: +$177,168 (+59.8%)
- Metro area: Miami-Fort Lauderdale-Pompano Beach, FL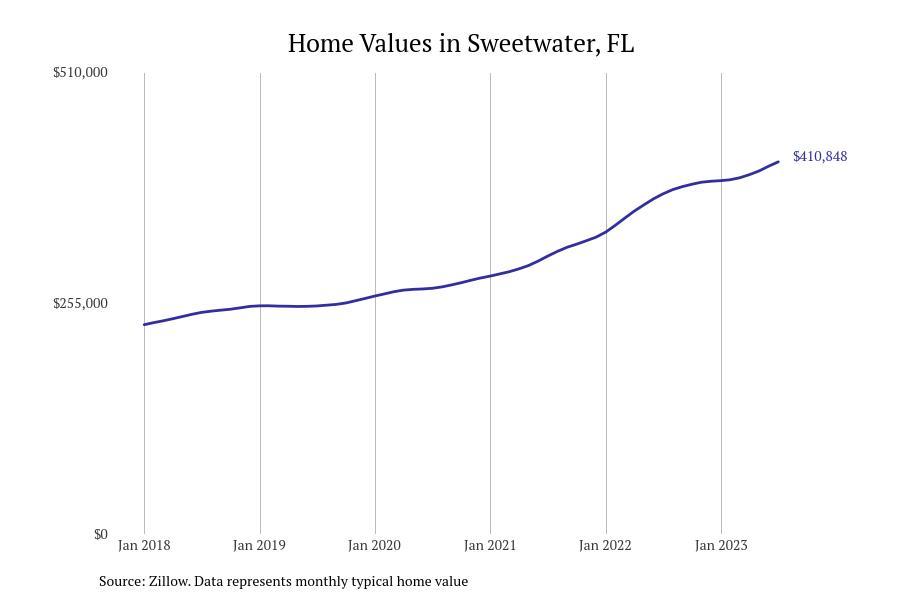 Stacker
#27. Sweetwater
- Typical home value: $410,848
- 1-year price change: +$35,378 (+9.4%)
- 5-year price change: +$166,248 (+68.0%)
- Metro area: Miami-Fort Lauderdale-Pompano Beach, FL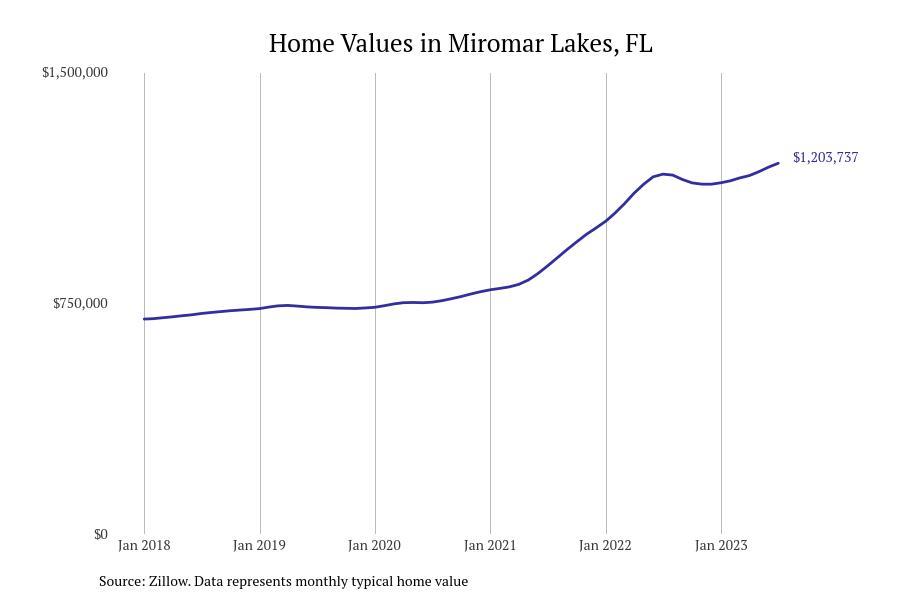 Stacker
#26. Miromar Lakes
- Typical home value: $1,203,737
- 1-year price change: +$35,394 (+3.0%)
- 5-year price change: +$487,787 (+68.1%)
- Metro area: Cape Coral-Fort Myers, FL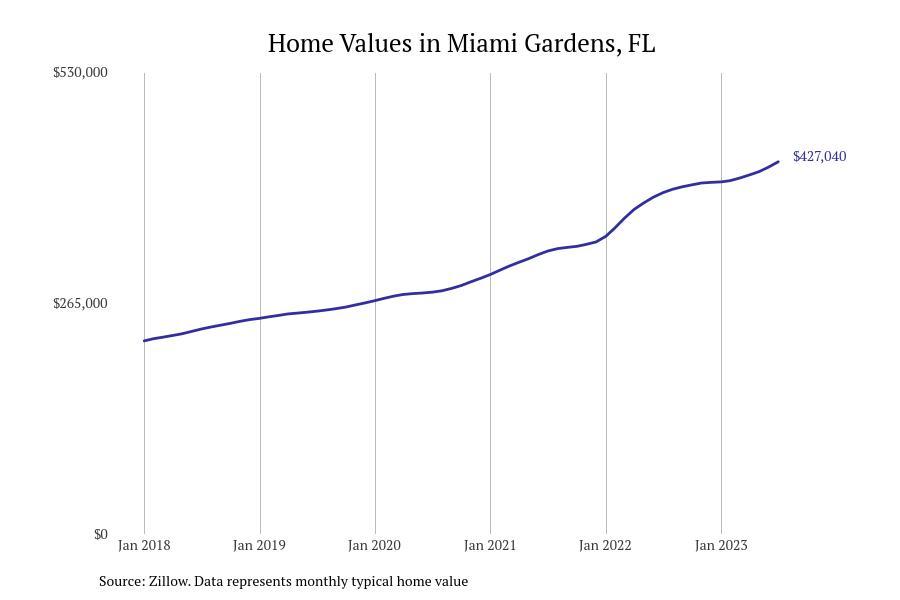 Stacker
#25. Miami Gardens
- Typical home value: $427,040
- 1-year price change: +$35,455 (+9.1%)
- 5-year price change: +$191,887 (+81.6%)
- Metro area: Miami-Fort Lauderdale-Pompano Beach, FL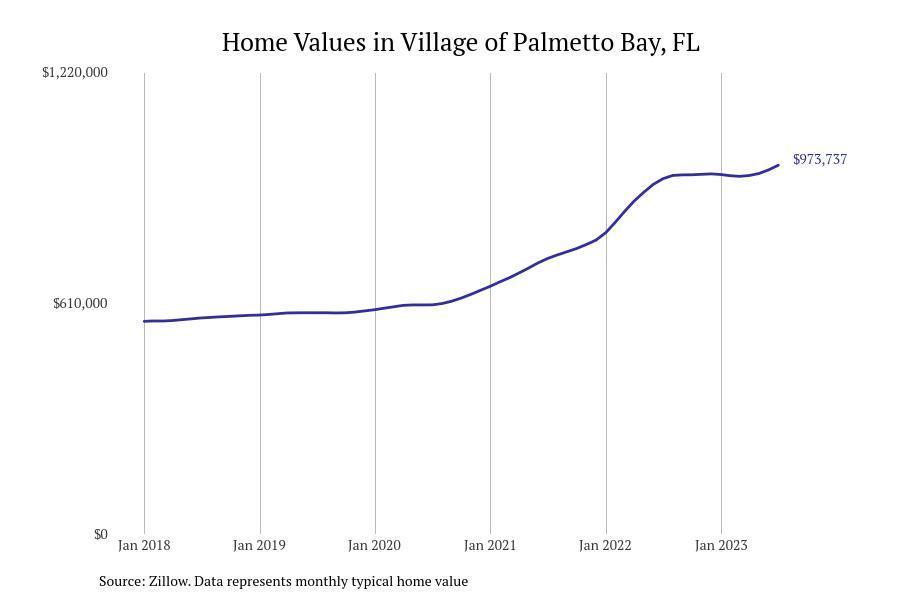 Stacker
#24. Village of Palmetto Bay
- Typical home value: $973,737
- 1-year price change: +$35,507 (+3.8%)
- 5-year price change: +$403,139 (+70.7%)
- Metro area: Miami-Fort Lauderdale-Pompano Beach, FL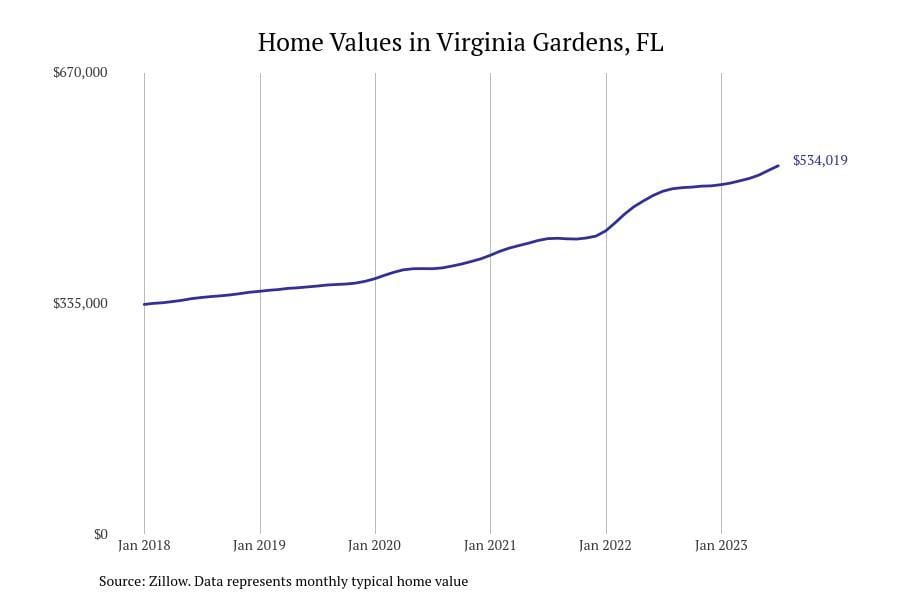 Stacker
#23. Virginia Gardens
- Typical home value: $534,019
- 1-year price change: +$36,867 (+7.4%)
- 5-year price change: +$191,029 (+55.7%)
- Metro area: Miami-Fort Lauderdale-Pompano Beach, FL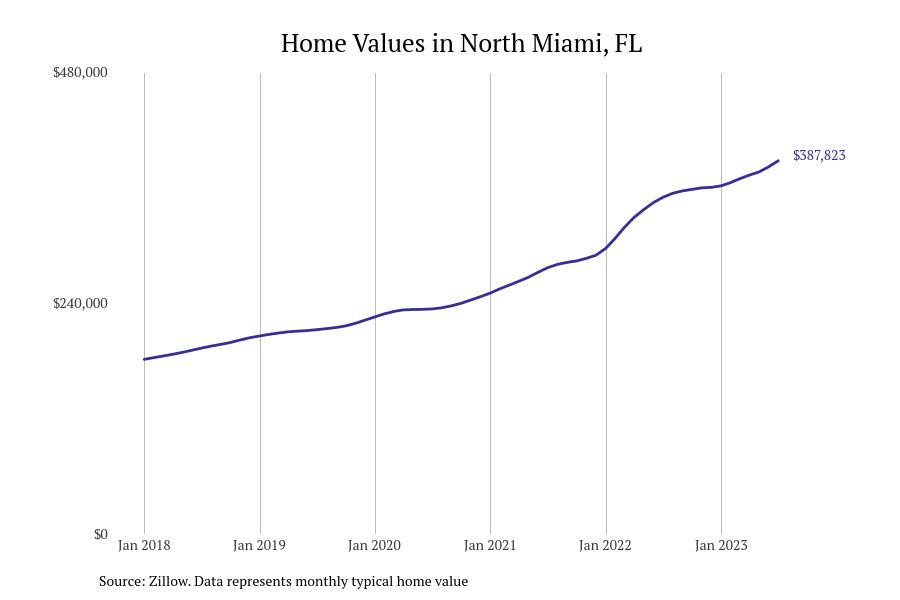 Stacker
#22. North Miami
- Typical home value: $387,823
- 1-year price change: +$37,954 (+10.8%)
- 5-year price change: +$194,682 (+100.8%)
- Metro area: Miami-Fort Lauderdale-Pompano Beach, FL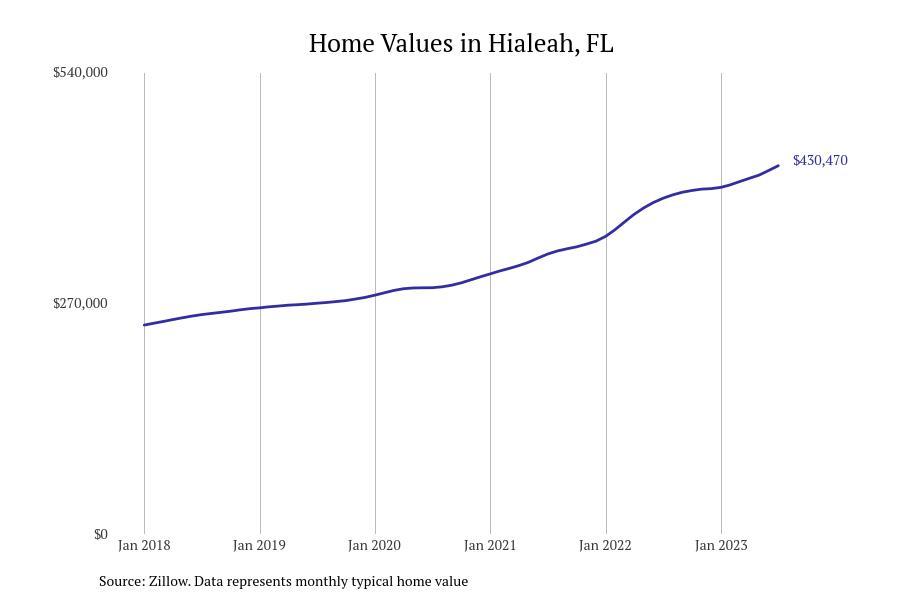 Stacker
#21. Hialeah
- Typical home value: $430,470
- 1-year price change: +$38,063 (+9.7%)
- 5-year price change: +$174,073 (+67.9%)
- Metro area: Miami-Fort Lauderdale-Pompano Beach, FL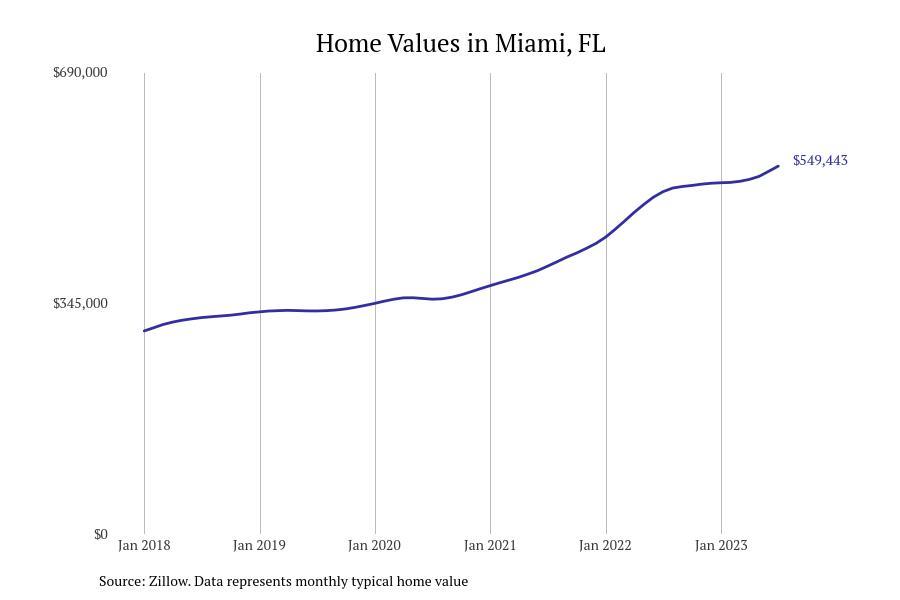 Stacker
#20. Miami
- Typical home value: $549,443
- 1-year price change: +$38,227 (+7.5%)
- 5-year price change: +$226,271 (+70.0%)
- Metro area: Miami-Fort Lauderdale-Pompano Beach, FL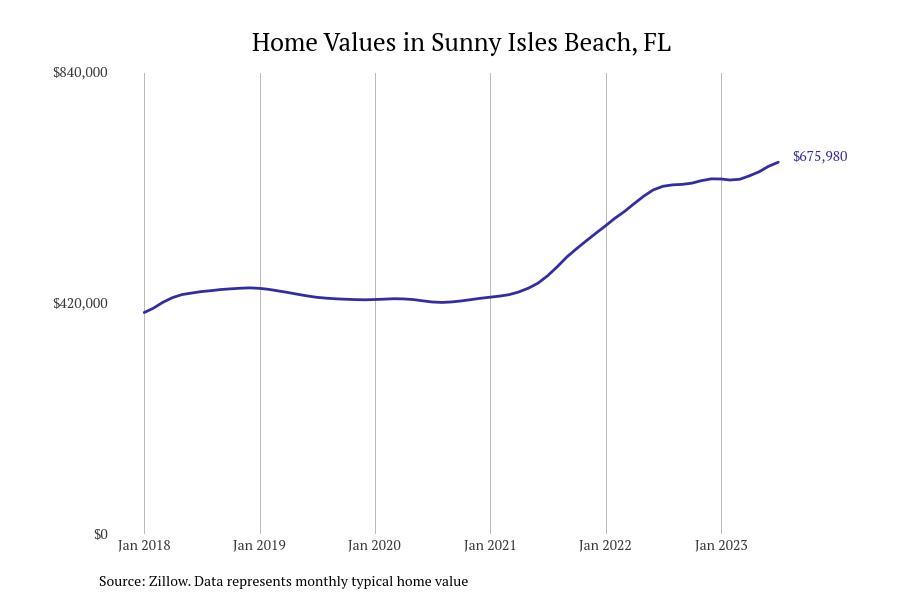 Stacker
#19. Sunny Isles Beach
- Typical home value: $675,980
- 1-year price change: +$43,757 (+6.9%)
- 5-year price change: +$235,202 (+53.4%)
- Metro area: Miami-Fort Lauderdale-Pompano Beach, FL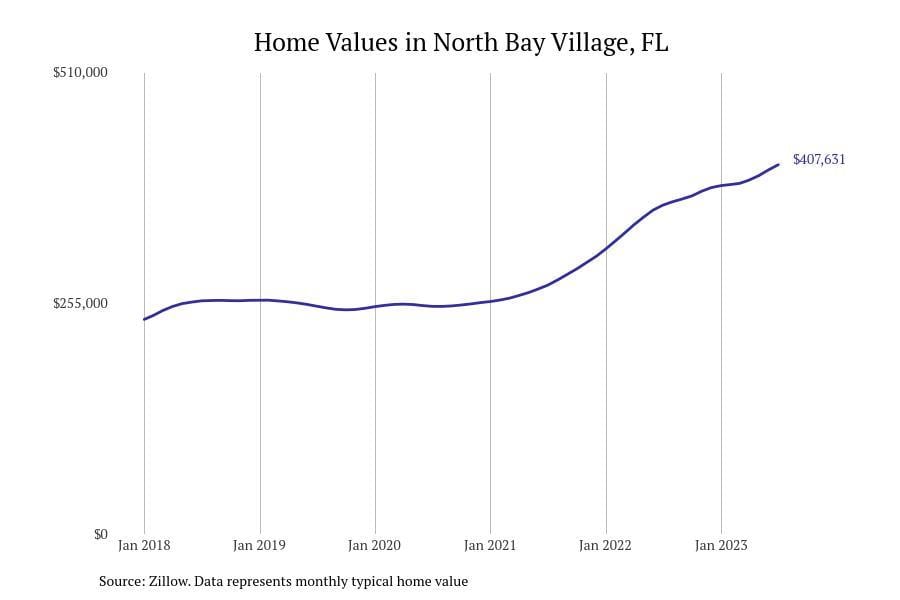 Stacker
#18. North Bay Village
- Typical home value: $407,631
- 1-year price change: +$44,558 (+12.3%)
- 5-year price change: +$150,234 (+58.4%)
- Metro area: Miami-Fort Lauderdale-Pompano Beach, FL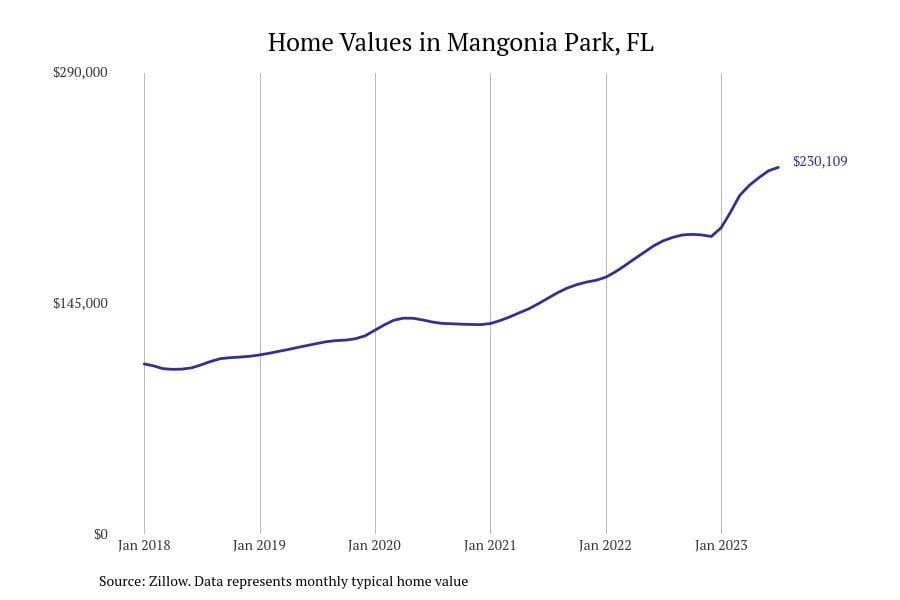 Stacker
#17. Mangonia Park
- Typical home value: $230,109
- 1-year price change: +$46,120 (+25.1%)
- 5-year price change: +$123,868 (+116.6%)
- Metro area: Miami-Fort Lauderdale-Pompano Beach, FL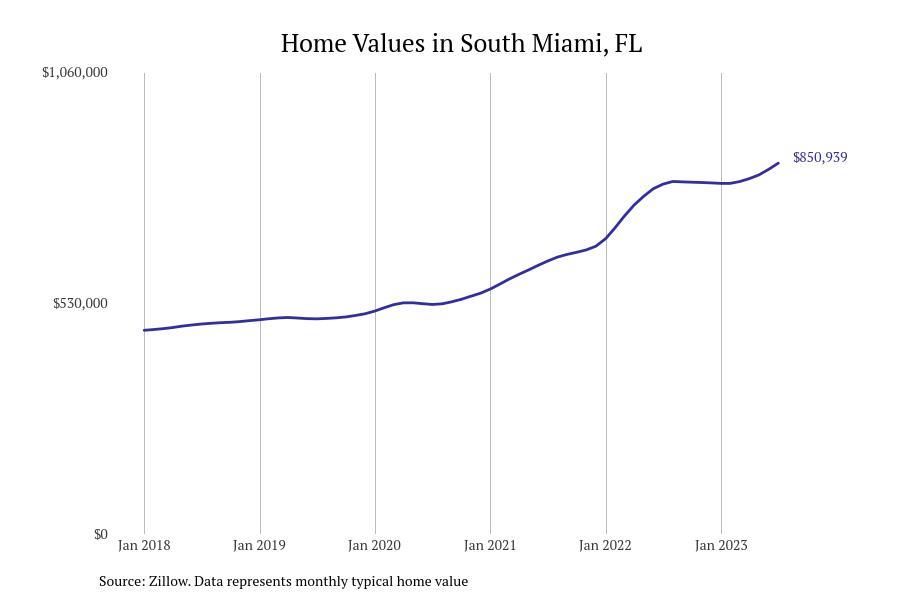 Stacker
#16. South Miami
- Typical home value: $850,939
- 1-year price change: +$48,223 (+6.0%)
- 5-year price change: +$369,140 (+76.6%)
- Metro area: Miami-Fort Lauderdale-Pompano Beach, FL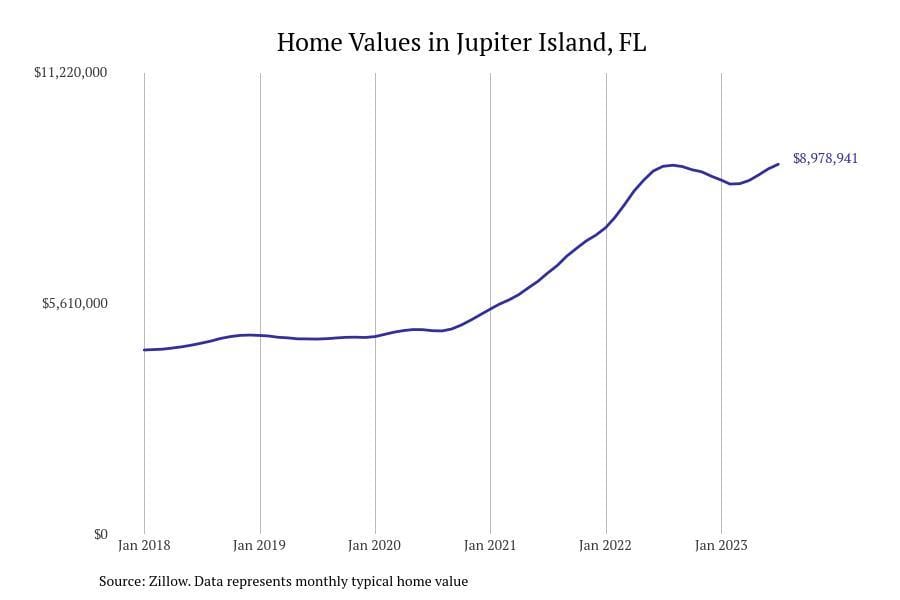 Stacker
#15. Jupiter Island
- Typical home value: $8,978,941
- 1-year price change: +$49,583 (+0.6%)
- 5-year price change: +$4,343,953 (+93.7%)
- Metro area: Port St. Lucie, FL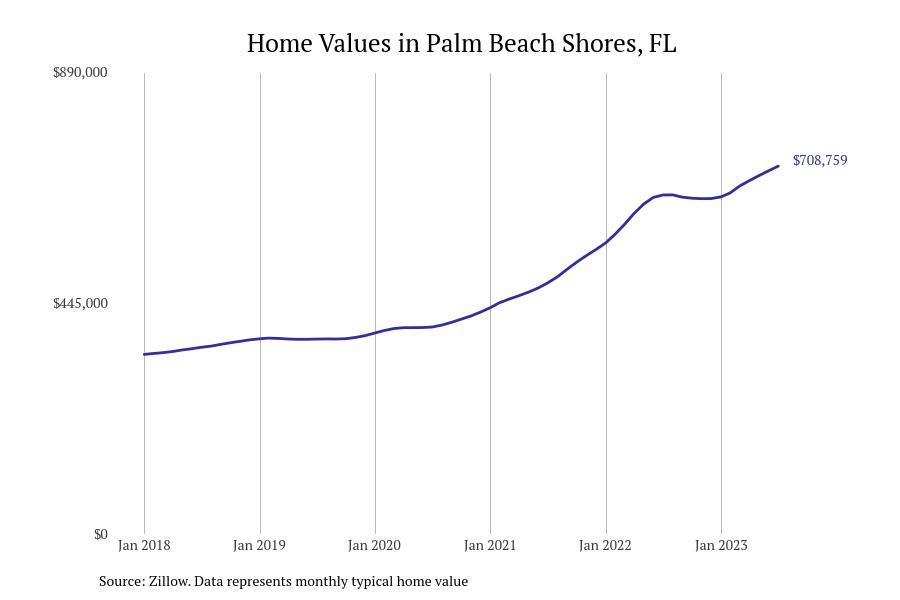 Stacker
#14. Palm Beach Shores
- Typical home value: $708,759
- 1-year price change: +$55,613 (+8.5%)
- 5-year price change: +$349,021 (+97.0%)
- Metro area: Miami-Fort Lauderdale-Pompano Beach, FL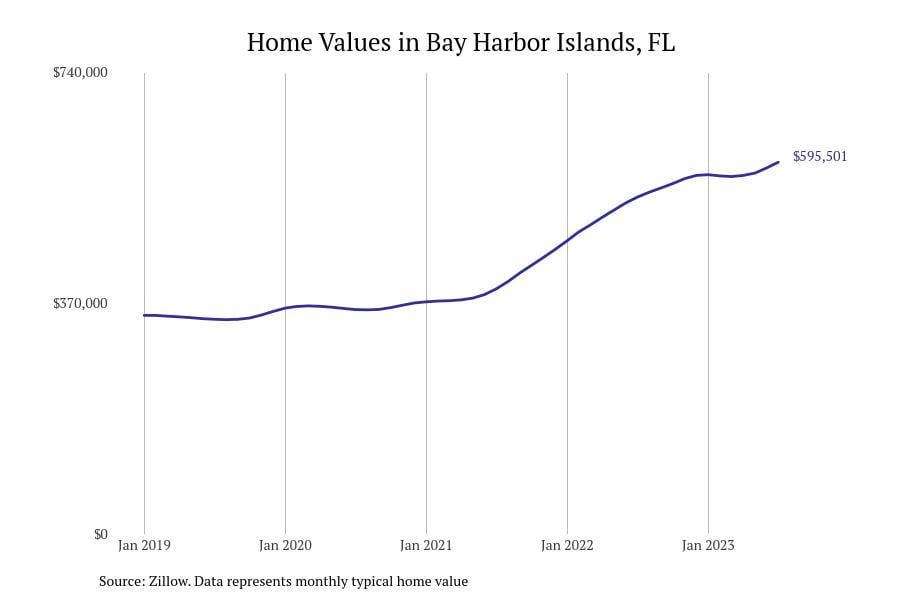 Stacker
#13. Bay Harbor Islands
- Typical home value: $595,501
- 1-year price change: +$55,914 (+10.4%)
- 5-year price change: +$251,295 (+73.0%)
- Metro area: Miami-Fort Lauderdale-Pompano Beach, FL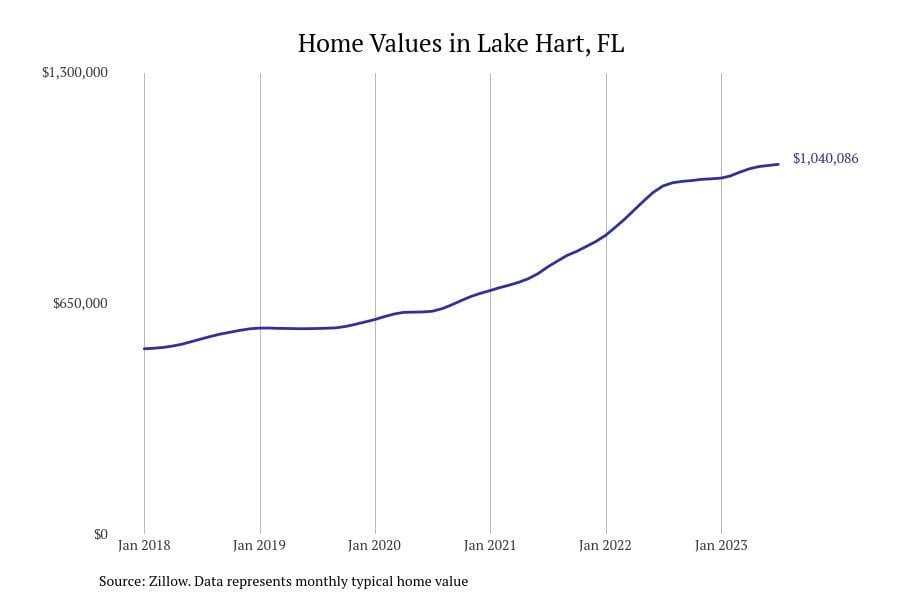 Stacker
#12. Lake Hart
- Typical home value: $1,040,086
- 1-year price change: +$60,667 (+6.2%)
- 5-year price change: +$491,070 (+89.4%)
- Metro area: Orlando-Kissimmee-Sanford, FL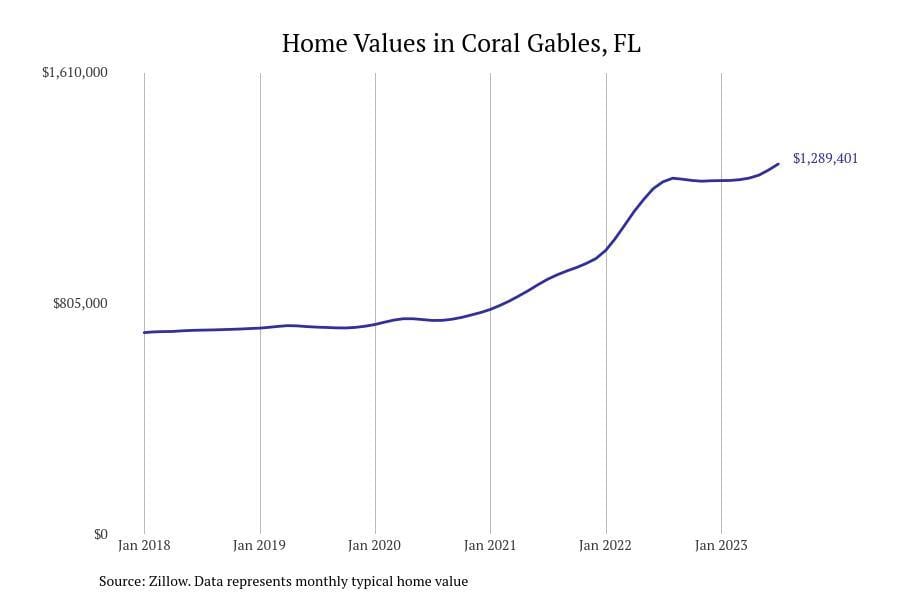 Stacker
#11. Coral Gables
- Typical home value: $1,289,401
- 1-year price change: +$62,065 (+5.1%)
- 5-year price change: +$578,940 (+81.5%)
- Metro area: Miami-Fort Lauderdale-Pompano Beach, FL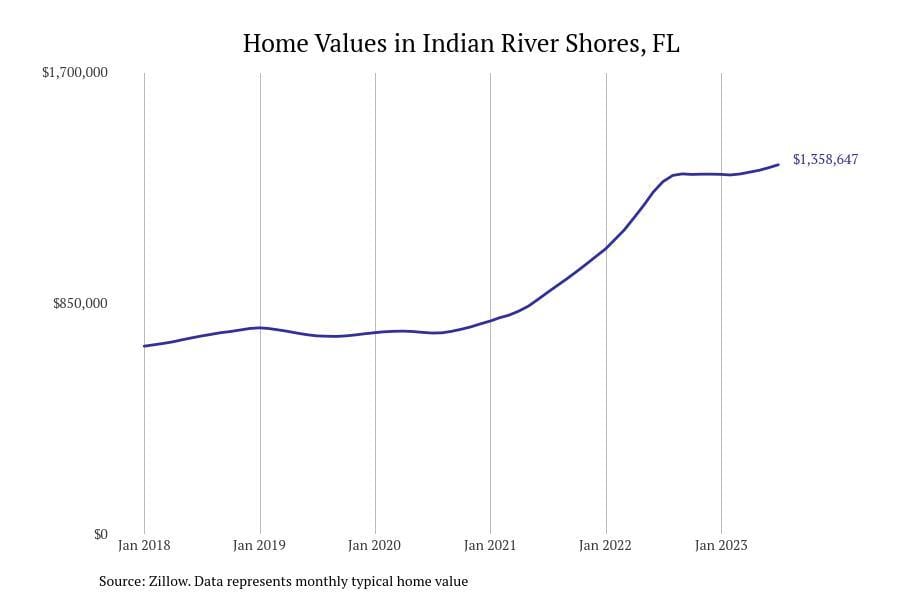 Stacker
#10. Indian River Shores
- Typical home value: $1,358,647
- 1-year price change: +$62,069 (+4.8%)
- 5-year price change: +$630,124 (+86.5%)
- Metro area: Sebastian-Vero Beach, FL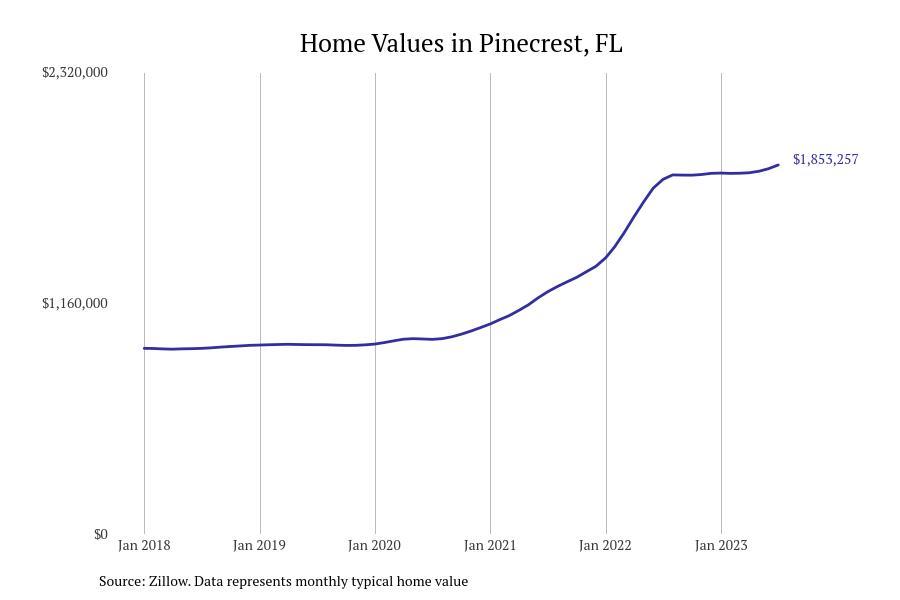 Stacker
#9. Pinecrest
- Typical home value: $1,853,257
- 1-year price change: +$72,448 (+4.1%)
- 5-year price change: +$921,062 (+98.8%)
- Metro area: Miami-Fort Lauderdale-Pompano Beach, FL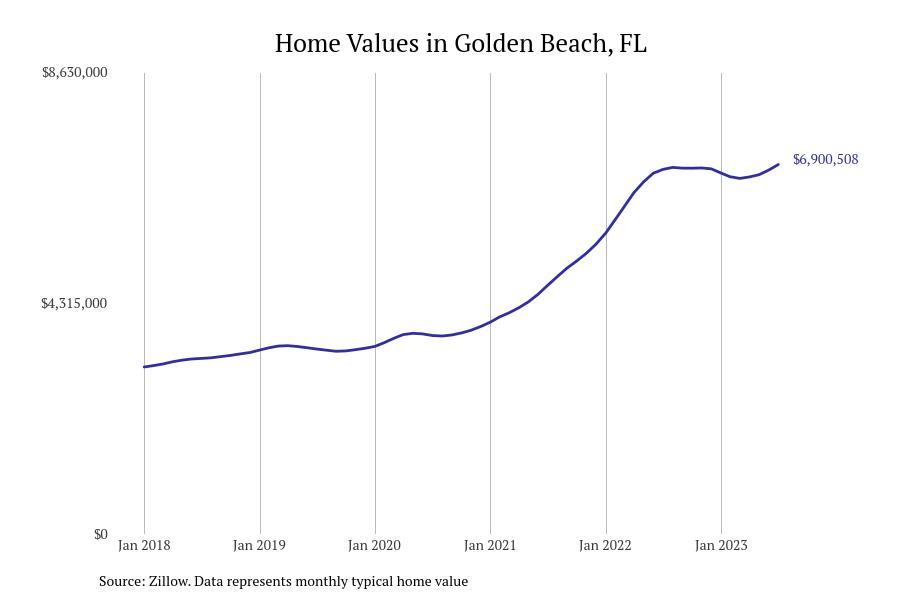 Stacker
#8. Golden Beach
- Typical home value: $6,900,508
- 1-year price change: +$89,547 (+1.3%)
- 5-year price change: +$3,620,738 (+110.4%)
- Metro area: Miami-Fort Lauderdale-Pompano Beach, FL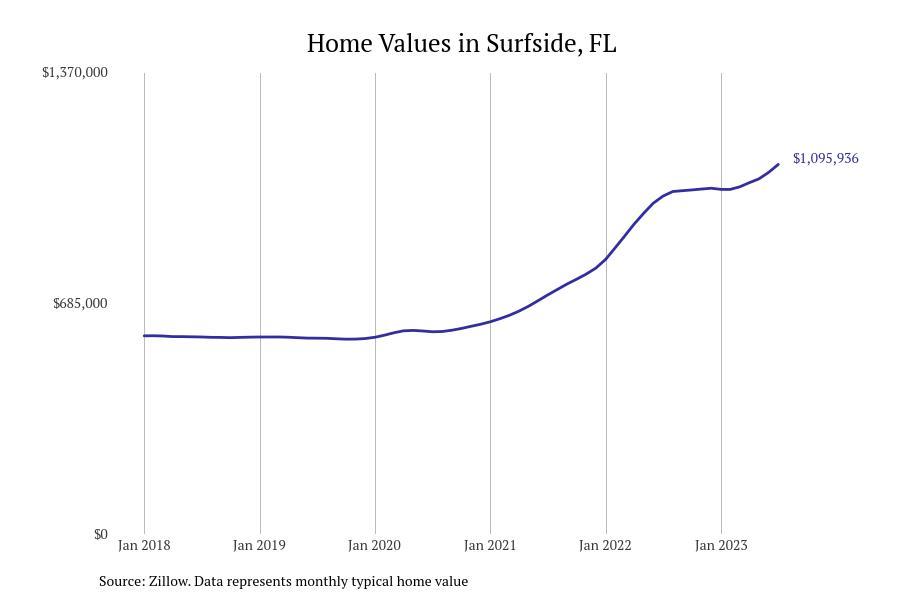 Stacker
#7. Surfside
- Typical home value: $1,095,936
- 1-year price change: +$94,031 (+9.4%)
- 5-year price change: +$511,687 (+87.6%)
- Metro area: Miami-Fort Lauderdale-Pompano Beach, FL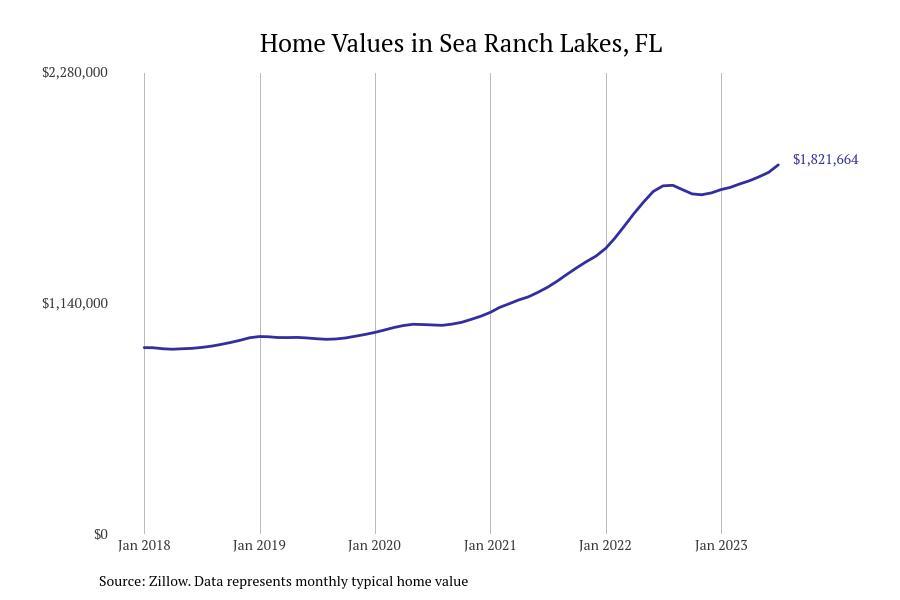 Stacker
#6. Sea Ranch Lakes
- Typical home value: $1,821,664
- 1-year price change: +$103,546 (+6.0%)
- 5-year price change: +$901,025 (+97.9%)
- Metro area: Miami-Fort Lauderdale-Pompano Beach, FL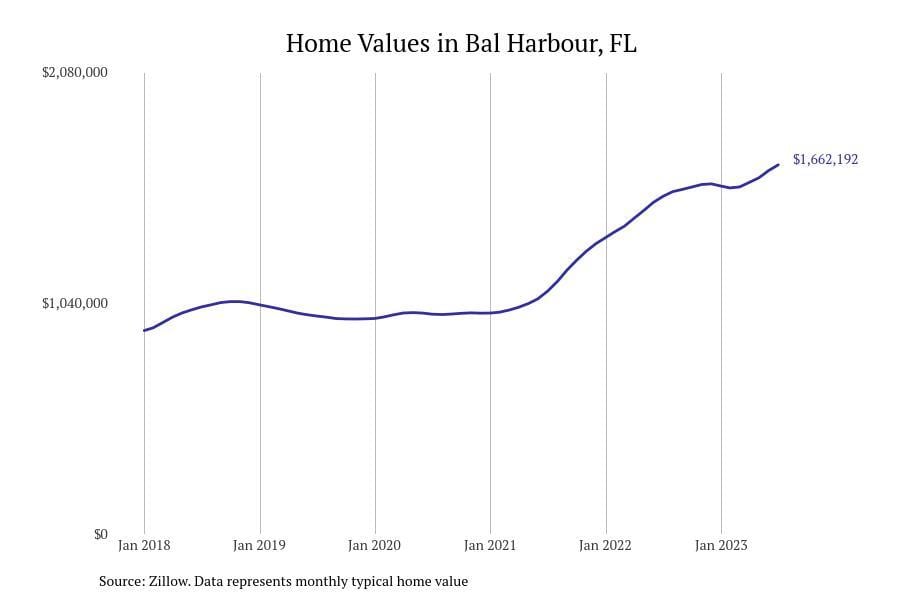 Stacker
#5. Bal Harbour
- Typical home value: $1,662,192
- 1-year price change: +$142,011 (+9.3%)
- 5-year price change: +$639,957 (+62.6%)
- Metro area: Miami-Fort Lauderdale-Pompano Beach, FL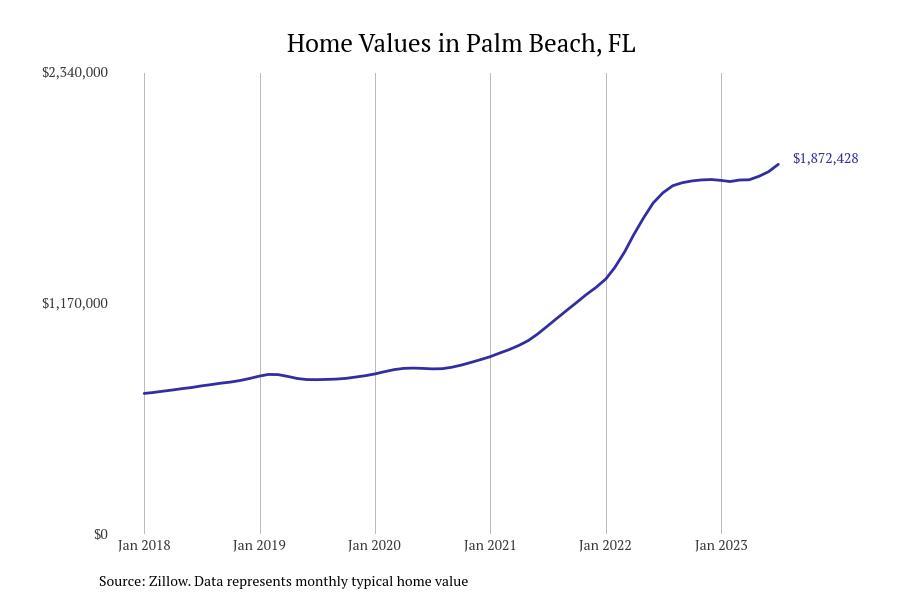 Stacker
#4. Palm Beach
- Typical home value: $1,872,428
- 1-year price change: +$143,967 (+8.3%)
- 5-year price change: +$1,122,246 (+149.6%)
- Metro area: Miami-Fort Lauderdale-Pompano Beach, FL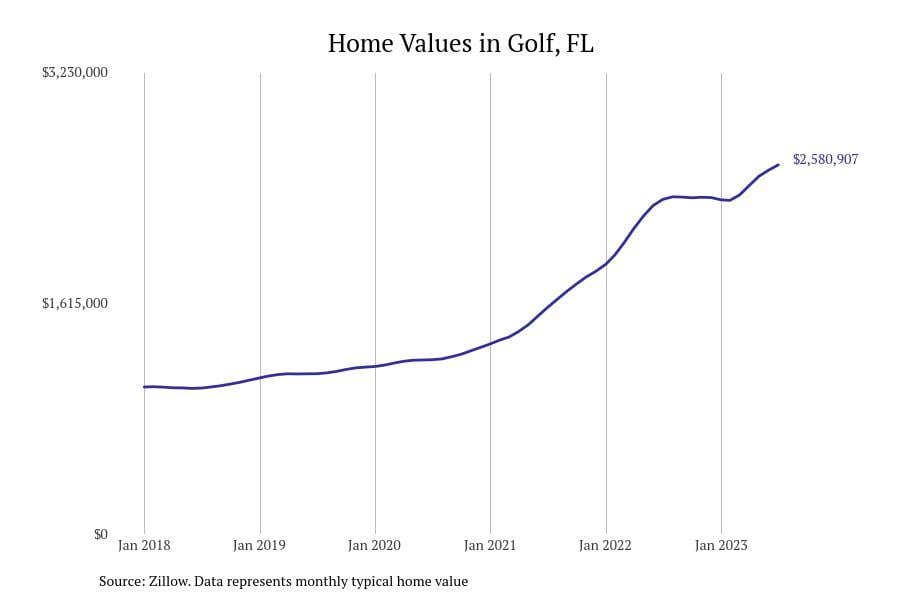 Stacker
#3. Golf
- Typical home value: $2,580,907
- 1-year price change: +$240,702 (+10.3%)
- 5-year price change: +$1,560,733 (+153.0%)
- Metro area: Miami-Fort Lauderdale-Pompano Beach, FL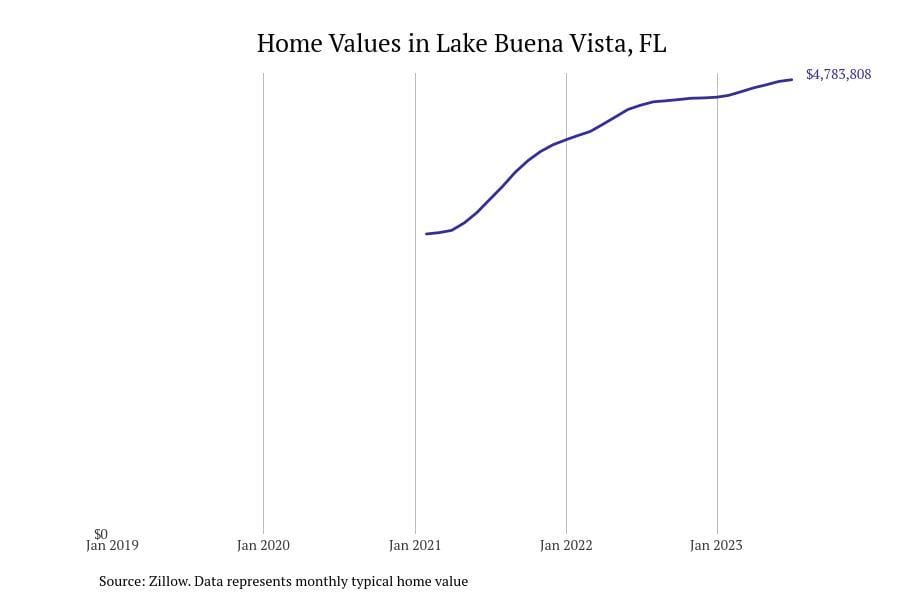 Stacker
#2. Lake Buena Vista
- Typical home value: $4,783,808
- 1-year price change: +$267,941 (+5.9%)
- 5-year price change: data not available
- Metro area: Orlando-Kissimmee-Sanford, FL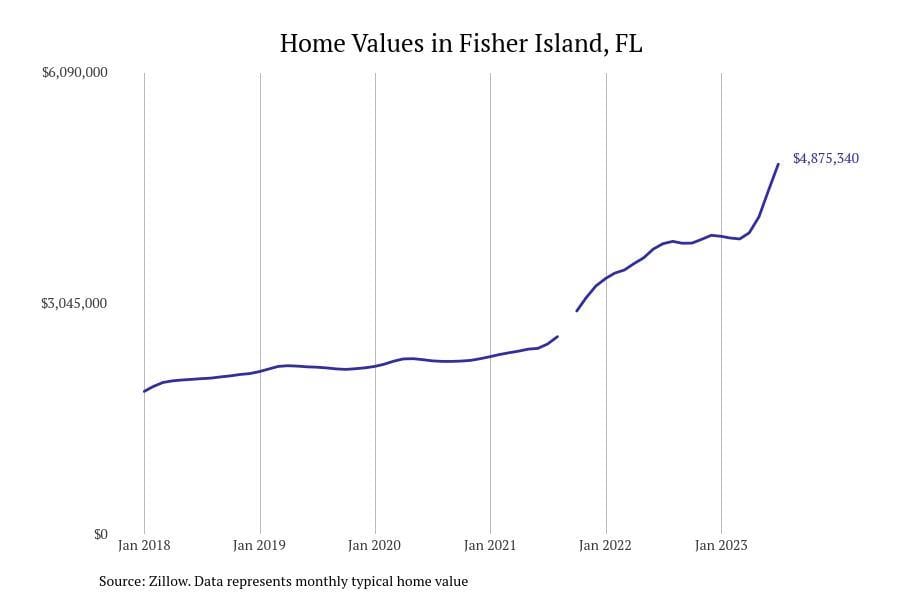 Stacker
#1. Fisher Island
- Typical home value: $4,875,340
- 1-year price change: +$1,048,359 (+27.4%)
- 5-year price change: +$2,827,463 (+138.1%)
- Metro area: Miami-Fort Lauderdale-Pompano Beach, FL