Skimming devices found at 4 Flagler County gas station
Customers asked to check credit card statements
PALM COAST, Fla. – Skimming devices were found at four Palm Coast gas stations this week, according to the Flagler County Sheriff's Office.
The Florida Department of Agriculture and Consumer Services received a complaint about an unauthorized purchase from a fuel pump at the Kangaroo Express at 1201 Palm Harbor Parkway. An official from the agency found the security tape on all the pumps had been altered and two of the pumps contained skimming devices.
Additional skimming devices were found at the 7-Eleven on 220 A Palm Coast Parkway, the BP gas station at 1755 Palm Harbor Parkway and the Shell gas station at 320 Palm Coast Parkway Northeast, during routine checks.
"If you have utilized any of these four gas stations in Palm Coast, or any gas station, it is imperative that you check you bank card or credit card statement to make sure you do not have fraudulent charges on your account," Flagler County Sheriff Rick Staly said. "If you notice anything suspicious, you should contact your bank or credit card company immediately."
Anyone who suspects they've fallen victim to a credit card skimmer should contact their bank, local law enforcement and the Florida Department of Agriculture at 1-800-435-7352. Follow the tips below to keep stay safe while paying at the pump.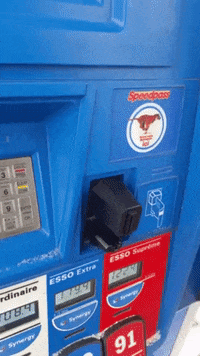 -Pay inside with cash whenever possible
-Use the gas pumps closest to the store, because criminals generally place skimmers on the farthest pump, since it's less likely they'll be discovered
-Make sure the gas cabinet is closed, and the security tape is intact. Check around to make sure none of the pieces wiggle or jiggle
-Shield the PIN as it is entered. Even if no one is around, criminals have been known to install hidden cameras near skimmers to record PIN entries
-When using a debit card, run it as credit so there is no PIN entry
-Monitor financial statements regularly. Report any suspected credit card theft to the authorities and the bank immediately
Have you fallen prey to gas station skimmers? Sound off with your experience in the comments below and News 6 may contact you for an upcoming story.
Copyright 2017 by WKMG ClickOrlando - All rights reserved.
---
About the Author: