Food insecurity is a widespread problem in the United States, with people experiencing food insecurity in every single county in the nation. The nonprofit Feeding America describes food insecurity as "a lack of consistent access to enough food for every person in a household to live an active, healthy life."
Food insecurity hits children particularly hard. The USDA estimates that more than 5.5 million children lived in food-insecure households in 2021. Not having consistent access to enough food can affect cognitive abilities, overall health, moods, and attention spans—not to mention the psychological effects of living with scarcity.
[TRENDING: Professional dancer loses legs after contracting meningococcal meningitis infection | Museum Day: How to get free admission to Central Florida museums | Enter to win Kroger grocery gift card | Become a News 6 Insider (it's free!)]
Stacker compiled a list of counties in Florida with the highest rate of food-insecure children using data from Feeding America. Counties are ranked by highest percent of children with food insecurity as of 2020. Florida has a child food insecurity rate of 15.7%, which ranks #16 highest among all states.
States with the highest rate of food-insecure children
States with the lowest rate of food-insecure children
Check out the Florida Foodie podcast. You can find every episode in the media player below:
Read on to see where food insecurity is most prevalent in Florida.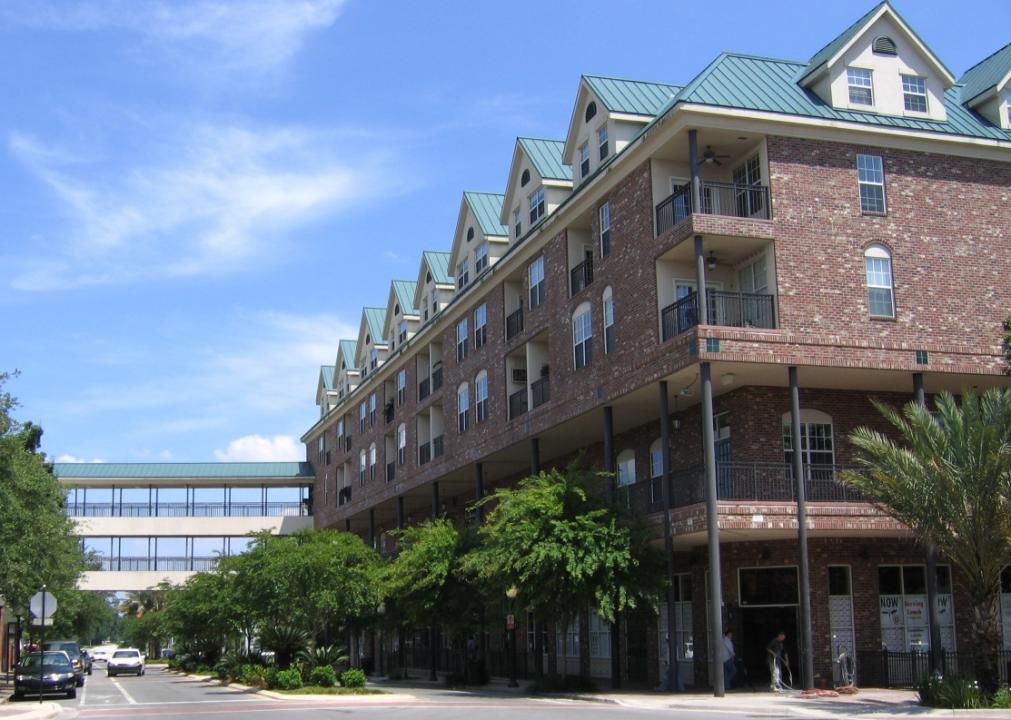 DouglasGreen // Wikimedia Commons
#50. Alachua County
- Child food insecurity rate: 15.7% (7,570 total)
--- 0.4% lower than national average
- Food insecurity rate: 12.4% (33,350 total)
--- 0.6% higher than national average
- Annual food budget shortfall: $20,386,000
--- Cost per meal: $3.80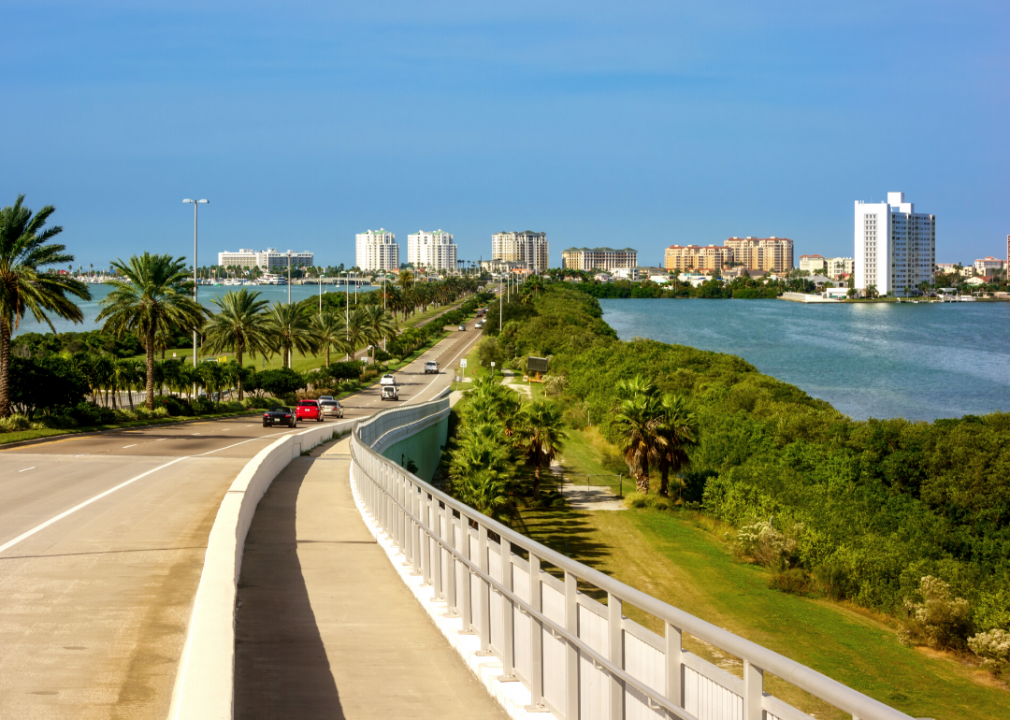 Canva
#49. Pinellas County
- Child food insecurity rate: 15.7% (24,690 total)
--- 0.4% lower than national average
- Food insecurity rate: 12.2% (118,890 total)
--- 0.4% higher than national average
- Annual food budget shortfall: $72,458,000
--- Cost per meal: $3.79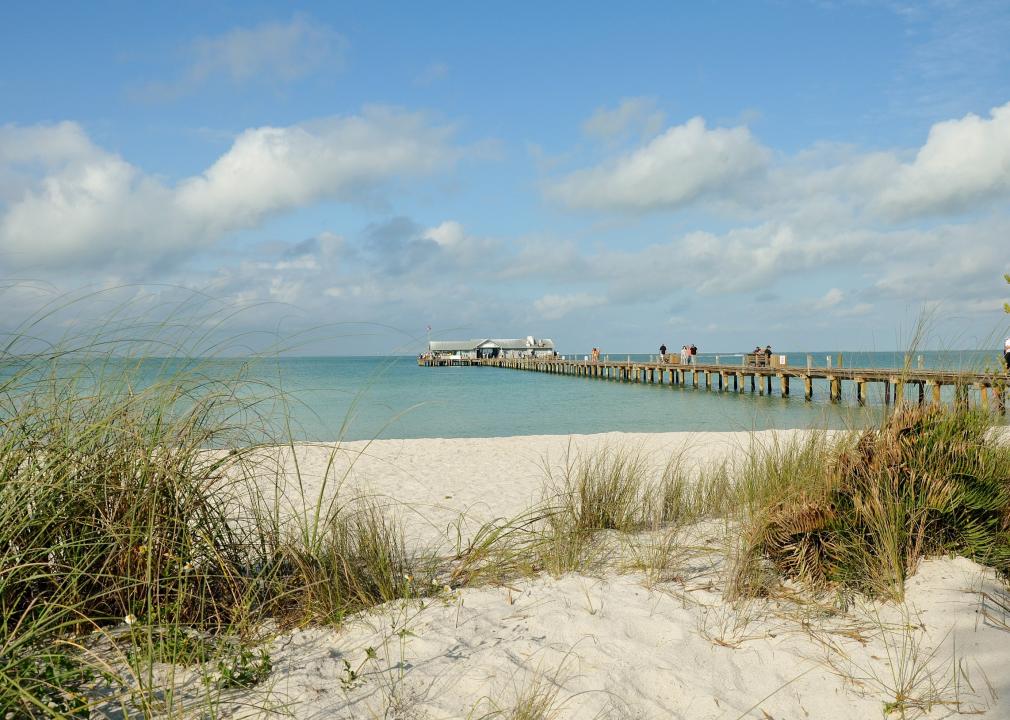 Roman Eugeniusz // Wikimedia Commons
#48. Manatee County
- Child food insecurity rate: 15.8% (11,350 total)
--- 0.3% lower than national average
- Food insecurity rate: 11.2% (44,000 total)
--- 0.6% lower than national average
- Annual food budget shortfall: $25,977,000
--- Cost per meal: $3.67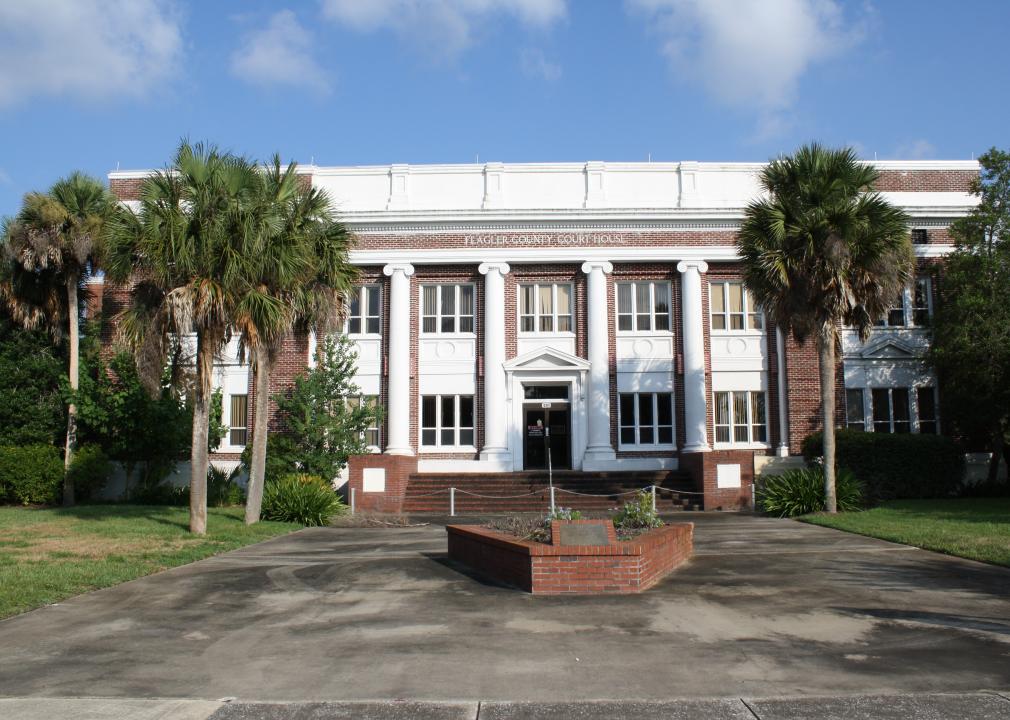 Georgia Guercio // Wikimedia Commons
#47. Flagler County
- Child food insecurity rate: 15.9% (3,040 total)
--- 0.2% lower than national average
- Food insecurity rate: 11.5% (12,990 total)
--- 0.3% lower than national average
- Annual food budget shortfall: $7,964,000
--- Cost per meal: $3.81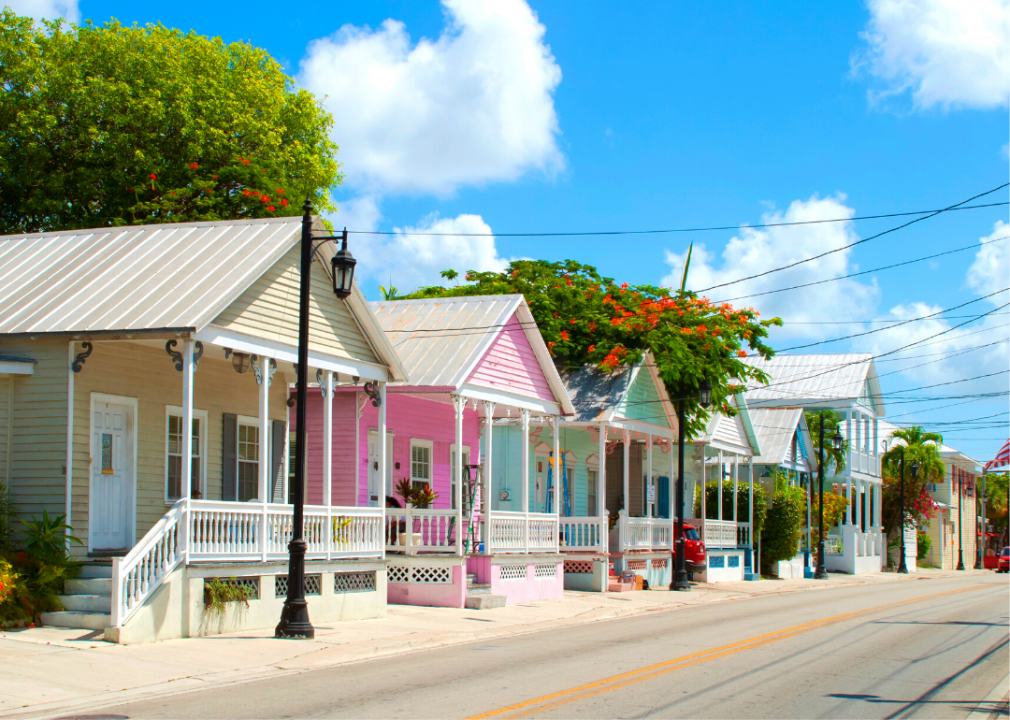 Canva
#46. Monroe County
- Child food insecurity rate: 15.9% (1,830 total)
--- 0.2% lower than national average
- Food insecurity rate: 11.3% (8,520 total)
--- 0.5% lower than national average
- Annual food budget shortfall: $6,452,000
--- Cost per meal: $4.70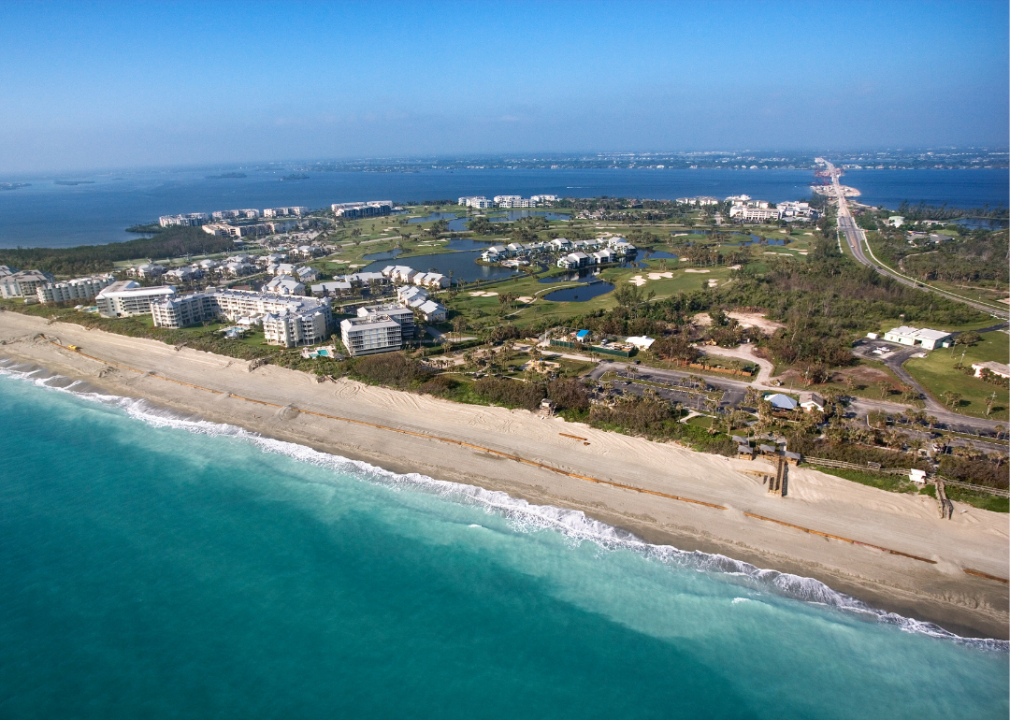 Canva
#45. Indian River County
- Child food insecurity rate: 16.1% (4,060 total)
--- 0.0% lower than national average
- Food insecurity rate: 11.2% (17,650 total)
--- 0.6% lower than national average
- Annual food budget shortfall: $10,940,000
--- Cost per meal: $3.85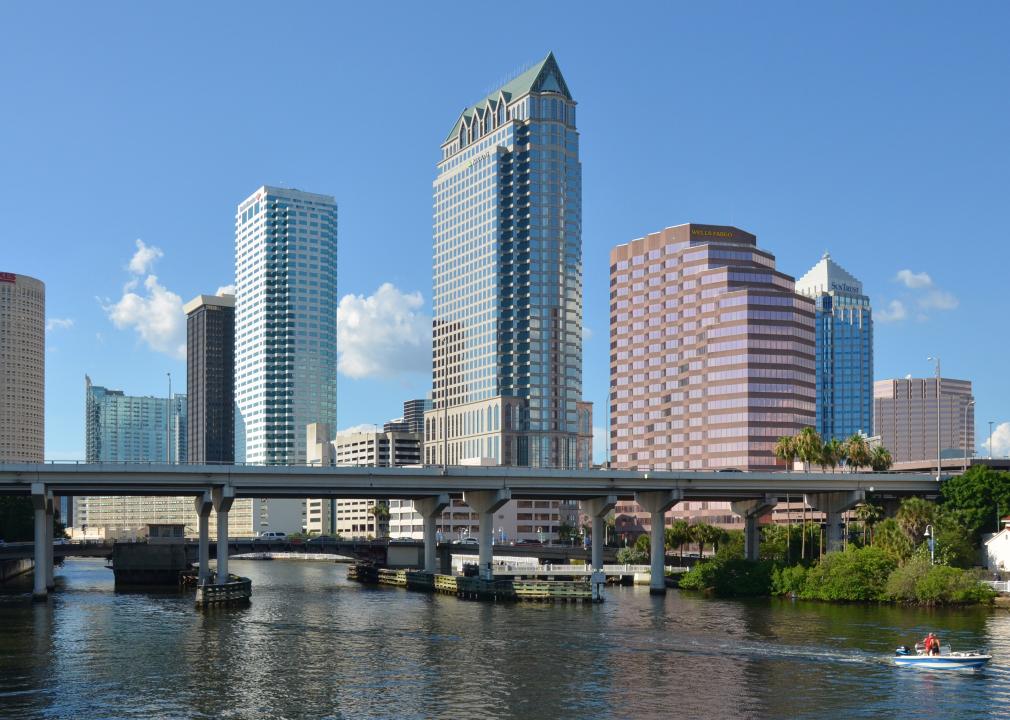 Clément Bardot // Wikimedia Commons
#44. Hillsborough County
- Child food insecurity rate: 16.3% (52,680 total)
--- 0.2% higher than national average
- Food insecurity rate: 11.4% (165,220 total)
--- 0.4% lower than national average
- Annual food budget shortfall: $95,642,000
--- Cost per meal: $3.60
Ebyabe // Wikimedia Commons
#43. Gulf County
- Child food insecurity rate: 16.5% (360 total)
--- 0.4% higher than national average
- Food insecurity rate: 12.6% (1,900 total)
--- 0.8% higher than national average
- Annual food budget shortfall: $1,084,000
--- Cost per meal: $3.54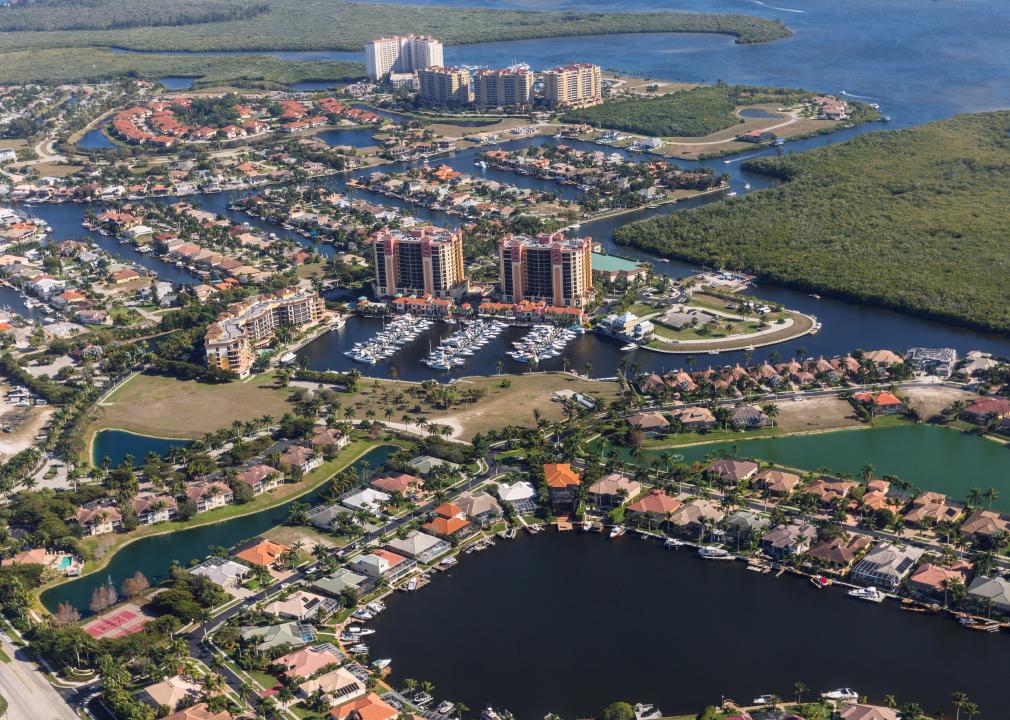 Nadezda Murmakova // Shutterstock
#42. Lee County
- Child food insecurity rate: 16.6% (22,180 total)
--- 0.5% higher than national average
- Food insecurity rate: 11.2% (84,750 total)
--- 0.6% lower than national average
- Annual food budget shortfall: $49,751,000
--- Cost per meal: $3.65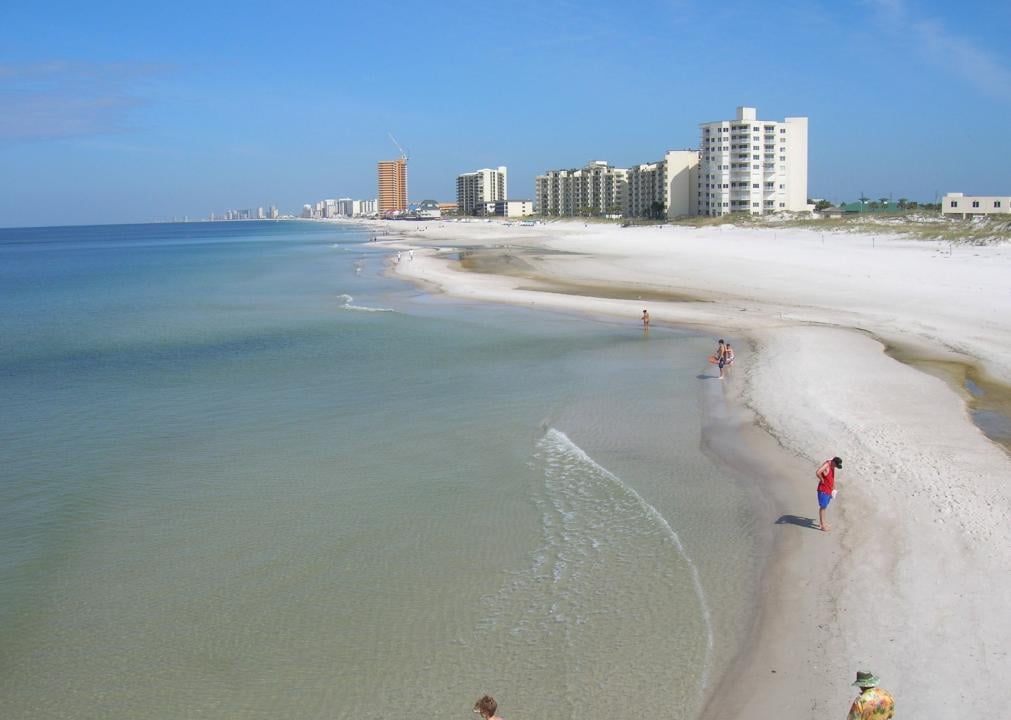 j.s. clark // Wikimedia Commons
#41. Bay County
- Child food insecurity rate: 16.7% (6,350 total)
--- 0.6% higher than national average
- Food insecurity rate: 13.2% (23,830 total)
--- 1.4% higher than national average
- Annual food budget shortfall: $13,591,000
--- Cost per meal: $3.54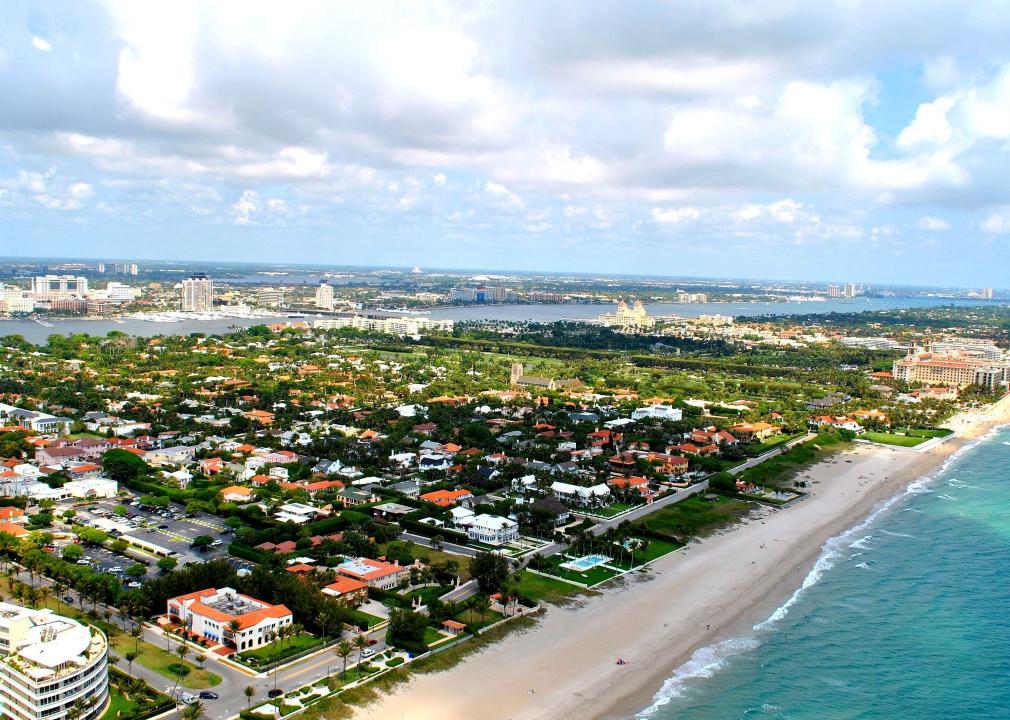 Michael Kagdis // Wikimedia Commons
#40. Palm Beach County
- Child food insecurity rate: 16.9% (47,860 total)
--- 0.8% higher than national average
- Food insecurity rate: 10.6% (157,710 total)
--- 1.2% lower than national average
- Annual food budget shortfall: $102,238,000
--- Cost per meal: $4.03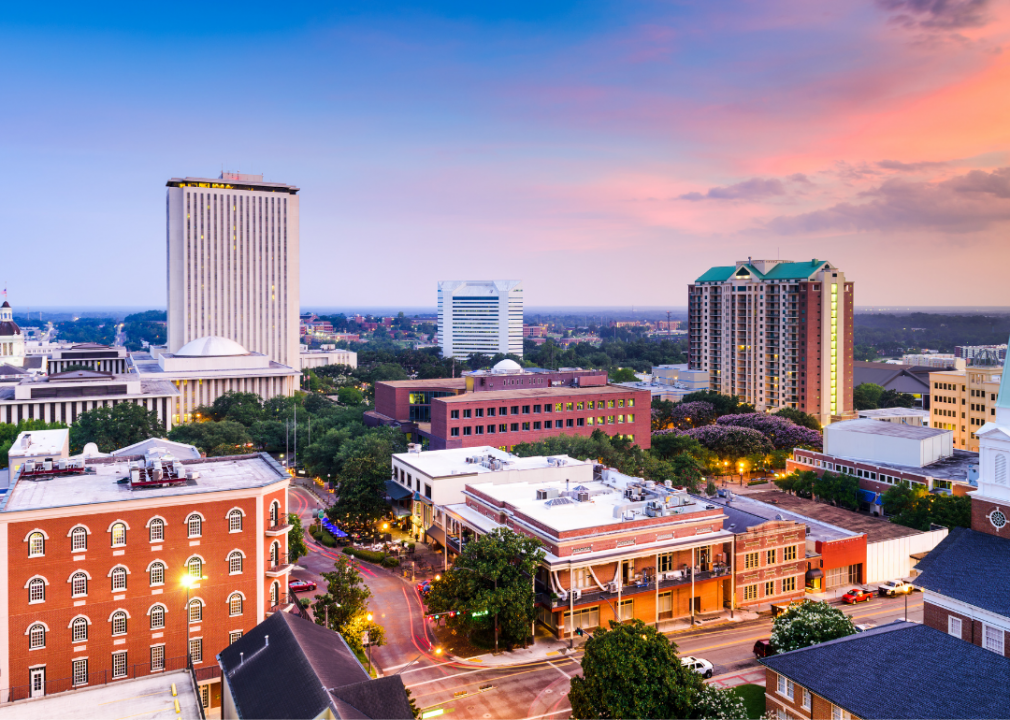 Canva
#39. Leon County
- Child food insecurity rate: 17.3% (9,390 total)
--- 1.2% higher than national average
- Food insecurity rate: 12.0% (34,920 total)
--- 0.2% higher than national average
- Annual food budget shortfall: $20,675,000
--- Cost per meal: $3.68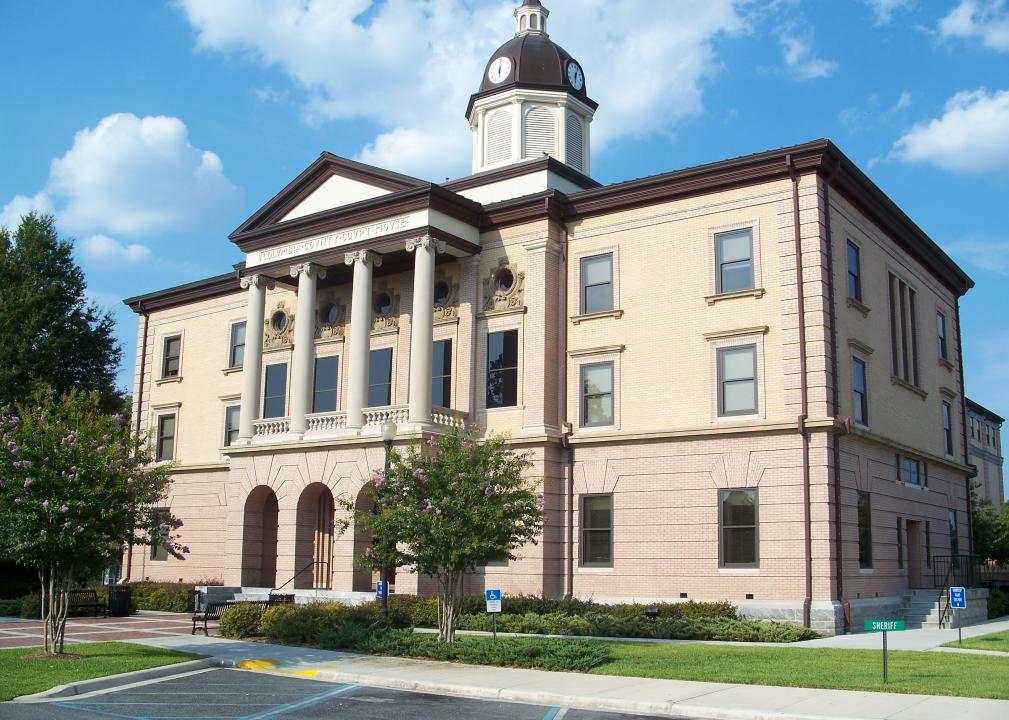 Ebyabe // Wikimedia Commons
#38. Columbia County
- Child food insecurity rate: 17.4% (2,670 total)
--- 1.3% higher than national average
- Food insecurity rate: 13.2% (9,330 total)
--- 1.4% higher than national average
- Annual food budget shortfall: $4,779,000
--- Cost per meal: $3.18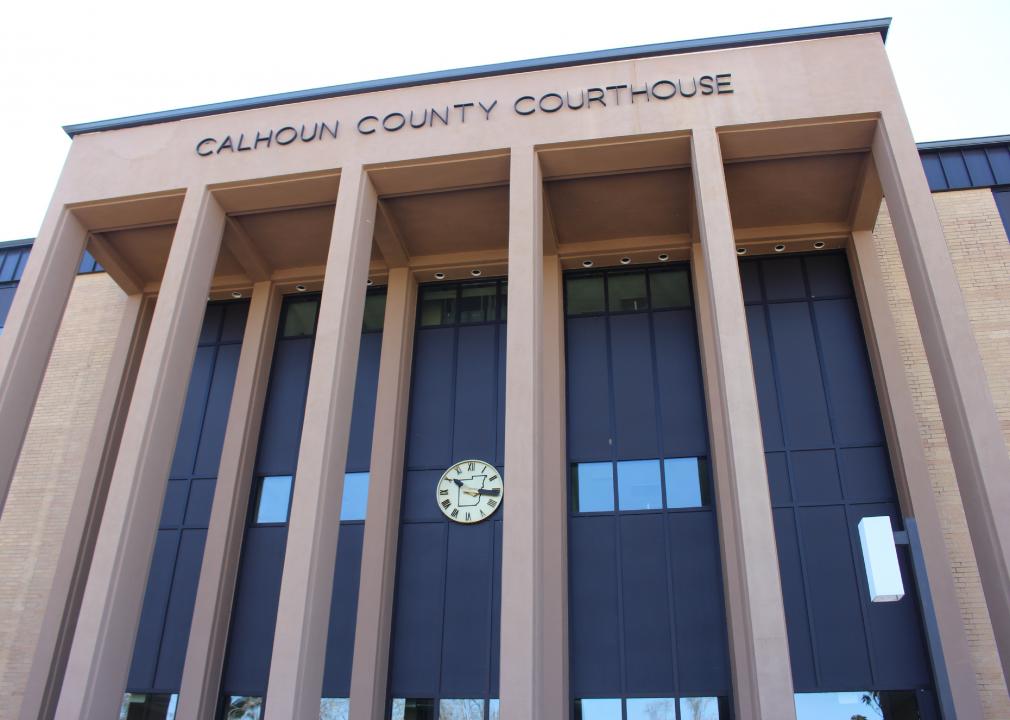 Michael Rivera // Wikimedia Commons
#37. Calhoun County
- Child food insecurity rate: 17.7% (510 total)
--- 1.6% higher than national average
- Food insecurity rate: 13.9% (2,000 total)
--- 2.1% higher than national average
- Annual food budget shortfall: $1,037,000
--- Cost per meal: $3.22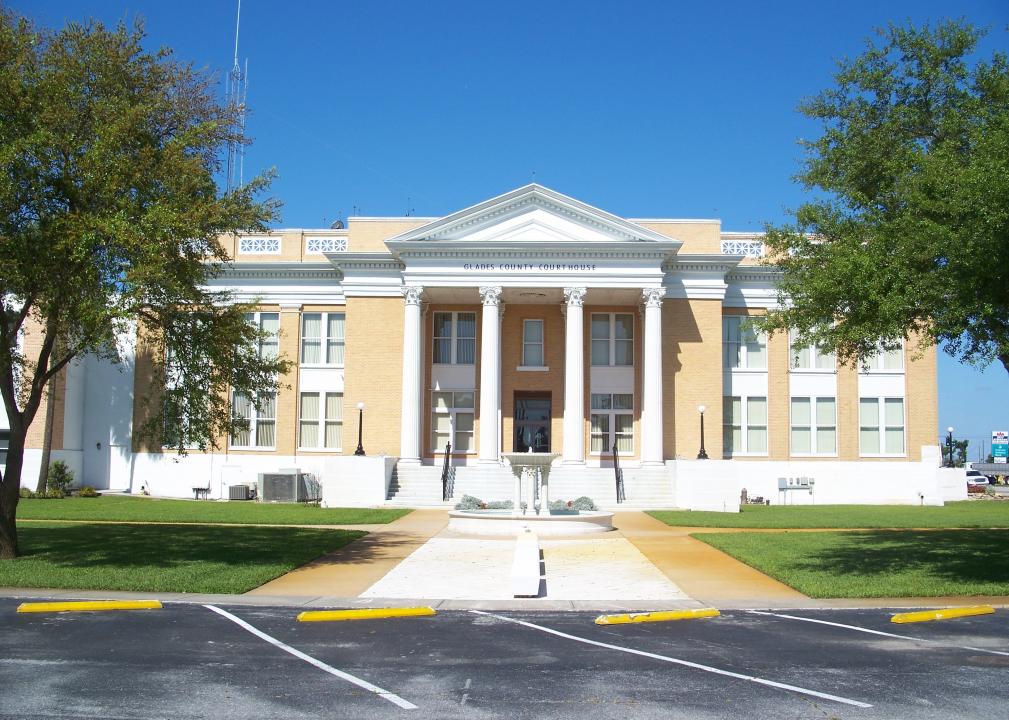 Ebyabe // Wikimedia Commons
#36. Glades County
- Child food insecurity rate: 17.7% (370 total)
--- 1.6% higher than national average
- Food insecurity rate: 12.4% (1,710 total)
--- 0.6% higher than national average
- Annual food budget shortfall: $812,000
--- Cost per meal: $2.95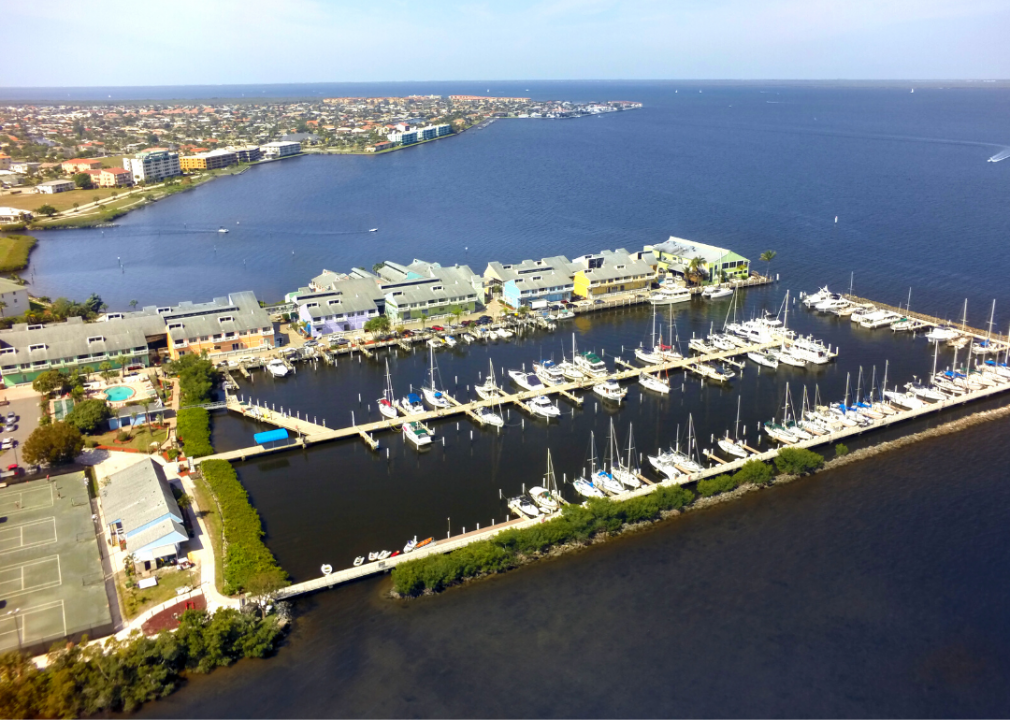 Canva
#35. Charlotte County
- Child food insecurity rate: 18.0% (4,040 total)
--- 1.9% higher than national average
- Food insecurity rate: 12.9% (24,000 total)
--- 1.1% higher than national average
- Annual food budget shortfall: $13,586,000
--- Cost per meal: $3.52
Daniel Wilton // Wikimedia Commons
#34. Hernando County
- Child food insecurity rate: 18.2% (6,380 total)
--- 2.1% higher than national average
- Food insecurity rate: 13.8% (26,250 total)
--- 2.0% higher than national average
- Annual food budget shortfall: $14,077,000
--- Cost per meal: $3.33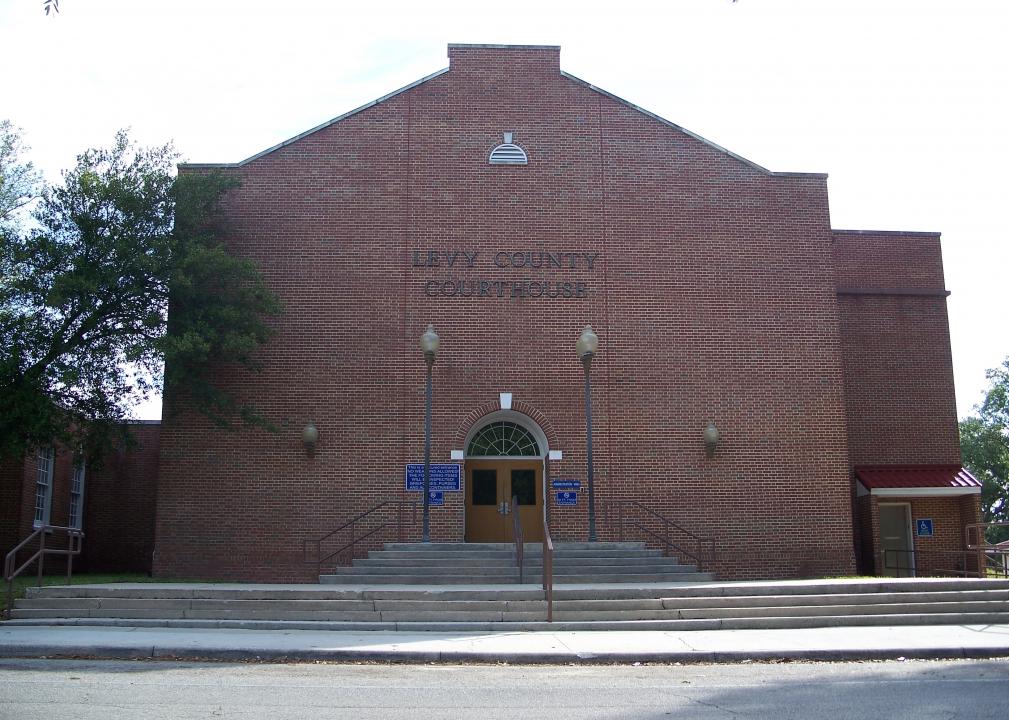 Ebyabe // Wikimedia Commons
#33. Levy County
- Child food insecurity rate: 18.2% (1,450 total)
--- 2.1% higher than national average
- Food insecurity rate: 14.8% (6,060 total)
--- 3.0% higher than national average
- Annual food budget shortfall: $3,109,000
--- Cost per meal: $3.19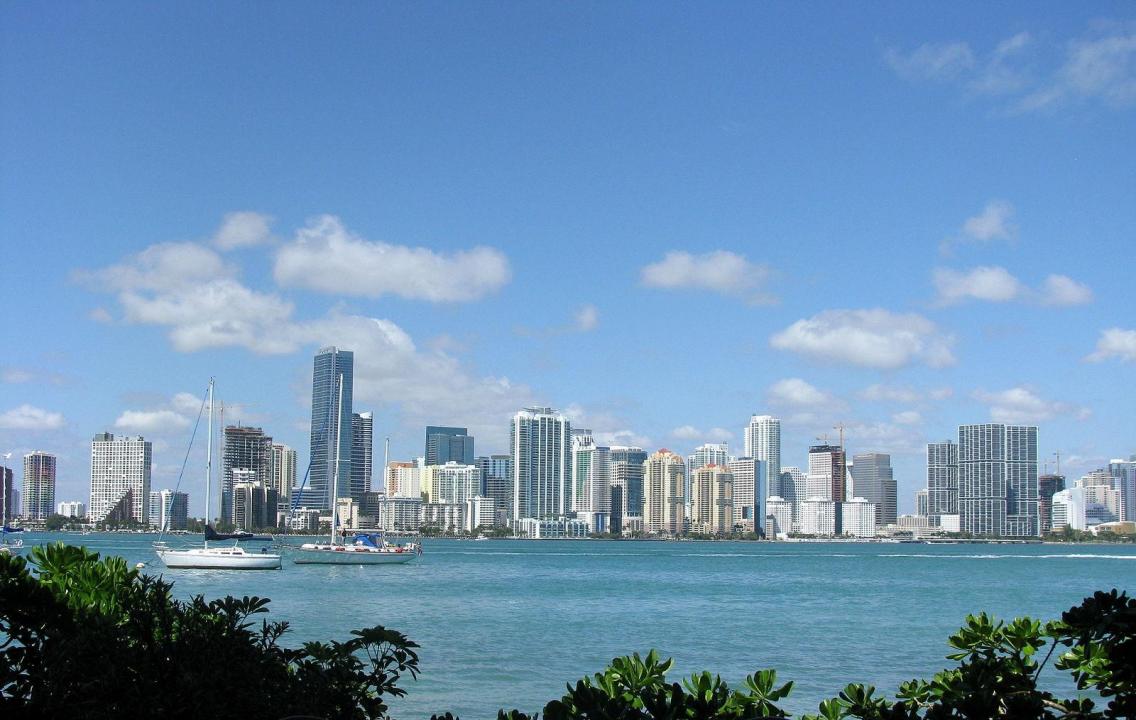 Captain-tucker // Wikimedia Commons
#32. Miami-Dade County
- Child food insecurity rate: 18.2% (100,680 total)
--- 2.1% higher than national average
- Food insecurity rate: 10.8% (291,150 total)
--- 1.0% lower than national average
- Annual food budget shortfall: $180,040,000
--- Cost per meal: $3.84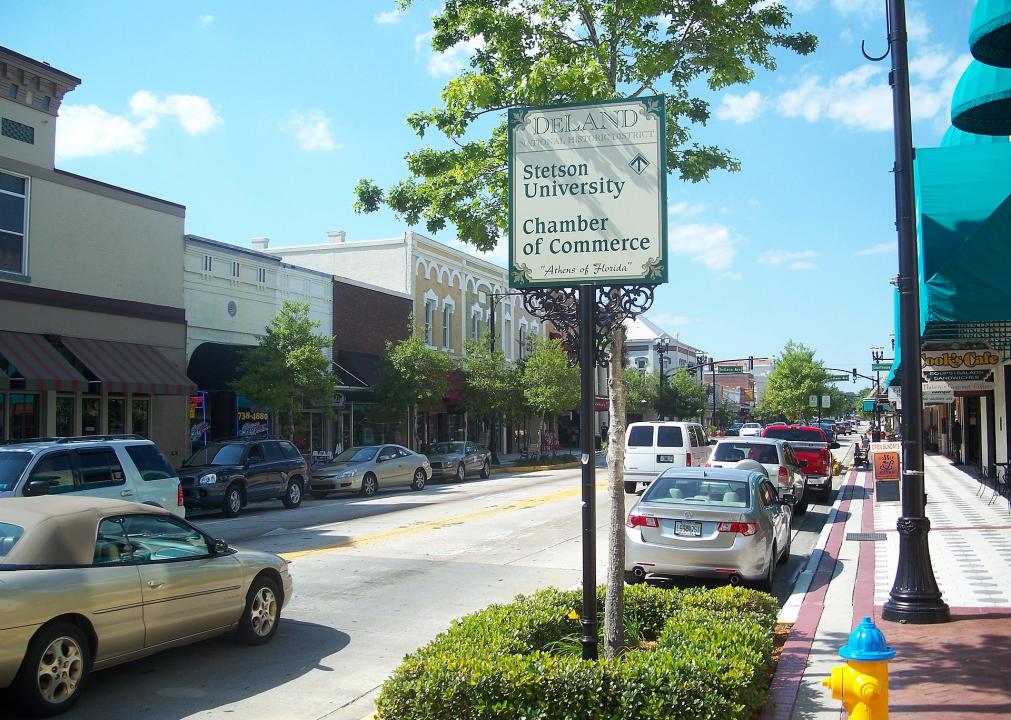 Ebyabe // Wikimedia Commons
#31. Volusia County
- Child food insecurity rate: 18.2% (17,500 total)
--- 2.1% higher than national average
- Food insecurity rate: 12.9% (70,350 total)
--- 1.1% higher than national average
- Annual food budget shortfall: $40,810,000
--- Cost per meal: $3.60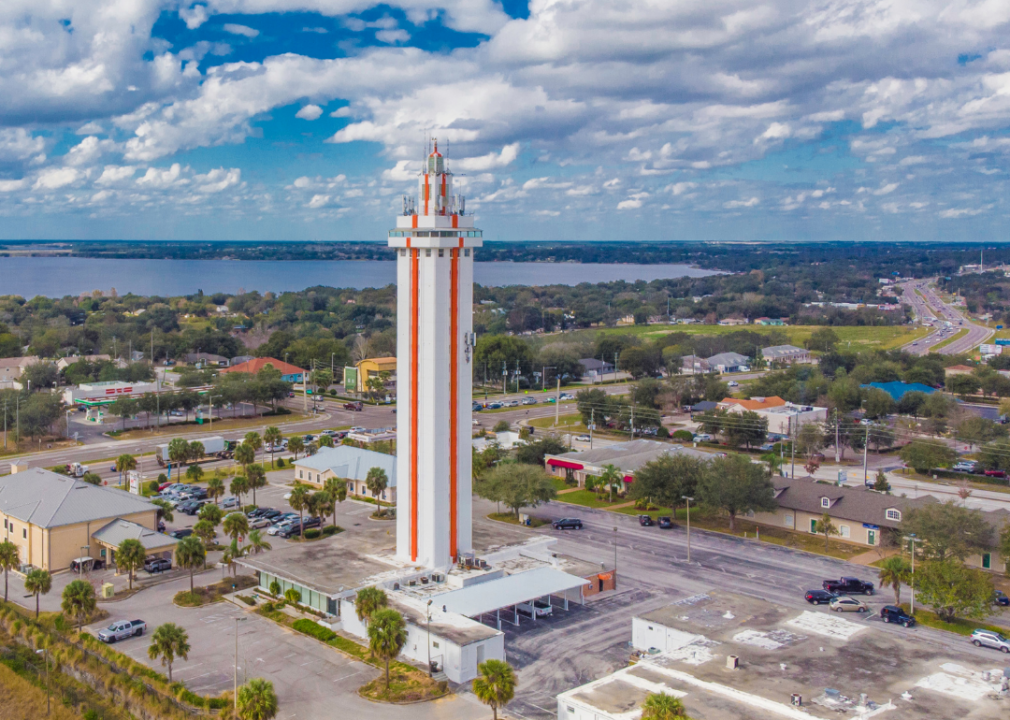 Canva
#30. Lake County
- Child food insecurity rate: 18.3% (12,480 total)
--- 2.2% higher than national average
- Food insecurity rate: 12.4% (44,100 total)
--- 0.6% higher than national average
- Annual food budget shortfall: $25,112,000
--- Cost per meal: $3.54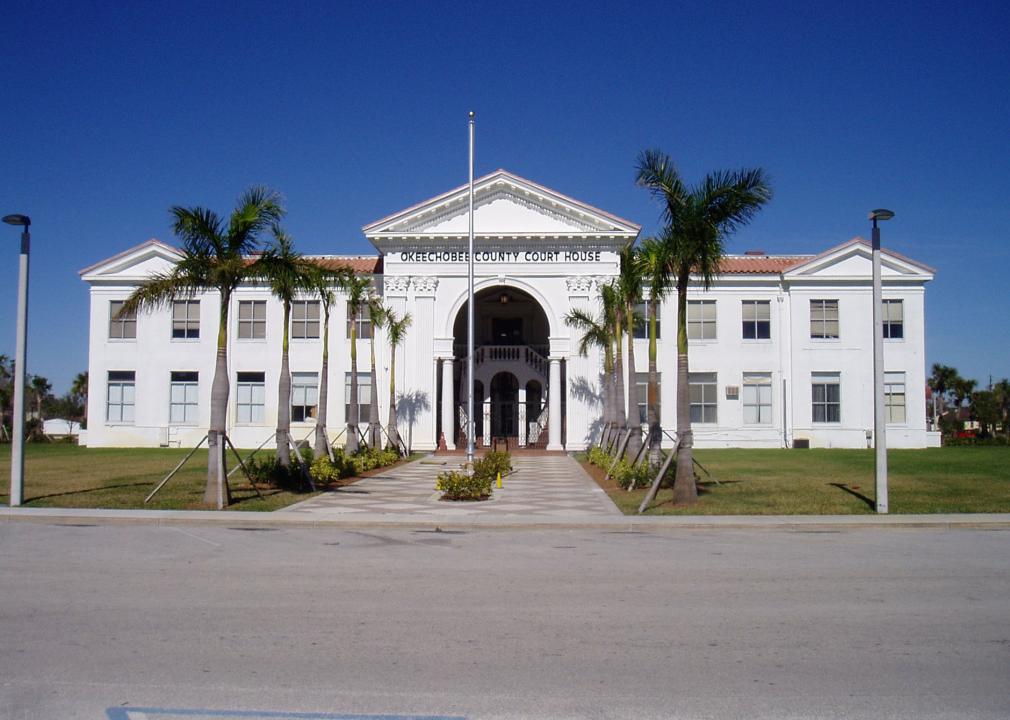 Bastique // Wikimedia Commons
#29. Okeechobee County
- Child food insecurity rate: 18.4% (1,630 total)
--- 2.3% higher than national average
- Food insecurity rate: 12.7% (5,270 total)
--- 0.9% higher than national average
- Annual food budget shortfall: $2,655,000
--- Cost per meal: $3.13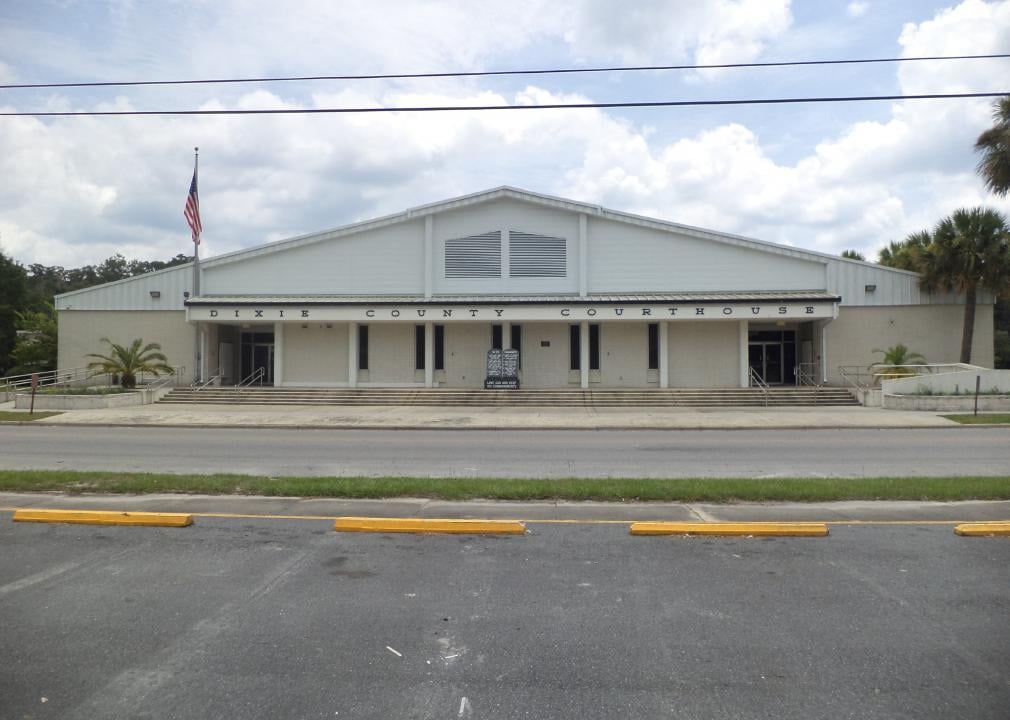 Michael Rivera // Wikimedia Commons
#28. Dixie County
- Child food insecurity rate: 18.7% (570 total)
--- 2.6% higher than national average
- Food insecurity rate: 14.6% (2,450 total)
--- 2.8% higher than national average
- Annual food budget shortfall: $1,257,000
--- Cost per meal: $3.19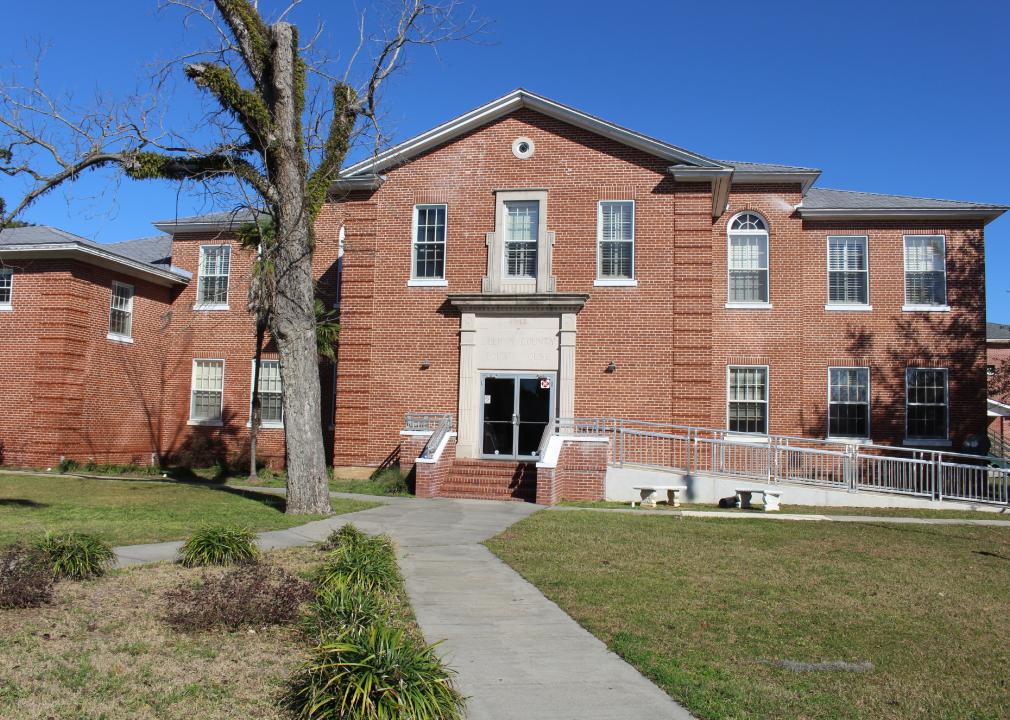 Michael Rivera // Wikimedia Commons
#27. Liberty County
- Child food insecurity rate: 18.7% (280 total)
--- 2.6% higher than national average
- Food insecurity rate: 15.4% (1,280 total)
--- 3.6% higher than national average
- Annual food budget shortfall: $631,000
--- Cost per meal: $3.06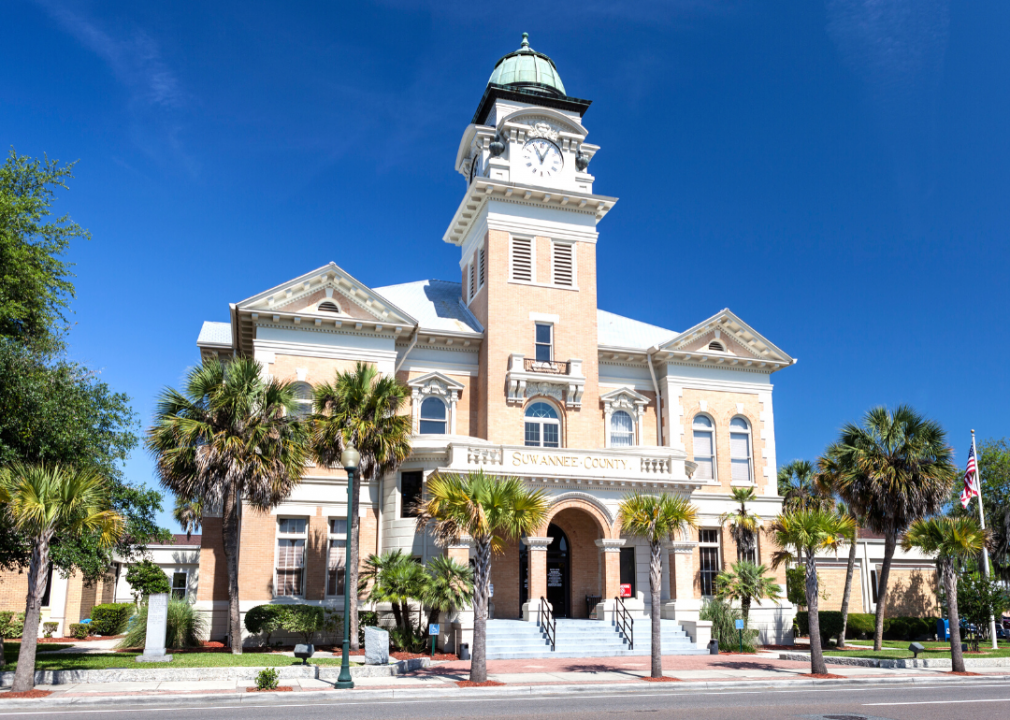 Canva
#26. Suwannee County
- Child food insecurity rate: 18.7% (1,770 total)
--- 2.6% higher than national average
- Food insecurity rate: 12.8% (5,650 total)
--- 1.0% higher than national average
- Annual food budget shortfall: $2,913,000
--- Cost per meal: $3.20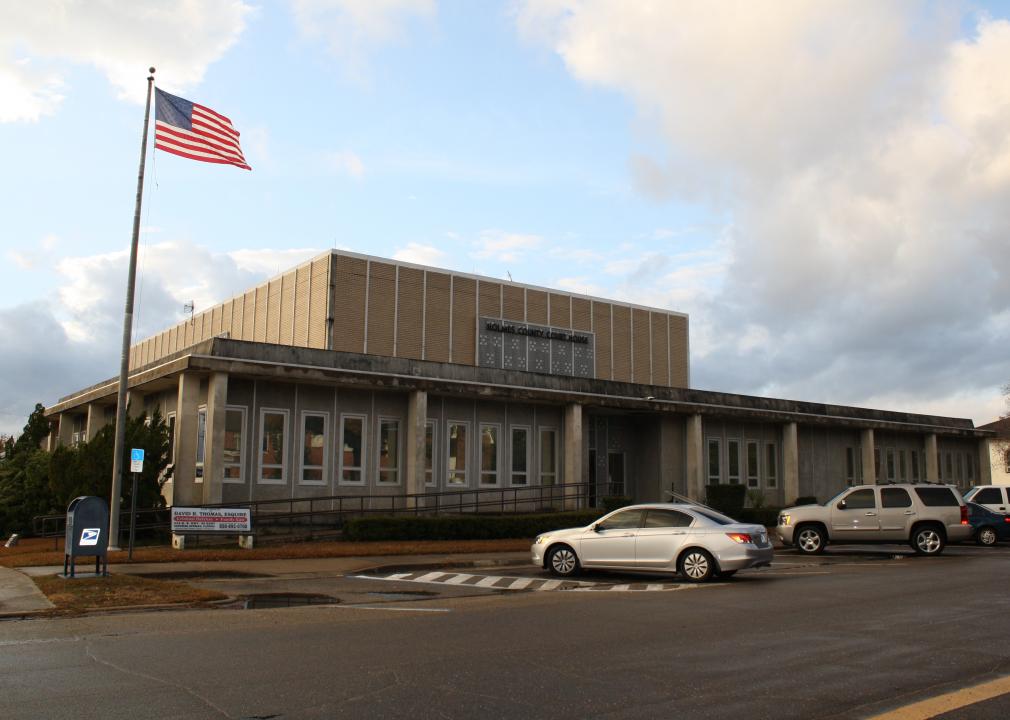 Georgia Guercio // Wikimedia Commons
#25. Holmes County
- Child food insecurity rate: 19.3% (760 total)
--- 3.2% higher than national average
- Food insecurity rate: 16.2% (3,170 total)
--- 4.4% higher than national average
- Annual food budget shortfall: $1,543,000
--- Cost per meal: $3.02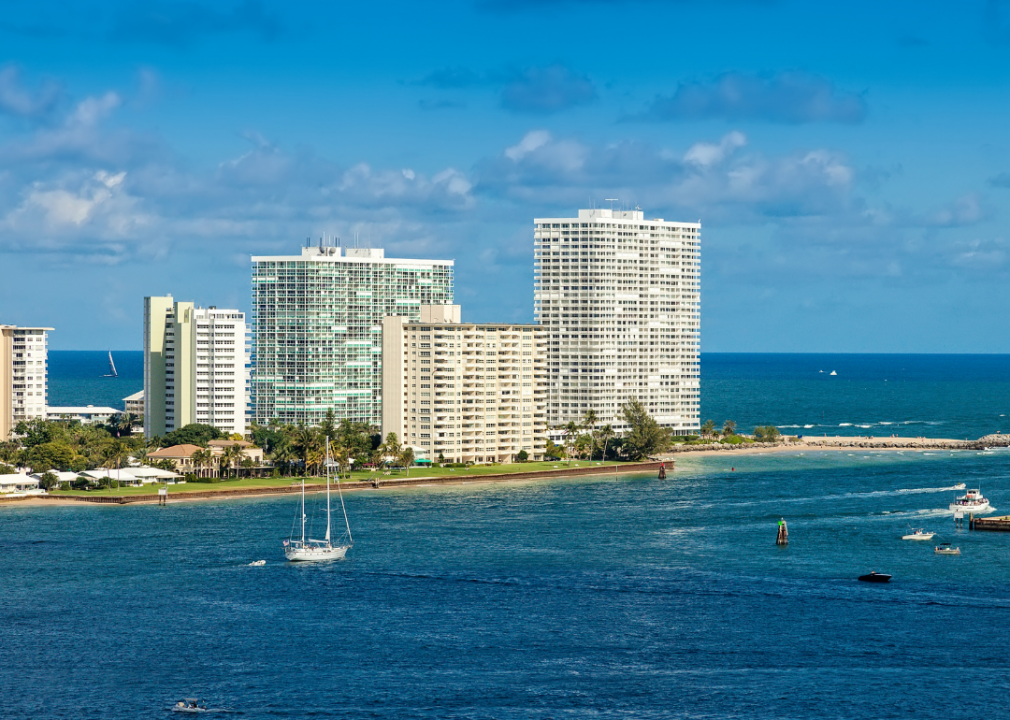 Canva
#24. Broward County
- Child food insecurity rate: 19.4% (79,620 total)
--- 3.3% higher than national average
- Food insecurity rate: 10.8% (210,540 total)
--- 1.0% lower than national average
- Annual food budget shortfall: $127,592,000
--- Cost per meal: $3.76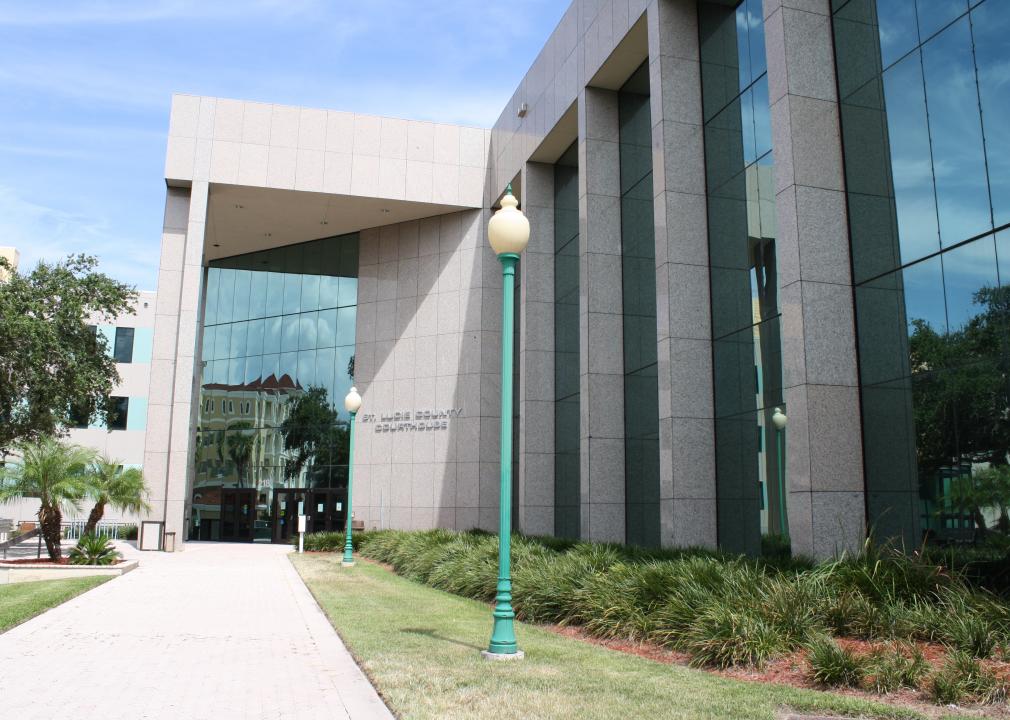 Georgia Guercio // Wikimedia Commons
#23. St. Lucie County
- Child food insecurity rate: 19.4% (12,330 total)
--- 3.3% higher than national average
- Food insecurity rate: 11.7% (37,400 total)
--- 0.1% lower than national average
- Annual food budget shortfall: $20,561,000
--- Cost per meal: $3.41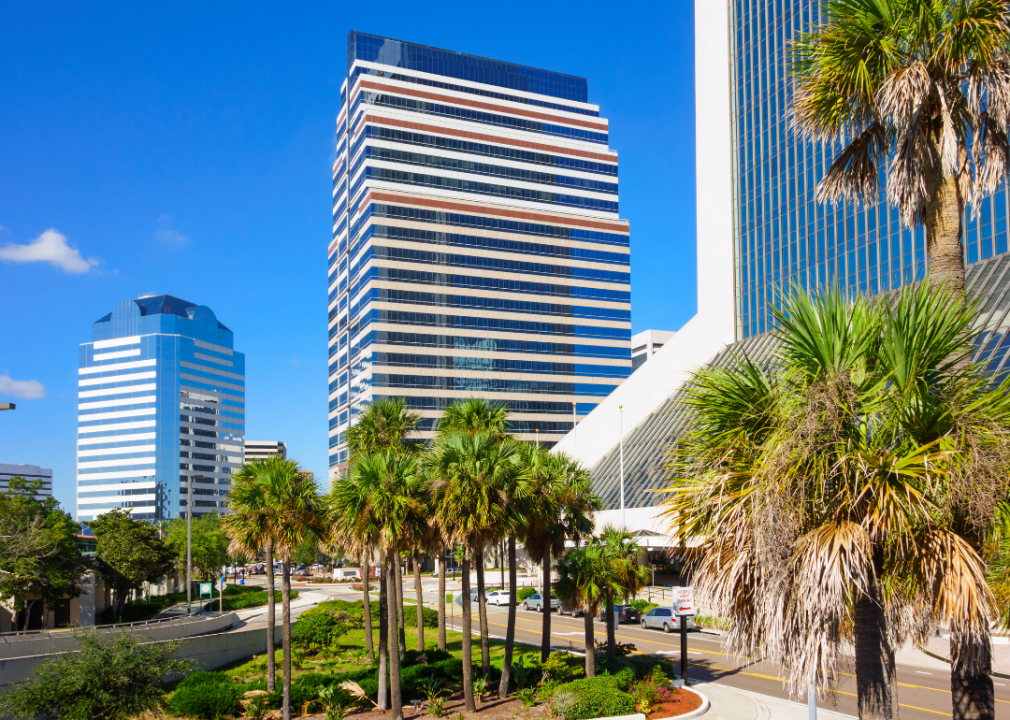 Canva
#22. Duval County
- Child food insecurity rate: 19.6% (41,980 total)
--- 3.5% higher than national average
- Food insecurity rate: 12.2% (115,780 total)
--- 0.4% higher than national average
- Annual food budget shortfall: $64,630,000
--- Cost per meal: $3.47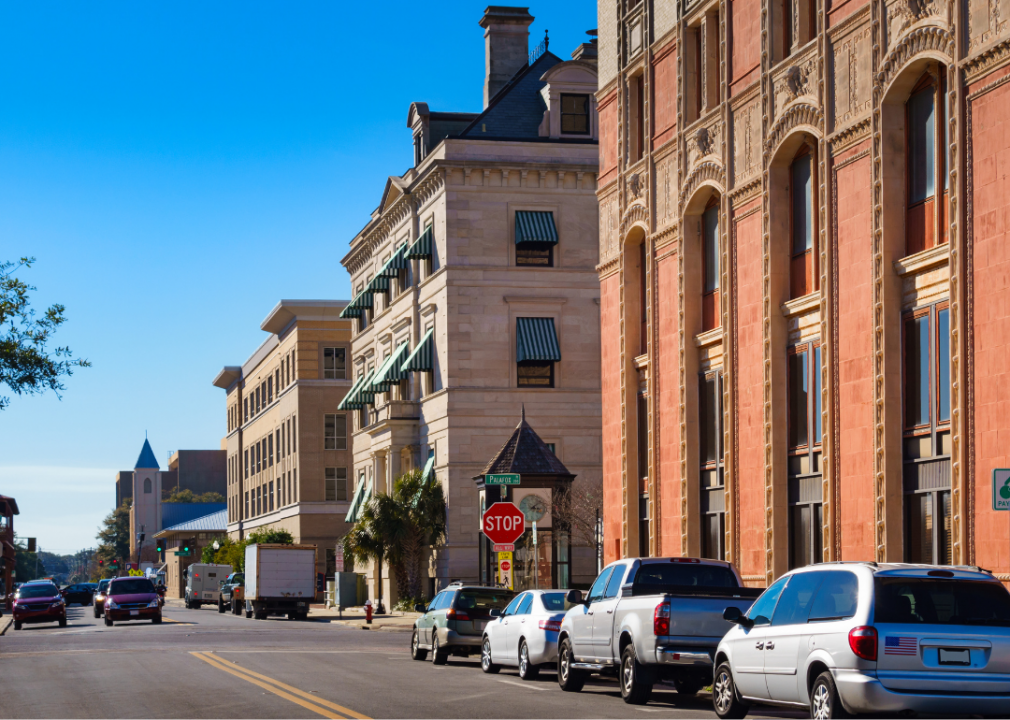 Canva
#21. Escambia County
- Child food insecurity rate: 19.7% (13,020 total)
--- 3.6% higher than national average
- Food insecurity rate: 12.7% (40,300 total)
--- 0.9% higher than national average
- Annual food budget shortfall: $21,934,000
--- Cost per meal: $3.38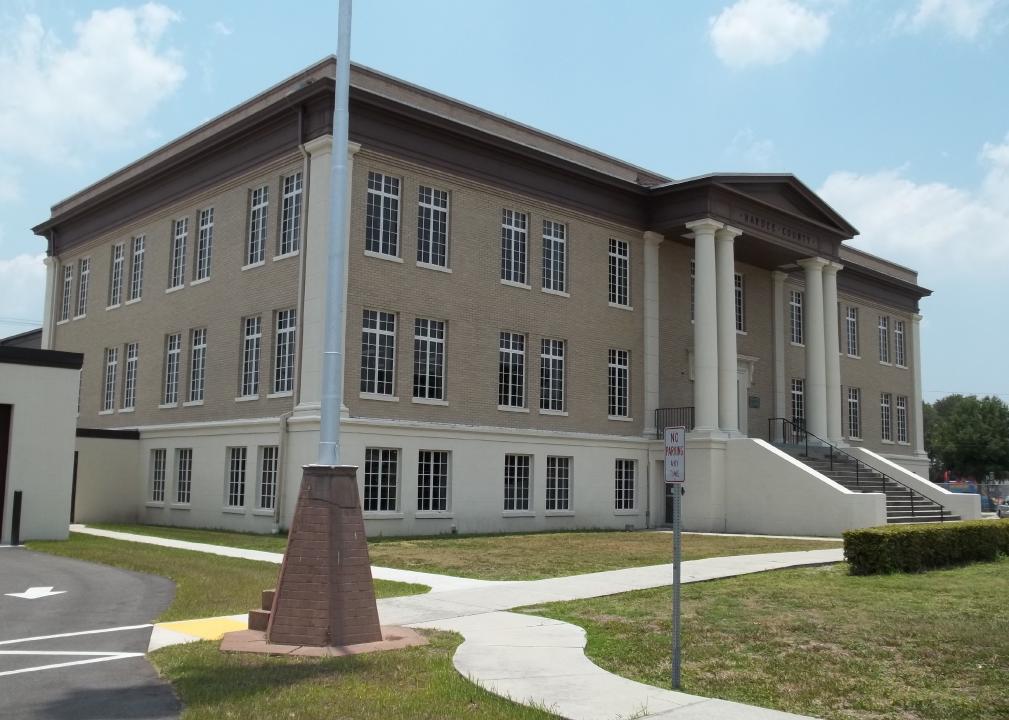 Ebyabe // Wikimedia Commons
#20. Hardee County
- Child food insecurity rate: 20.3% (1,430 total)
--- 4.2% higher than national average
- Food insecurity rate: 14.3% (3,860 total)
--- 2.5% higher than national average
- Annual food budget shortfall: $1,836,000
--- Cost per meal: $2.95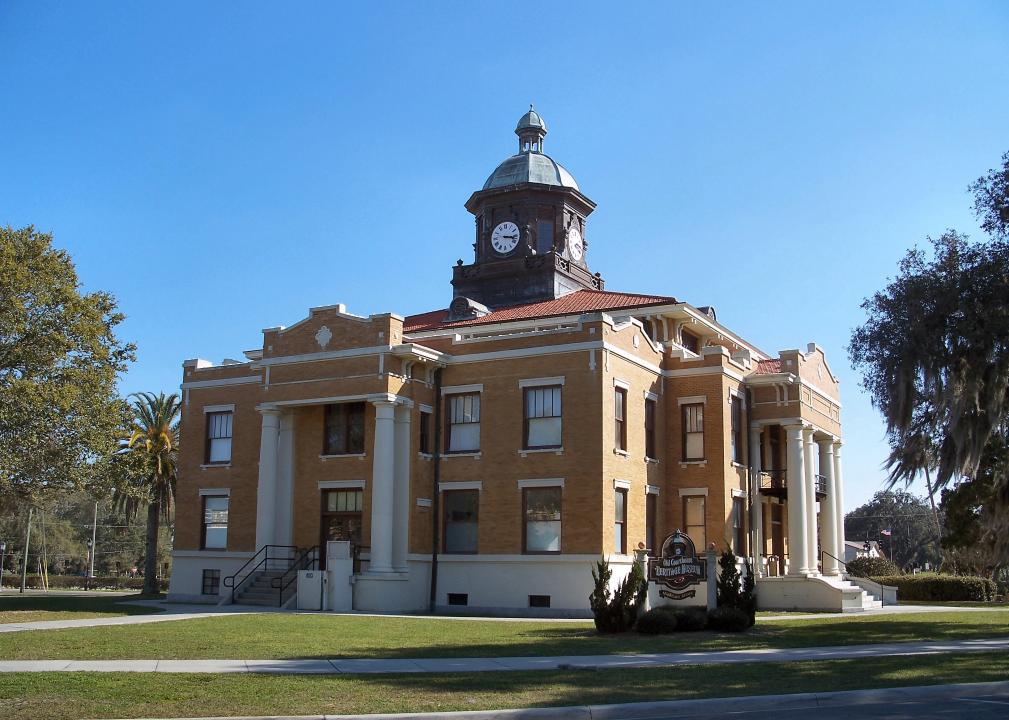 Ebyabe // Wikimedia Commons
#19. Citrus County
- Child food insecurity rate: 20.4% (4,440 total)
--- 4.3% higher than national average
- Food insecurity rate: 14.8% (21,940 total)
--- 3.0% higher than national average
- Annual food budget shortfall: $12,828,000
--- Cost per meal: $3.63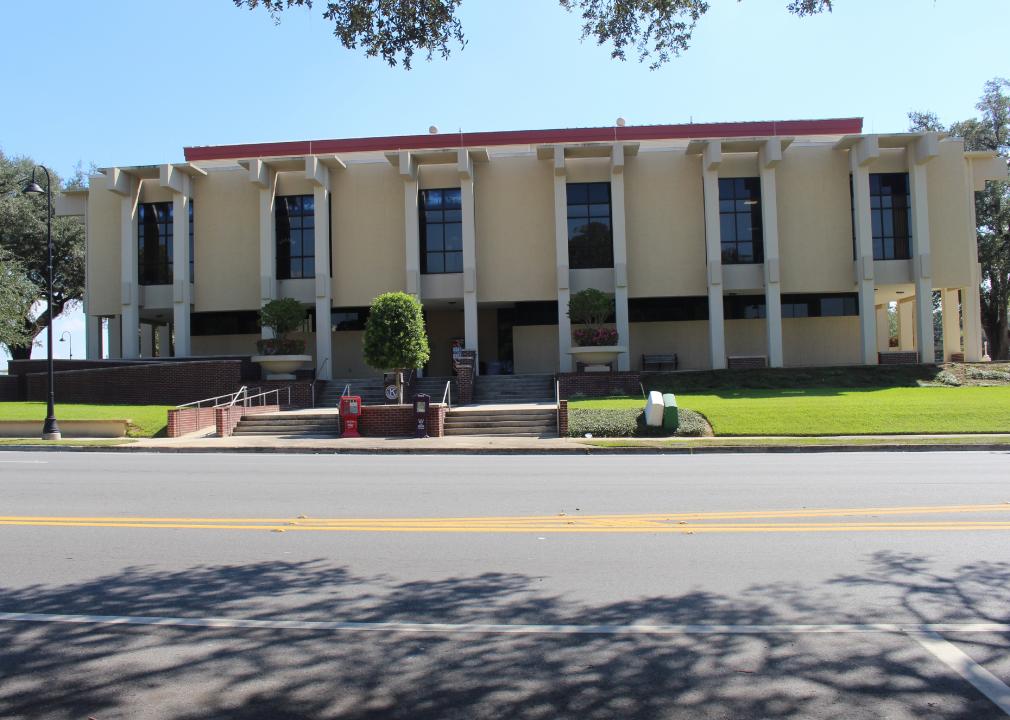 Michael Rivera // Wikimedia Commons
#18. Jackson County
- Child food insecurity rate: 20.5% (1,800 total)
--- 4.4% higher than national average
- Food insecurity rate: 13.7% (6,520 total)
--- 1.9% higher than national average
- Annual food budget shortfall: $3,381,000
--- Cost per meal: $3.22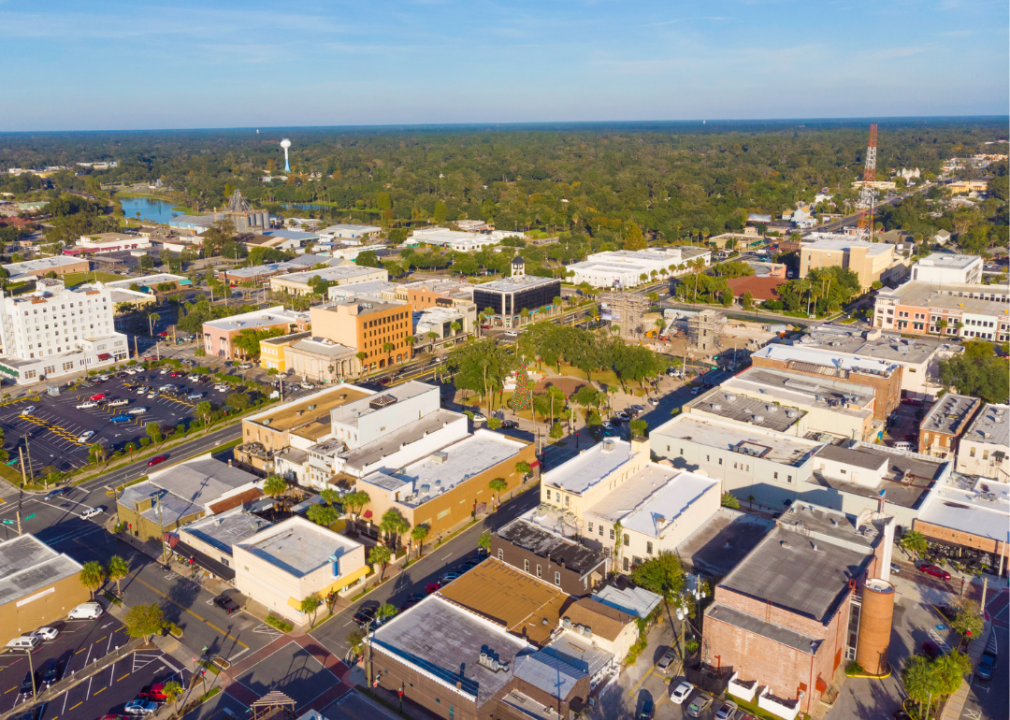 Canva
#17. Marion County
- Child food insecurity rate: 20.6% (13,880 total)
--- 4.5% higher than national average
- Food insecurity rate: 13.1% (47,350 total)
--- 1.3% higher than national average
- Annual food budget shortfall: $25,590,000
--- Cost per meal: $3.36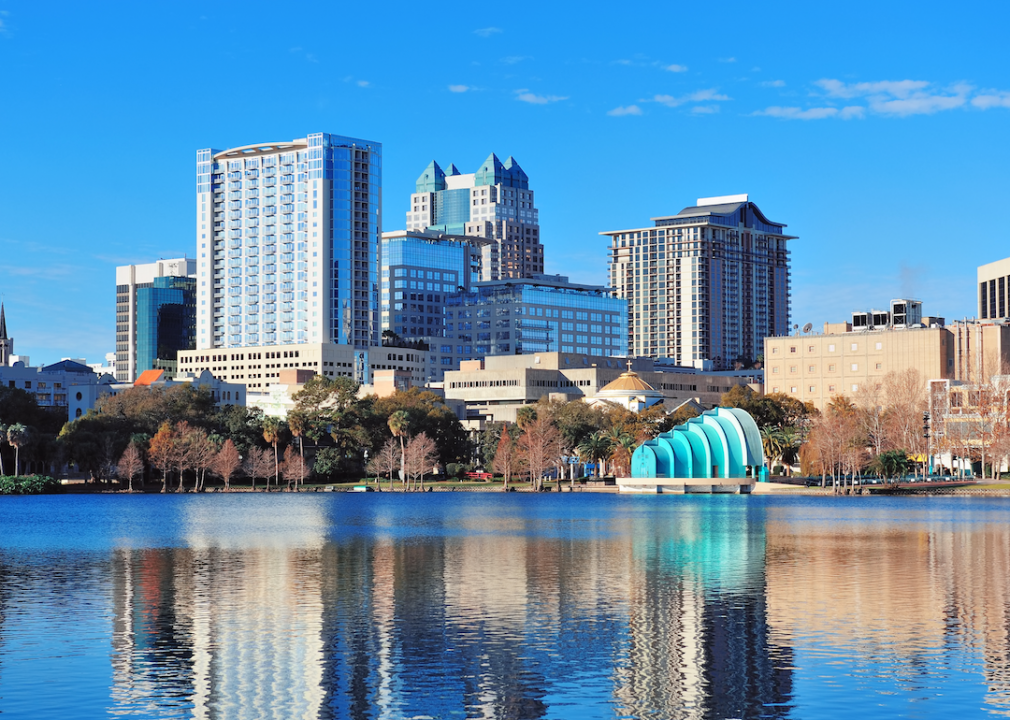 Songquan Deng // Shutterstock
#16. Orange County
- Child food insecurity rate: 20.8% (63,120 total)
--- 4.7% higher than national average
- Food insecurity rate: 12.8% (175,830 total)
--- 1.0% higher than national average
- Annual food budget shortfall: $99,867,000
--- Cost per meal: $3.53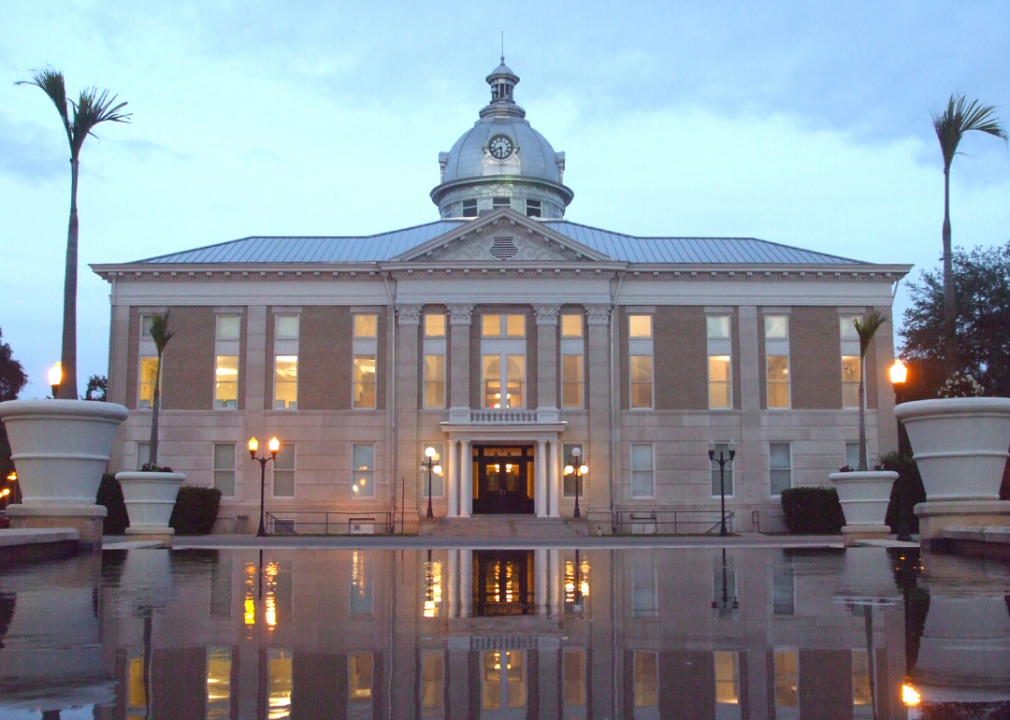 Canva
#15. Polk County
- Child food insecurity rate: 20.8% (32,430 total)
--- 4.7% higher than national average
- Food insecurity rate: 13.3% (93,610 total)
--- 1.5% higher than national average
- Annual food budget shortfall: $50,770,000
--- Cost per meal: $3.37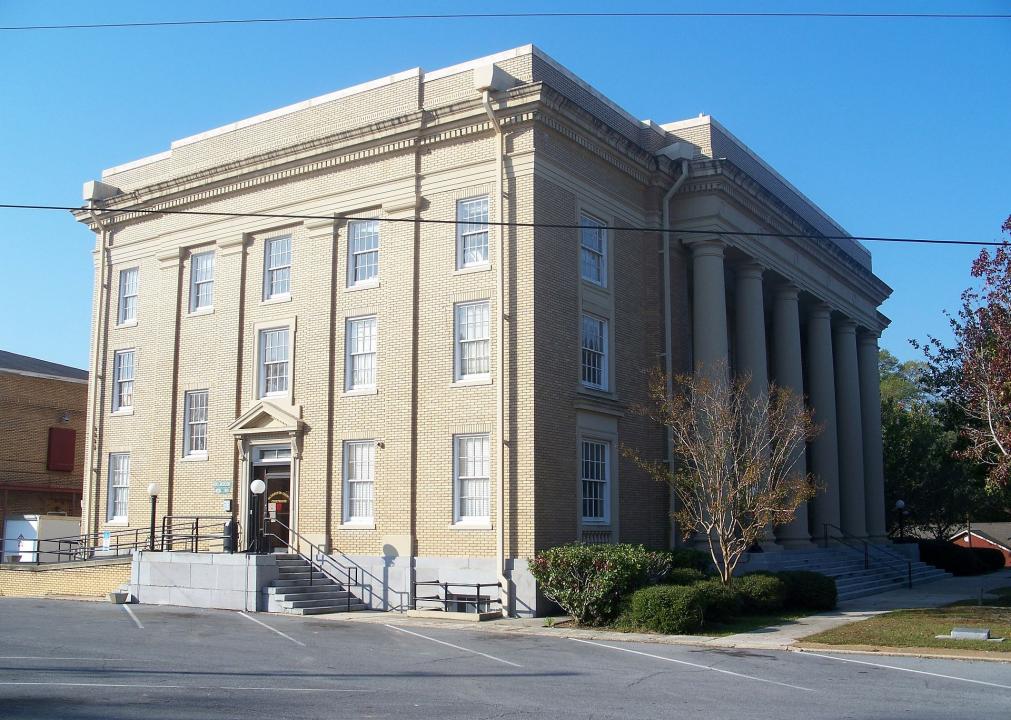 Ebyabe // Wikimedia Commons
#14. Washington County
- Child food insecurity rate: 21.0% (1,020 total)
--- 4.9% higher than national average
- Food insecurity rate: 16.2% (4,070 total)
--- 4.4% higher than national average
- Annual food budget shortfall: $1,981,000
--- Cost per meal: $3.02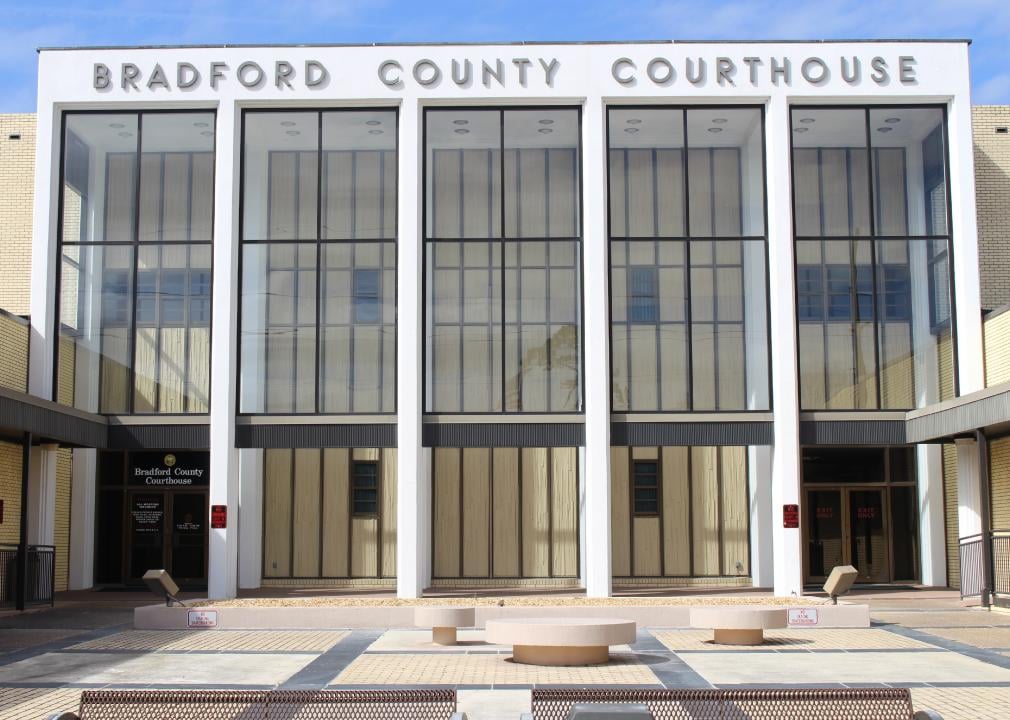 Michael Rivera // Wikimedia Commons
#13. Bradford County
- Child food insecurity rate: 21.4% (1,160 total)
--- 5.3% higher than national average
- Food insecurity rate: 15.0% (4,150 total)
--- 3.2% higher than national average
- Annual food budget shortfall: $2,112,000
--- Cost per meal: $3.16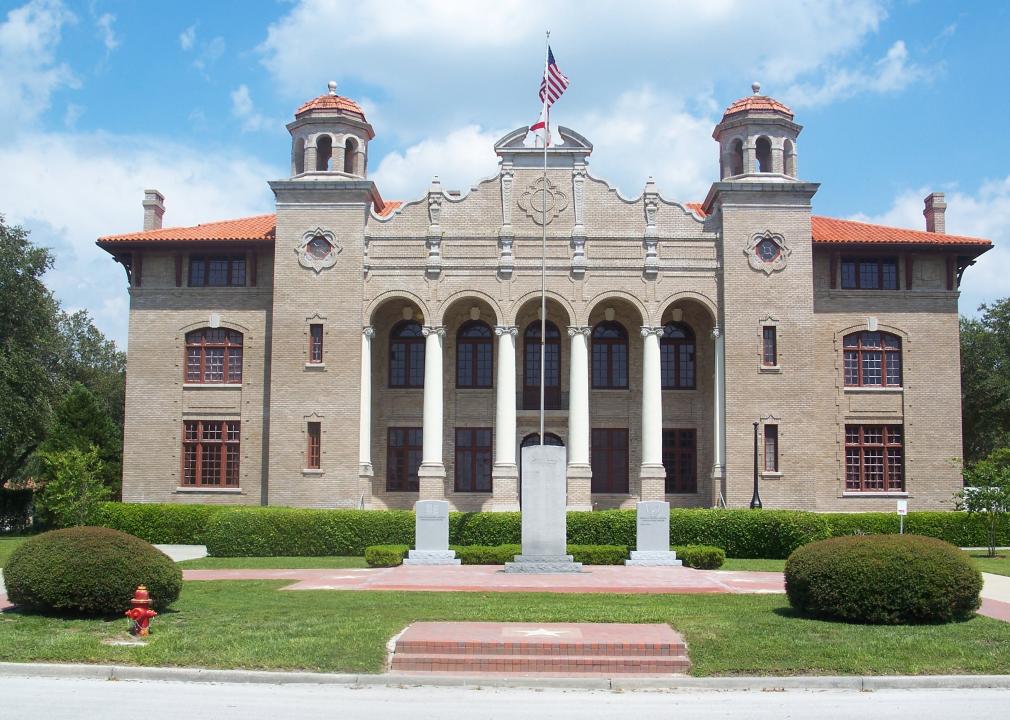 Ebyabe // Wikimedia Commons
#12. Sumter County
- Child food insecurity rate: 21.4% (2,010 total)
--- 5.3% higher than national average
- Food insecurity rate: 11.4% (14,800 total)
--- 0.4% lower than national average
- Annual food budget shortfall: $8,992,000
--- Cost per meal: $3.77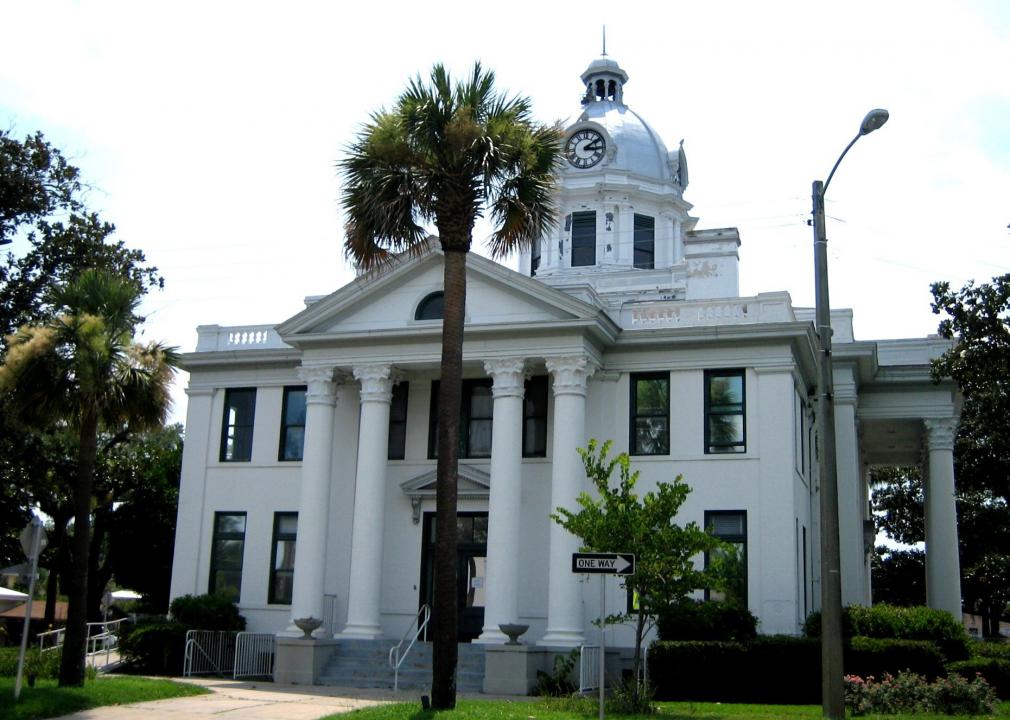 User:Tim Ross // Wikimedia Commons
#11. Jefferson County
- Child food insecurity rate: 21.9% (510 total)
--- 5.8% higher than national average
- Food insecurity rate: 12.4% (1,770 total)
--- 0.6% higher than national average
- Annual food budget shortfall: $1,048,000
--- Cost per meal: $3.68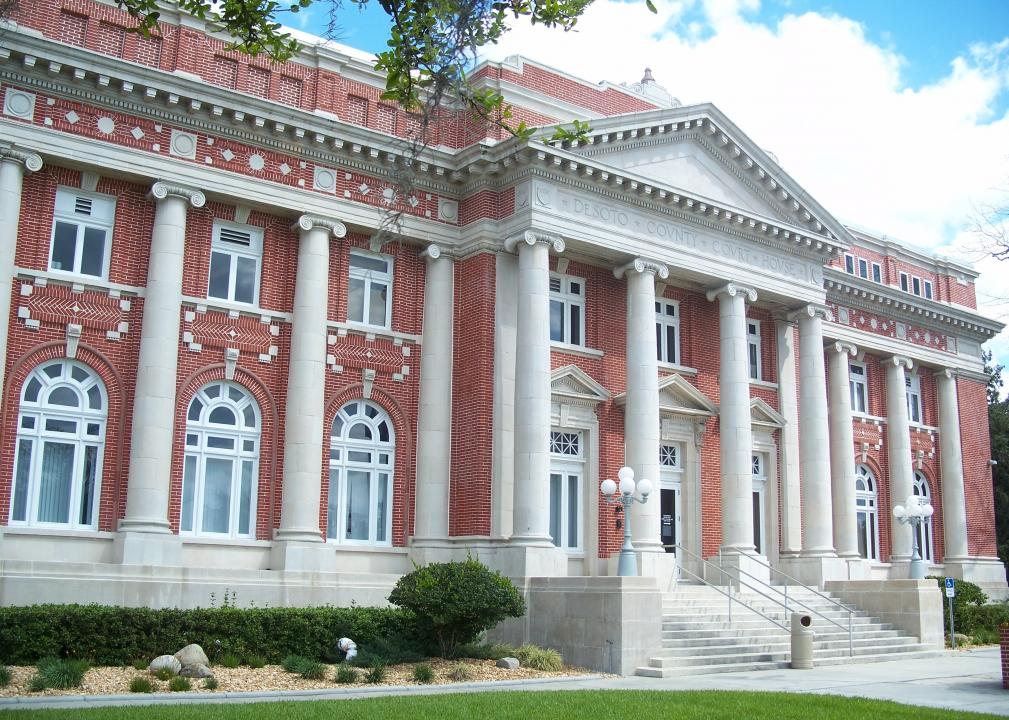 Ebyabe // Wikimedia Commons
#10. DeSoto County
- Child food insecurity rate: 22.1% (1,590 total)
--- 6.0% higher than national average
- Food insecurity rate: 15.2% (5,690 total)
--- 3.4% higher than national average
- Annual food budget shortfall: $2,959,000
--- Cost per meal: $3.23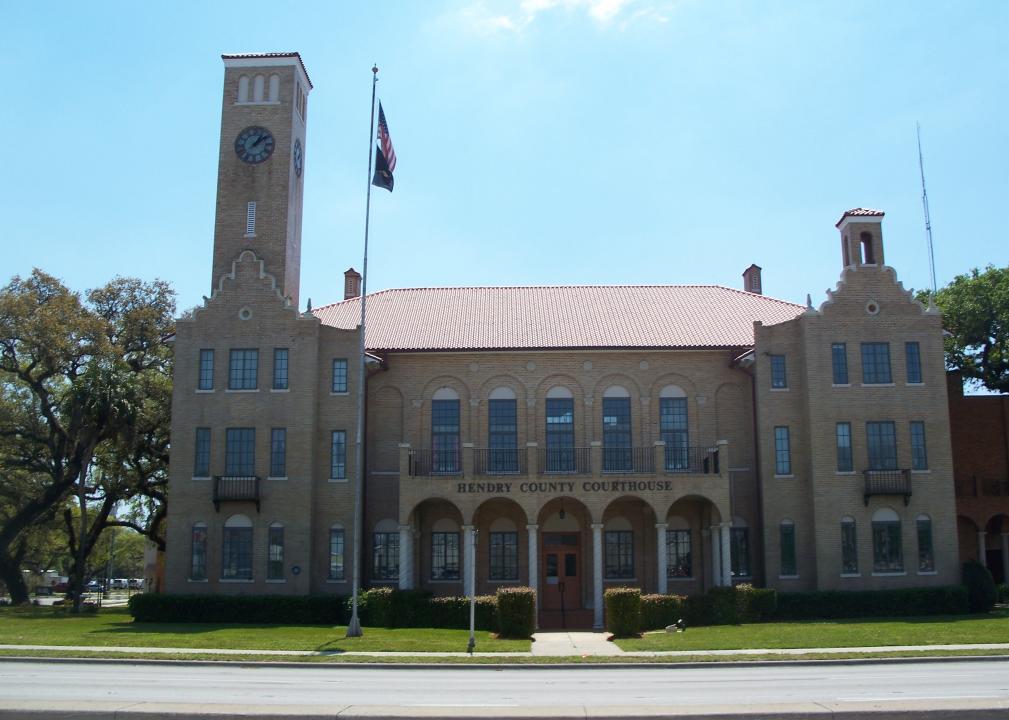 Ebyabe // Wikimedia Commons
#9. Hendry County
- Child food insecurity rate: 22.3% (2,480 total)
--- 6.2% higher than national average
- Food insecurity rate: 15.0% (6,210 total)
--- 3.2% higher than national average
- Annual food budget shortfall: $2,948,000
--- Cost per meal: $2.95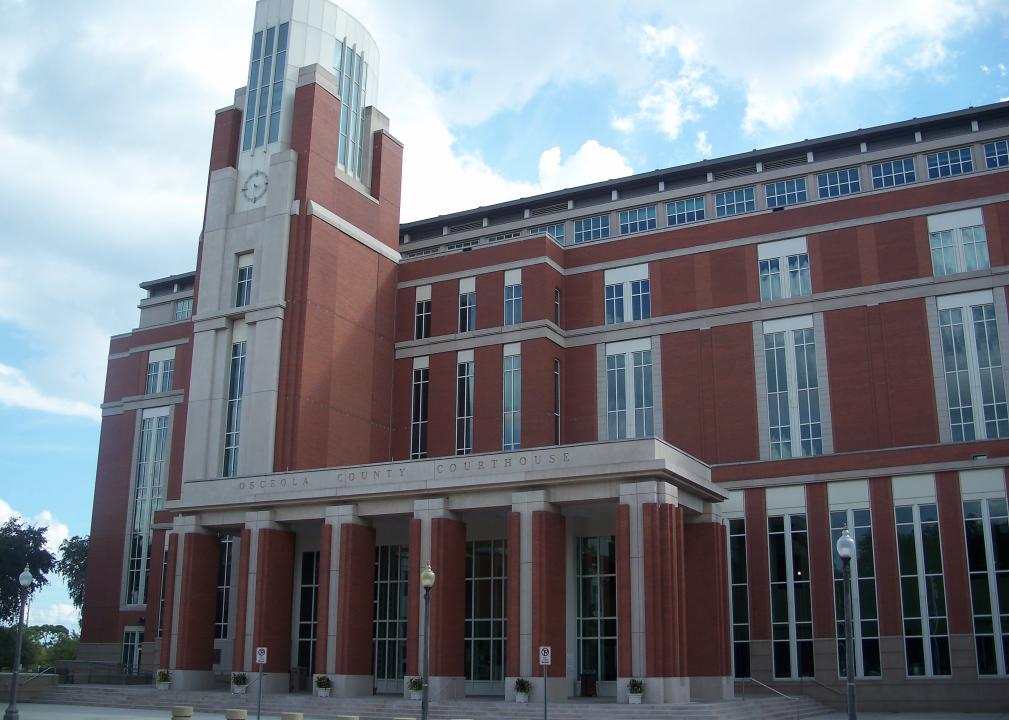 Ebyabe // Wikimedia Commons
#8. Osceola County
- Child food insecurity rate: 22.3% (19,840 total)
--- 6.2% higher than national average
- Food insecurity rate: 13.8% (50,030 total)
--- 2.0% higher than national average
- Annual food budget shortfall: $26,333,000
--- Cost per meal: $3.27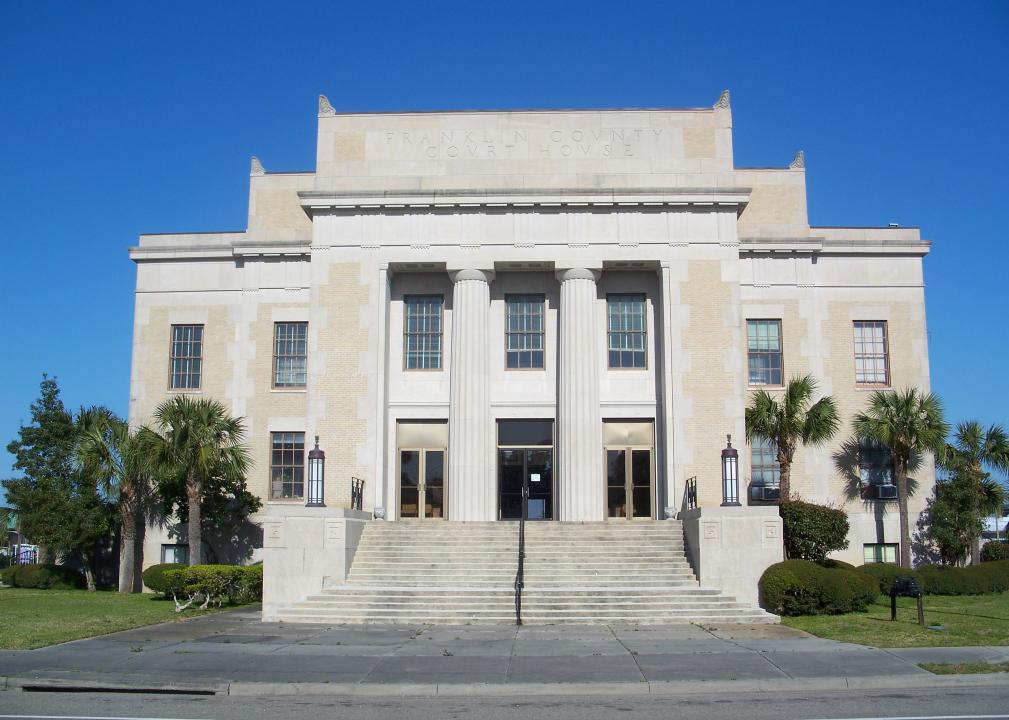 Ebyabe // Wikimedia Commons
#7. Franklin County
- Child food insecurity rate: 22.4% (420 total)
--- 6.3% higher than national average
- Food insecurity rate: 14.8% (1,760 total)
--- 3.0% higher than national average
- Annual food budget shortfall: $911,000
--- Cost per meal: $3.22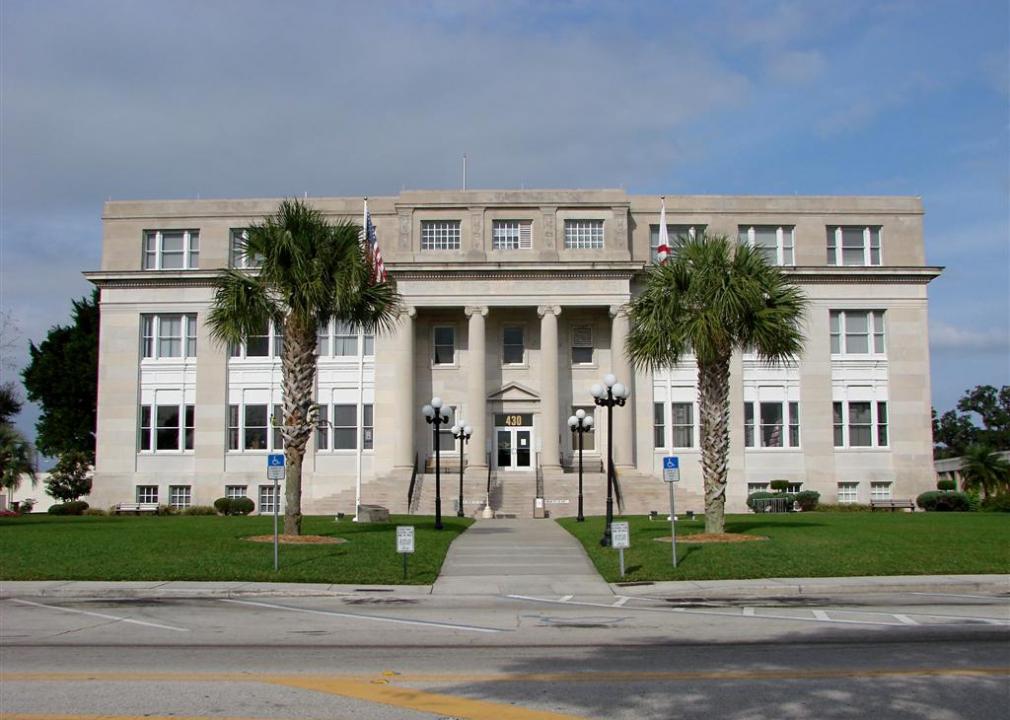 Fl295 // Wikimedia Commons
#6. Highlands County
- Child food insecurity rate: 22.5% (3,970 total)
--- 6.4% higher than national average
- Food insecurity rate: 14.2% (14,820 total)
--- 2.4% higher than national average
- Annual food budget shortfall: $7,991,000
--- Cost per meal: $3.35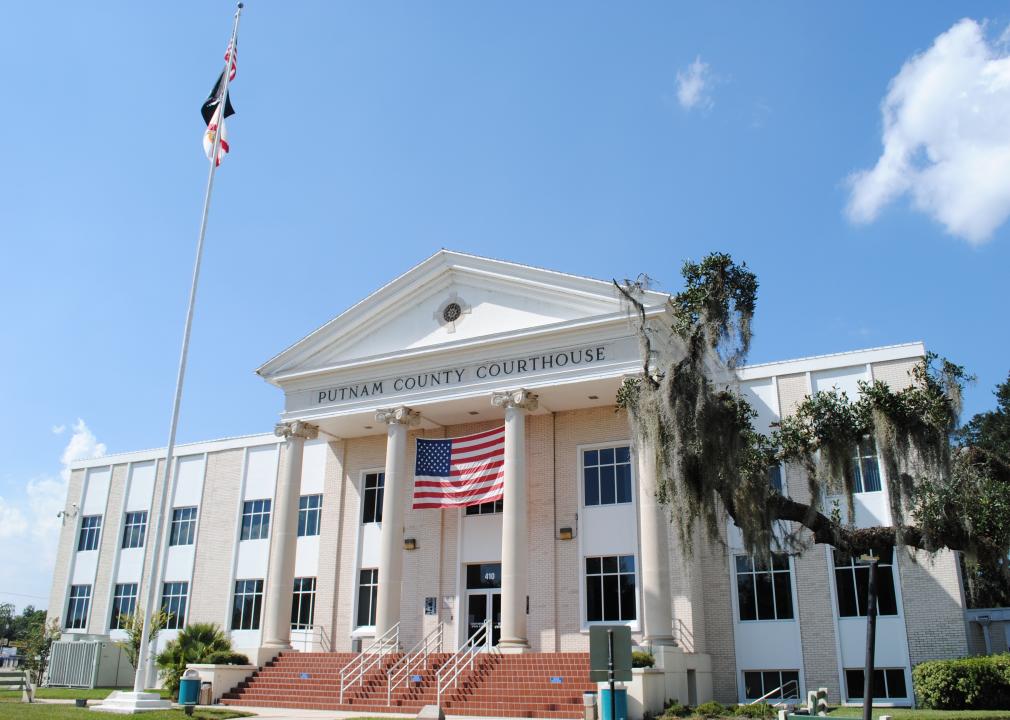 Excel23 // Wikimedia Commons
#5. Putnam County
- Child food insecurity rate: 24.1% (3,800 total)
--- 8.0% higher than national average
- Food insecurity rate: 16.2% (11,930 total)
--- 4.4% higher than national average
- Annual food budget shortfall: $6,267,000
--- Cost per meal: $3.26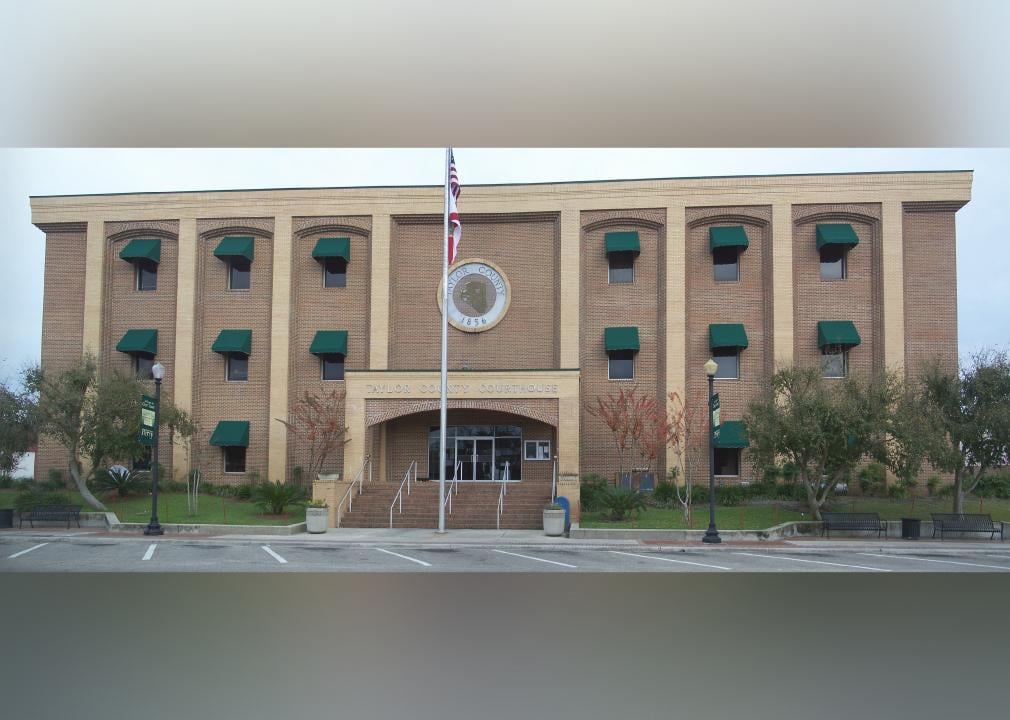 Ebyabe // Wikimedia Commons
#4. Taylor County
- Child food insecurity rate: 24.8% (1,040 total)
--- 8.7% higher than national average
- Food insecurity rate: 15.3% (3,330 total)
--- 3.5% higher than national average
- Annual food budget shortfall: $1,644,000
--- Cost per meal: $3.07
Ebyabe // Wikimedia Commons
#3. Hamilton County
- Child food insecurity rate: 25.9% (710 total)
--- 9.8% higher than national average
- Food insecurity rate: 16.6% (2,390 total)
--- 4.8% higher than national average
- Annual food budget shortfall: $1,232,000
--- Cost per meal: $3.20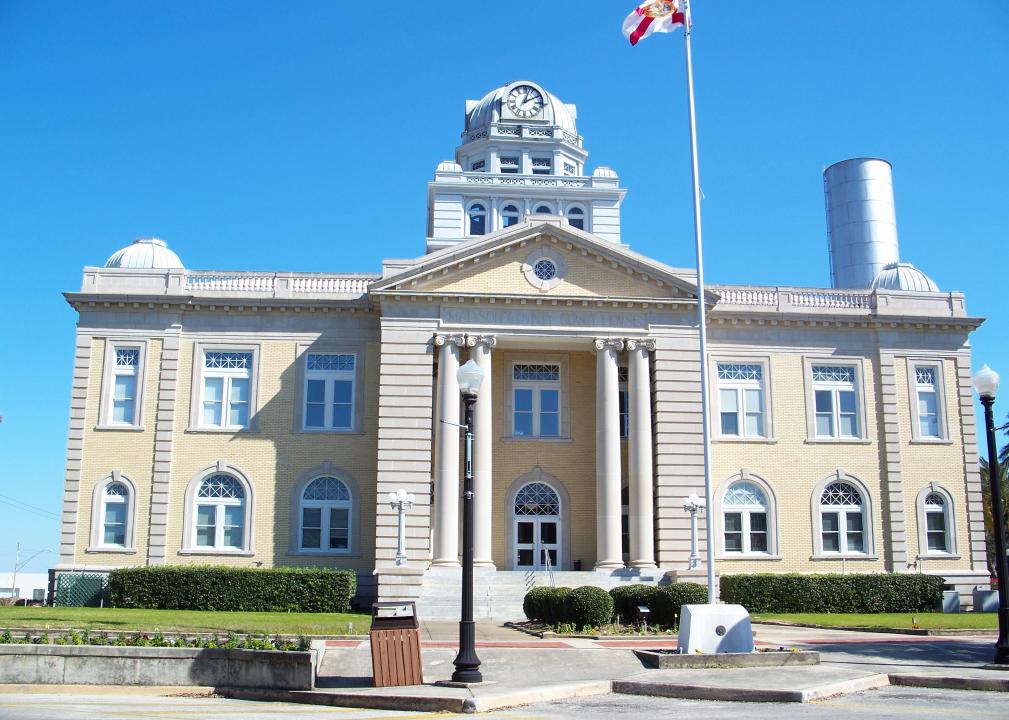 Ebyabe // Wikimedia Commons
#2. Madison County
- Child food insecurity rate: 26.6% (900 total)
--- 10.5% higher than national average
- Food insecurity rate: 16.5% (3,070 total)
--- 4.7% higher than national average
- Annual food budget shortfall: $1,602,000
--- Cost per meal: $3.24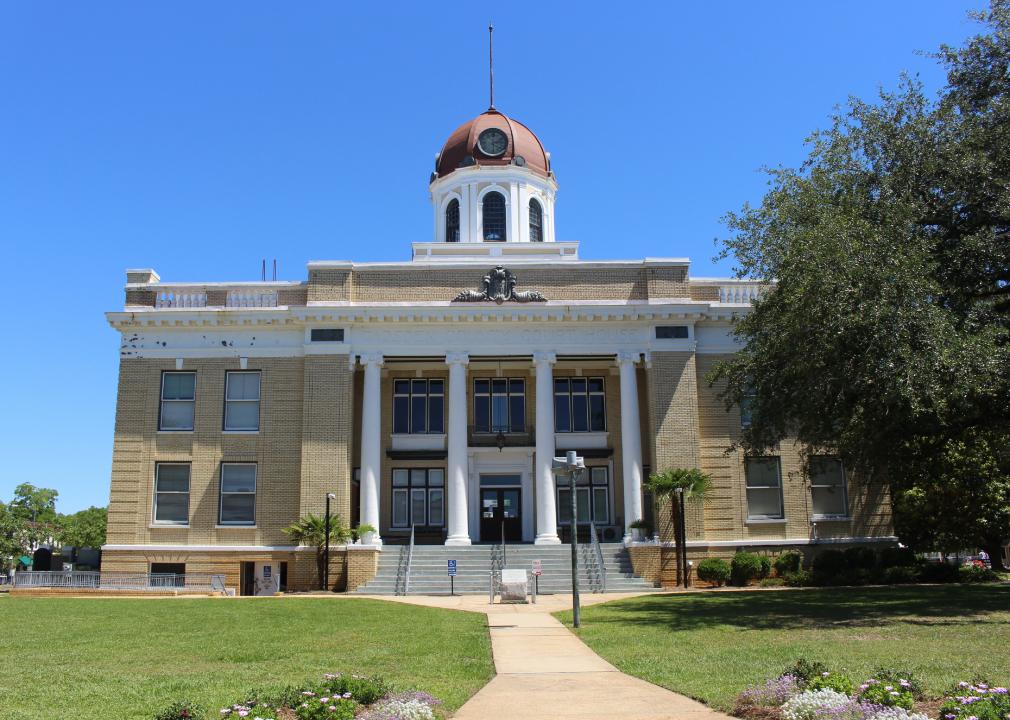 Michael Rivera // Wikimedia Commons
#1. Gadsden County
- Child food insecurity rate: 28.6% (2,850 total)
--- 12.5% higher than national average
- Food insecurity rate: 13.2% (6,060 total)
--- 1.4% higher than national average
- Annual food budget shortfall: $2,989,000
--- Cost per meal: $3.06